Ugh. So. Comfy.
These may not be the sexiest pair of panties I won, but gosh do I love them anyways. The lycra (spandex) is breathable and doesn't cut into my skin, and the fabric is thick enough that it creates a comfortable barrier between my skin and my clothing. Luckily my boyfriend also really likes the style and won't be complaining when I get all of the colors offered!
Published:
Pros:
Comfy, easy to care for, won't stain, stretchy, doesn't dig into skin, flattering
Cons:
May ride up your butt a bit, one size
I got these panties for free when I bought another pair for two reasons; One, I love panties and two, I love deals where I get free things. I knew that my boyfriend likes boyshorts on me, and I have been trying to find some more cute, solid, black panties to add to my lingerie drawer.

Packaging

These panties came in a thin, transparent plastic bag. The bag had no real marking on it sans a stocking label, and inside of it were the panties and a few of those silica gel packs that absorb moisture and keep things nice. If you were to give these as a gift it might be the best idea to take them out of the plastic bag.

The tag attached to these was done so with one of those little plastic-y-barbell things. It went through the fabric, so you'll want to cut it off with a pair of scissors to avoid hurting your new, cute boyshorts. The tag has the The Coquette logo on the front and a sticker with the product name and number on the back, so it's not too sexy. If you want to include this in a gift basket or something it might be the best idea to take the tag, off, too.

You shouldn't store these in the plastic bag that it came in because that's just a bit silly. I keep these loose in my lingerie and sock drawer with the rest of my panties.

Fit

These panties fit me very well. I got a the one size fits most and I'm 5' 2" and wear about a size 6 in jeans. My hip measurement at the widest part is about 40", so I'm not on the lower end up the measurements. Coquette seems to do 'one size' well from what I've read, so I figured that this wouldn't be an exception especially due to the stretchy material. I feel like these would comfortably fit up to a size 10, but after that the sides might start bunching up and not sitting correctly.

The size charts are as follows:
One Size
Dress size: 4 - 14
Waist size: 26 - 32
Hip size: 36 - 42

Oueen One Size
Dress size: 18 - 26
Waist size: 38 - 46
Hip size: 48 - 56

Wearing these I didn't really have any issues at all with this shifting place when I was walking. After sitting for a while they did start to ride up my butt a bit, but I don't think I have a single pair of panties that don't do that.

In the back these either show the very top of my butt crack and cover the bottom part of my rump, or my rump hangs out the bottom and they cover my entire butt crack. I find that wearing them so that the bottom of my rump hangs out a bit is the most flattering and comfortable way. In front these end about where my hip bones are, and they cover the entirety of my mons.

These boyshorts also have a fairly substantial panty liner. It sits right where it needs to be on me, and it's long enough that it covers the entire area it's designed to cover. The liner is made of cotton, making these great to wear all day.

These are also super nice because they don't cut into me or cause panty lines. They really smooth my figure and look almost like I'm wearing very short biker shorts. These panties are very breathable and let me move freely when wearing them. Overall, these are some of the comfiest panties that I own.

Material and Care

These panties are made of nylon and spandex. Spandex, also known as lycra, is a super stretchy material that most exercise clothing is made from. The word spandex comes from it's main attribute: it's super duper stretchy and it "expands."

These panties are also super easy to care for, mainly because they're black. You don't have to worry about stains or marks getting left on these, and you can toss them into the washer in a 'delicates' bag. You can even toss these into the dryer, something that I always appreciate since I live with a roommate and can't always have panties hang drying.

I really like that these are made of a solid material and not the usual 'mesh' because it doesn't irritate my follicles after I've just shaved. Often mesh panties grab and inflame my newly shaved skin and give me ingrown hairs, but these are so soft that they just provide a soft barrier between my skin and my clothes.
Experience
Overall
Overall? I'm so ordering these in every color. My boyfriend absolutely loves the style on me, and these are super comfortable. I really like that they provide such a good barrier between my skin and clothing (as opposed to my usual lacy panties) and that they don't dig into my hips at all.
Even though my boyfriend likes them, these aren't your typical 'sexy' panties. They aren't lacy or raunchy, and they may not make you feel like you have a sexy secret under your skirt. On the other hand, if you are seeking a more conservative bottom to wear with some other lingerie because the panties were to skimpy for you this is a great option.
If you are in the size range that these claim to fit, I would highly recommend them. If you have a bit more rump than average they may ride up when you're sitting down for a while, but if you have more rump than average you're probably used to that like I am. For the price these are a solidly good pair of panties and I would highly recommend them.
Here is a picture of the front: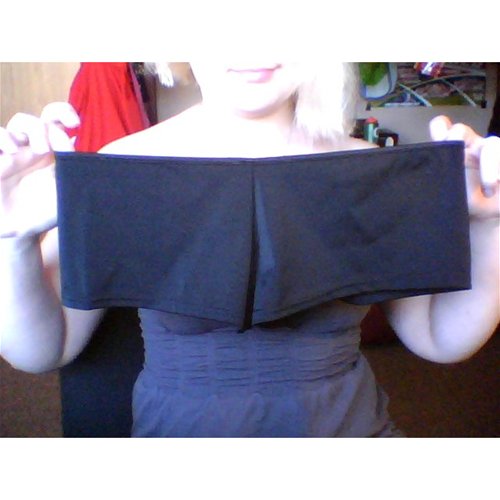 Here is a picture of the back: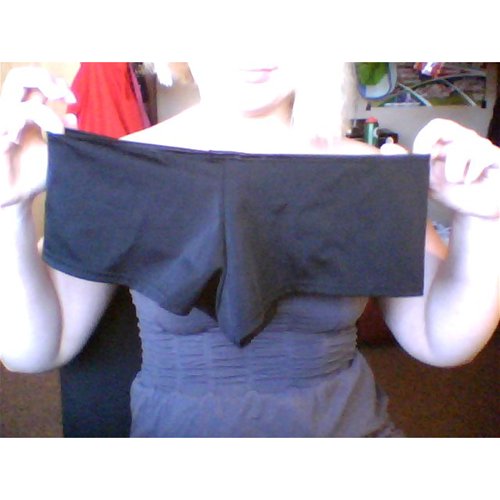 Here is a picture showing the stretch: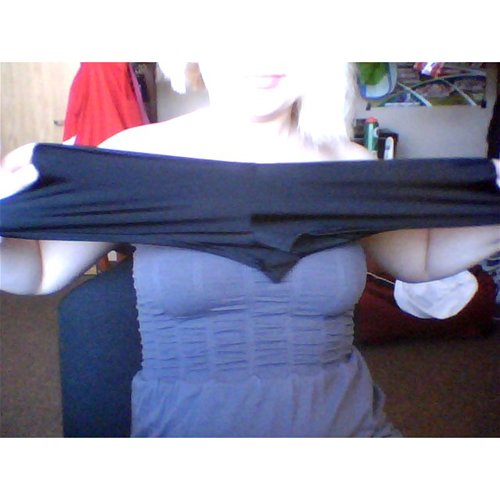 Here is a picture of the liner: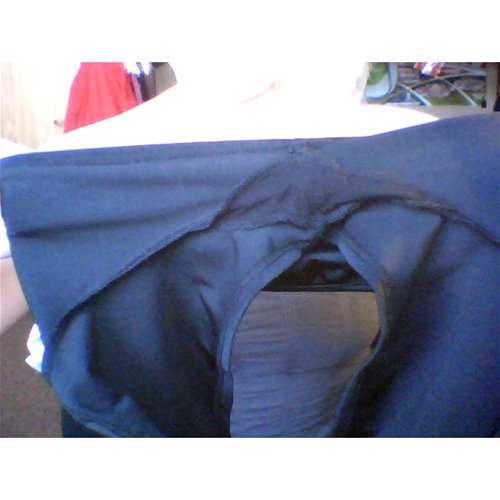 And here is a picture of the tag: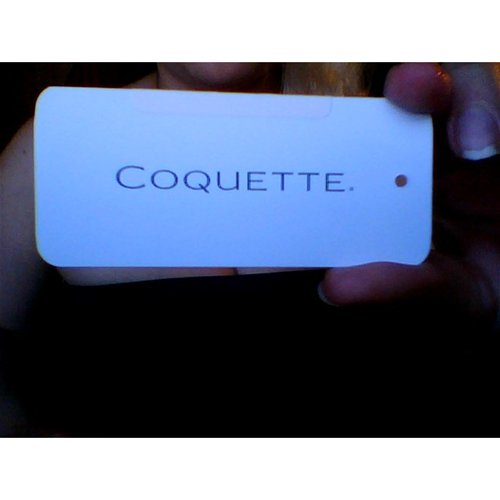 This content is the opinion of the submitting contributor and is not endorsed by EdenFantasys.com

Thank you for viewing
Black lycra booty short
– sexy panties review page!