My "Spank Me" Shorts
I shouldn't be able to wear these, but because the Black Lycra Booty Shorts are stretchy and comfortable, I was able to. You might be able to as well as long as you aren't afraid to get a little cheeky with it. I do wish that Coquette had done a better job with the craftsmanship on this piece.
Published:
Pros:
+ Comfortable
+ Stretchy
Cons:
- Not well-made
The Husband loves a good pair of booty shorts. I was unsure about getting them because I've haven't ordered many lingerie items from Eden. In fact, the only other item I've ever ordered was from Coquette and was not well made. I find myself giving Coquette another chance. I really liked how the Black Lycra Booty Shorts looked. I figured that if the XL didn't work now, I'd be losing weight into them soon.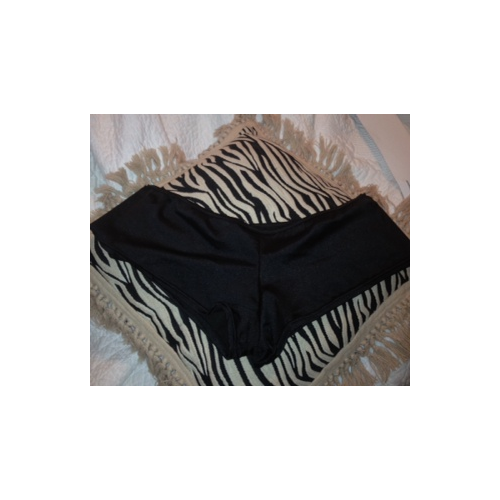 My Black Lycra Booty Shorts were tossed in the nondescript brown box with a few other items that Eden ships in. I didn't mind; these weren't lacy, dainty little things that you had to be very careful with. They had a tag attached to them with a tiny black bobby pin. The attached tag had the product's name, size and color. It listed the manufacture's name, website, and also had three pictures of a model from waist to just below the knee wearing the shorts in the available colors: back, white, and pink. Interestingly enough, like the product's name, it also identified the product's material as lycra.
Sizing and Fit
Despite their name, the Black Lycra Booty Shorts from
Coquette
are listed on the care tag of the product and the product page as 80% nylon and 20% spandex, exclusive of the elastic trim. They have quite a good bit of stretch to them. It's a fairly light mix of materials, which feels a little on the silky side and very nice against the skin.
They have a diamond-shaped, black panty liner that's 5 inches in length and 2.5 inches in width. The booty shorts only come in two sizes, OSFM and XL. I'm closest to the XL size, but if you'll notice, they still shouldn't fit. That's an indication as to how stretchy these boy shorts are. Here's Coquette's measurement's for their XL size up against mine:
Coquette: Waist: 34-36 inches Hip: 44-46 inches
Mine: Waist: 42 inches Hip: 48 inches
Although I normally can't wear an XL in Coquette, these shorts still stretched to fit me comfortably. Here's how the rest of the stats for the Black Lycra Booty Shorts measured out:
Waist (unstretched) – 35 inches
Waist (stretched) - 50
Thigh (unstretched) – 26 inches
Thigh (stretched) – 38 inches
Inseam – little over 1 ½
Length – 6 inches
Waist to Inseam - 7 inches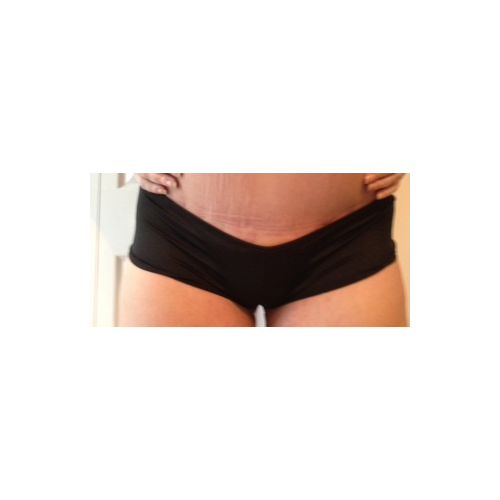 I ordered the XL. These guys are called booty shorts for a reason. They show booty. In my case, they show a lot of booty. They actually fit me more like a mixture of boy shorts and hipster panties. My thighs are bigger than the 26 inches that Coquette gave me, so they suck up most of the 1.5 inseam that the booty shorts have on each side. My thighs measure 27 inches around. The thighs on the Black Lycra Booty Shorts are so stretchy that they just stretch and roll right up. From the middle of the coochy up to the middle of the waistband is only seven inches, which makes them low rise…very low rise. They won't be flattering if you have any tummy issues because of the low dip in the front. The booty shorts are easy to travel with and store, just fold them and toss them in a bag or drawer, like with any other pair of panties or thin shorts. My drawer is overflowing. I'm a panty whore.
How well is it made?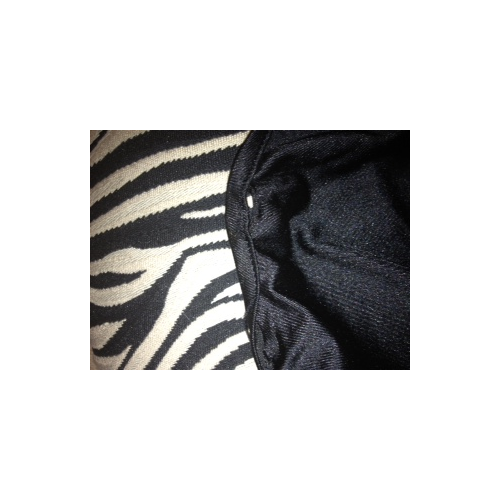 This is not the first time that I've gotten less than stellar craftsmanship from Coquette. Unfortunately, there are three places where the seam in the waistband is coming unraveled. The waistband seam has single stitching and I'm sure this adds to the issue. The rest of the garment actually has double stitching: along the small panty liner and from the seam that runs from the front of the booty short to the back of it.
Care and Maintenance
The tag "says hand wash only and hang to dry". I gave these a once over and decided to slip them into a laundry bag and then right into the washing machine and dryer. No problems at all. However, this is the part where I'm supposed to tell you to follow the manufacturer's instructions. They say "hand wash only and hang to dry."
Experience
I wear panties and boy shorts like these around the house during the summer. I'm in and out of the pool, most of the time, without a swimsuit. The Black Lycra Booty Shorts are easy to slip on with a tank top. When I wear a pair of cheeky or boy shorts, or even a pair of panties that shows a significant amount of ass, the pops on the cheeks are more frequent and a little harder. Without asking, I could tell that The Husband really, really liked the Black Lycra Booty Shorts.
Follow-up commentary
3 months after original review
It's not that I *don't* like these anymore, it's that I *can't*. They're dead - Yep, not long after the review was published! Granted, I do go digging around and looking for flaws when I review lingerie products, but I want to let people know whether or not the pieces are going to hold up, and these did not. The demise of this pair of booty shorts was quite unfortunate. I enjoyed wearing these, and The Husband enjoyed the view.
This product was provided at a discounted price in exchange for an unbiased review. This review is in compliance with the FTC guidelines.

Thank you for viewing
Black lycra booty short
– sexy panties review page!