A rose with no thorns (Medium)
The Vintage Rose Babydoll and G-String from Coquette has to be one of my favorite pieces of lingerie ever. It's comfortable, flattering, and a portion of the sales go to funding breast cancer research. What more could you possibly want?
Published:
Pros:
Flattering fit, incredibly comfortable, high quality construction, removable straps, removable bow
Cons:
Included g-string is small and has no crotch liner
Description
The Vintage Rose Babydoll is an amazing babydoll and g-string set from Coquette. It comes packaged in a plastic lingerie bag with "Coquette" printed all over it. It does not included a hanger at all. Attached to the babydoll are two tags. One is the product tag that shows pictures of the model wearing the babydoll. The second tag explains how Coquette is donating a percent of their sales from their Spring/Summer line to the Save the Ta-Ta's foundation. The tag doesn't specify how much of their sales is being donated but I'm happy that anything at all is being donated to the fight against breast cancer. As someone who just lost a family member to breast cancer this month, this is a huge plus for me.
The babydoll is a gorgeous dusty rose color with wine colored trim and accents. These colors look amazing together and I'm not usually a fan of pinks or purples. The torso portion of the babydoll is a dusty rose nylon mesh. It's lightweight and sheer but with two layers, it's not see through. The torso portion glides over skin so effortlessly. It's perfect for summer wear as it's so lightweight and breezy, it won't add extra bulk that can cause you to overheat.
The bust portion of this babydoll is also dusty rose with a light pink lace overlay. The bottom of the bust is trimmed with wine colored lace. On this trim is a large, floppy bow that is made of the same wine lace. The bow is attached to the babydoll with a safety pin, making it removable. I like that the bow is removable because the bow is too floppy and the safety pin is visible. The top of the bust has the same wine colored lace trim with a dusty rose lace ruffle. The babydoll has removable straps that you can add for more support or remove if you feel the babydoll is fine strapless.
I also love the design of the bust. It is tight and structured with a light amount of padding across the entire front half. There is no underwire or designated cups that are sewn into the babydoll. However, the way it is sewn makes it appear as if there are molded cups. The entire bust portion has a sweetheart neckline. The sweetheart neckline is cut high and the design of the babydoll does not allow for much cleavage.
The included g-string is a simple, single-string g-string. The strings on the side are the same deep wine color that the lace trim is. The triangle portion of the g-string is dusty rose lace. There is no crotch liner at all. The tag is sewn into the front of the g-string. This is probably the most annoying thing lingerie companies decide to do. You can trim the tag but it's sewn into the trim and removing it completely will probably be very difficult.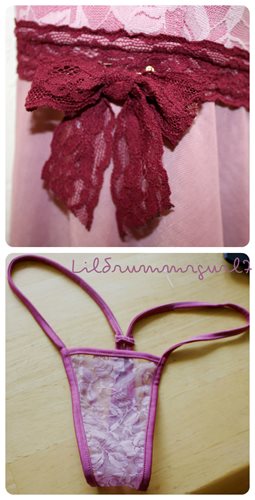 Measurements
Length down front center: 19"
Length down back: 17.5"
Length of top layer of nylon mesh: 10"
Length of bottom layer of nylon mesh: 14"
Width at bottom: 22" unstretched, 47.5" fully stretched
Width at waist/underbust: 14.5"
Height of bust portion: 6.5" along cups, 4.75" along center
Waist band of g-string: 13.5"
G-string front to back: 12"
Craftsmanship
Every other piece from Coquette I've received has had a flaw or two; it's something I've come to accept and live with. However, this one is different. This has got to be the highest quality piece of lingerie I've received so far. I'd be hard pressed to find a loose string or crooked seam. The lace ruffle at the top is unfinished but other than that, every edge is finished. Even the lace on the bow has finished edges. I'm really impressed with the quality of this piece.
Cleaning and Storage
This babydoll is made of 82% nylon and 18% spandex. It should be hand washed with a mild detergent or lingerie wash. After carefully hand washing it, it should be hung to dry. If you're brave enough to wash it in a washing machine, I'd strongly recommend using a lingerie bag and washing this on the delicate cycle.
This babydoll can easily be hung up in your closet. I keep mine on a hanger with the rest of my lingerie. It can also easily be folded and stored in a dresser drawer. It does not have any underwire or boning so it can be folded to fit in any space without any chance of damage.
Experience
Fit
Oh my gosh, can I just wear this all the time please? This babydoll is amazing. It fits like a dream and I never want to take it off. I usually have a hard time finding lingerie that I love this much because everything will be too small on my hips if it fits my chest or it will be way too big on my chest if it fits my hips. Babydolls, because of their flowy nature, are usually my best bet to fit my curves but they're unflattering and create the "pregnant" effect on me. Somehow, this babydoll is perfect and doesn't billow out in a way that makes me look 8 months pregnant. The tight, structured chest is probably my favorite part. This past year, my weight has fluctuated by 25 lbs and my chest underwent a major transformation while my stubborn hips remained as big as ever. The perks of being pear-shaped, eh? I'm not quite comfortable with my chest yet and cleavage usually makes me self conscious in lingerie. This babydoll doesn't create any cleavage but it holds my chest up and shapes it in a subtle way that is really flattering. I can't stand wearing shirts or tank tops without a bra but the support and shaping this babydoll gives me is enough for me to feel comfortable without any underwire. Women with larger breasts, however, may find the bust to be too tight and restricting. The bust has a fair amount of stretch to it but women with DD or larger breasts may not find it comfortable.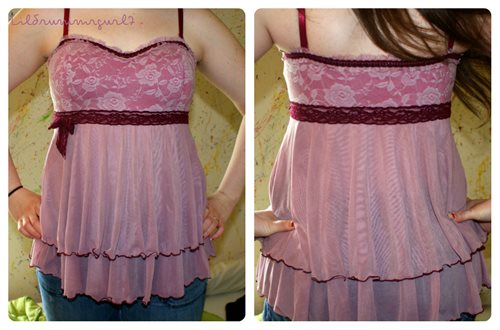 I'm completely comfortable and confident in this babydoll which is one of the main reasons it's so sexy. The layered nylon mesh flows over my hips without clinging to them and highlighting them. This babydoll is also perfect to wear over jeans. Because the torso portion has two layers, it's not see-through. It makes a great top to wear out in public during the summer. My partner loves seeing me wear this as both a top and as lingerie. I think it's a favorite for both of us. It's so comfortable and flattering I've recommended it to just about all of the women in my life.
My measurements:
Bust: 34D or 36C depending on the bra
Waist: 28 inches
Hips: 39 inches
Dress size: 10
Height: 5'4
Coquette's Size Chart (Medium):
Bust: 36-38 B
Waist: 26-30"
Hips: 38-40"
Dress size: 8-10
This product was provided at a discounted price in exchange for an unbiased review. This review is in compliance with the FTC guidelines.

Thank you for viewing
Vintage Rose babydoll and g-string
– babydoll and panty set review page!