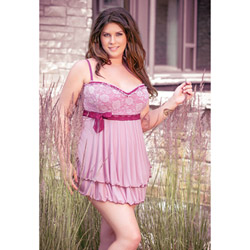 Vintage Rose babydoll and g-string
Babydoll and panty set by Coquette
An Elegant Touch Of Spring (1X/2X)
The Vintage Rose Babydoll combines comfort and elegance in one piece! Made with soft, breathable materials, this babydoll is going to be the perfect piece to wear this Spring and Summer. With a variety of sizes and the option of wearing with or without the bow and shoulder straps, this piece appeals to a wide range of people. If it had better breast support this would be my favorite piece of lingerie!
Published:
Pros:
- Elegant
- Comfortable To Wear
- Variety Of Sizes
- Detachable Bow And Straps
Cons:
- Lacks Breast Support
Introduction
New from the Spring/Summer 2013 collection, Coquette's Vintage Rose Babydoll is a breathtaking, yet simple piece of lingerie. This elegant babydoll and g-string set come in sizes Small through 1X/2X, making this a great piece for a variety of different figures.
This dusty rose babydoll arrives in a clear plastic bag with the company name written all over it in white letters. When you remove it, you'll see that it has two tags on it along with a small plastic bag that contains the shoulder straps. This is attached with a white safety pin, so be careful when you remove it.

Design/Look
Elegant and charming, this babydoll has some really wonderful qualities to it. The bust area has a floral lace pattern set against a slightly darker background. This contrast really helps feature the pattern and draws your eyes to this area. The front is curved on either side and dips in the center, helping give shape to the bust. The back is totally straight, but surrounding the entire top is the same lace, stitched in a frilly way and has a darker burgundy lace going through the center of it.
The whole bust area is 8" tall and the cups each have vertical stitching down the center. The inside of the bust area has some very thin black padding. This padding doesn't offer support to your breasts; it helps keep your nipples from showing through the material, and makes the fabric more shapely in that area.
Beneath the bust area, another ribbon goes around the center of the piece. This ribbon helps to accentuate your breasts and help make your waistline look slimmer. The ribbon is 1" wide and features a bow made from the same material. The bow is detachable since it's connected using a safety pin; a great feature since it can be removed if you don't care for it. However, it also makes the bow droop, exposing the safety pin.

The bottom of the babydoll is made up of two layers of breathable mesh. Each layer of mesh is thin and see-through, but having one layer on top of the other makes your midsection unseen while you're wearing it. The top layer comes down 13.5" from the bottom of the center ribbon, and the second layer is 16.5" in length; giving them a layered look. Along the bottom of the mesh is burgundy stitching. It's a great way to tie all the colors together while preventing the mesh from fraying.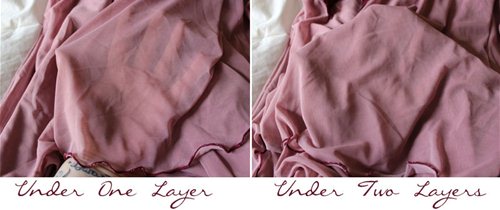 Included with this piece are adjustable shoulder straps. Inside the top of the babydoll are four loops where they connect. The little metal pieces are designed to go in smoothly, but won't come out on their own. When they are in place the breast area is a little more supported, but might give your breasts a flattened look.

The g-string is a very standard shape, but isn't your typical solid colored piece. The 'strings' are a solid color, but the crotch area is made from the same lace as the bust area of the babydoll. The lace at the top is 5.25" wide, covering enough so that your lady parts aren't fully exposed, but it could have been a little wider for the larger sizes. For the male bodied individuals interested in this piece, the g-string itself isn't wide enough to accommodate a bulge, but the rest of the piece would be suitable.

For those that are interested in lingerie that can also be worn outside of the home, this babydoll would be acceptable to wear with a shrug or sweater and a pair of leggings or skinny jeans.
Feel/Quality Check
The feel of the fabric on this piece is wonderful! The lace is soft and never causes discomfort. Another great part about the lace, along with the rest of the babydoll, is that it's very stretchy. The lace isn't stiff, it has enough give to accommodate you and your wonderful curves.
The mesh feels light and airy on the skin, a great choice for Spring and Summer wear. The top is thicker since it has the padding, but the piece in general is light. Inside the bust area, the padding is smooth and doesn't irritate the delicate skin on your breasts. The lace around the top of it might cause a little tickle/irritation to some, but it didn't really bother me.
When looking over the pieces, I only noticed a few areas where there were little threads. The straps were where I noticed it most (can be seen on an above photo) and inside the babydoll in a couple areas. The rest of the stitching is nice and neatly done, the issues are minor and don't compromise the quality of the piece.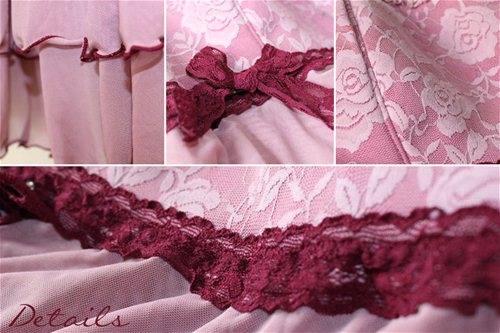 Experience
Material/Care
The tag on the babydoll says that it's made from 82% Nylon and 18% Spandex, exclusive of trim. Be really careful that nothing catches on it and snags the fine material; it wouldn't take much for one little pull to ruin the entire piece. Inside the top of the babydoll are two black ribbons. These ribbons are in place to keep it on a hanger and not fall off. Make sure that you hang this one up, since the mesh material gets wrinkled if you fold it up or toss it in a drawer.
According to the tag, this piece is handwash only, and you hang it to dry. If you are adventurous with washing your lingerie, I imagine you could remove the bow, put it inside a lingerie bag, and set your washing machine to delicate. There's nothing about this piece that looks like it would be badly damaged from being machine washed in that way, but do so at your own risk.
Sizing
I ordered this babydoll in a 1X/2X, the largest size available. The following size chart gives you a run down on how Coquette sizes their lingerie: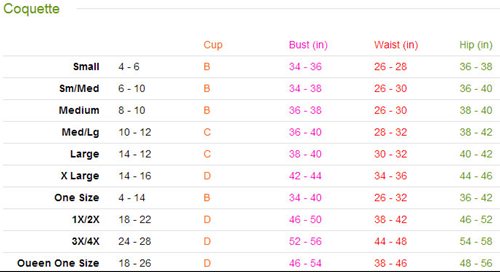 My measurements are:
Bust - 49"
Cup - D/DD
Waist - 42"
Hips - 51.5"
Height - 5'9"
Weight - 275
Lingerie Measurements (laying flat):
Length: 24.5"
Width: 21"
Thong Width: 18.5"
Additional measurements were included in the above information, and more can be taken by request.
I'm on the larger side of the 1X/2X stats according to Coquette, and I didn't have any issues with feeling like the babydoll or g-string were tight or uncomfortable. The babydoll has enough stretch to it that someone slightly larger than me would still be able to purchase and wear this piece without an issue, just use your judgement.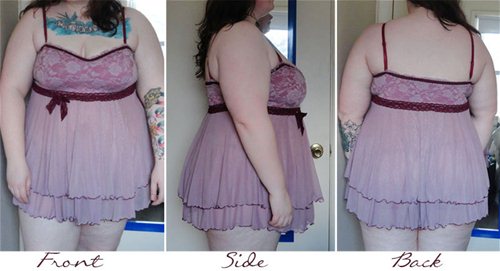 (Sorry for the color difference, different time of day)
Overall Thoughts
I'm very pale and sometimes this
dusty pink
type of color looks really odd against my skin. I didn't find that to be the case with this piece. It was beautiful online, and even more beautiful in person!
As gorgeous as I think this piece is, I do have some complaints about it. The bow looks a little bit messy because of the way it attaches. I love that it can easily be removed, but it doesn't look nearly as nice in person as it does on the product page. Because there's no underwire in the bust area of the babydoll, my breasts are not properly supported. I feel like from the front, they look flat rather than lifted. This is just annoying and doesn't change the feel, just the look.
Overall, I'm very pleased with this piece! Coquette delivered with the quality and provided a beautiful piece of lingerie; this one isn't just to please my husband, this one is to please me! It's not every day that I get to feel 'pretty' in something rather than 'sexy', and I'm really glad they put out this elegant line.
Follow-up commentary
2 months after original review
I wish there was an option to say that I still LOVE this piece! I've gotten over the fact that my breasts aren't supported enough since that's a common issue I have with things, and since I've let go of that issue, I have totally fallen in love with this! It's very flattering on my form and is a piece I actually think I look good in, which I can't say about many things! I would highly recommend this babydoll, no matter what your size is!
This product was provided at a discounted price in exchange for an unbiased review. This review is in compliance with the FTC guidelines.

Thank you for viewing
Vintage Rose babydoll and g-string
– babydoll and panty set review page!