Romantic and elegant: a deviation from my norm that I love!
For someone who prefers pleather and all things black, I was charmed by this vintage babydoll. It's comfortable enough to sleep in, and flatters without showing too much. The bust doesn't support the ta-tas very well, but never fear! Coquette's proceeds do support the ta-tas in breast cancer research!
Published:
Pros:
Elegant, flowy, detachable/adjustable straps, proceeds go to breast cancer research
Cons:
Some loose stitching, cups were entirely too large, bow attached with a pin (and that looks cheap)
Introduction
To be perfectly honest with you, most of my pieces from Coquette are from the wetlook collection, and I must say that amongst all of that shiny black, the vintage rose babydoll really stands out. I wasn't expecting to LOVE it, but I really wanted to try something with a little more...color. This flatters the hell out of my body, as flowy as it is. I tolerated the color of this because of the more subtle tone of pink. Anything else would be too gawdy, and I would never wear it. Can you tell I'm not a fan of pink? (Needless to say, most of my toys are black, too!)
Size
Here's Coquette's size chart: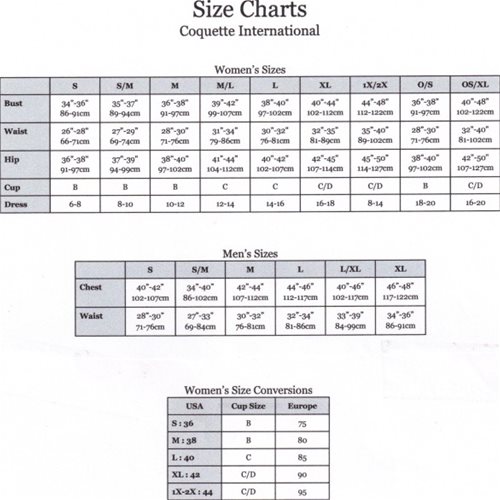 My measurements:
Waist: 32 inches
Hips: 37.5 inches
Cups: 36 D
Dress size: 8
Fit
I've been going back and forth between a large and then down to medium during the last few months. By default, I chose large, but now that I have lost some weight, I probably should have gone with a medium to see if I had any more breast support with that size. Coquette's pieces tend to run large anyways. It fits me well everywhere except for the bust, where it is a little loose. I hate the feeling of no support, so this was a real bummer to find out! If it weren't for the detachable and adjustable straps, I probably wouldn't have been very happy with this piece.
The detachable straps can go from 9 inches to 16 inches on my piece. I appreciate these being both detachable and adjustable! I need my straps on almost the tightest setting on my bras usually (does anyone really use up all of the length of those?), but for this piece, I just needed about half of it adjusted down. The fact that they're adjustable is great for when I sleep; because I need my straps tight to give me some support, that means that they're not the most comfortable to sleep in; they dug in to my shoulders and halfway through my sleep I woke up and took the straps off.

Like the babydoll, the thong would have probably fit me better if I had gotten a medium. By no means does it fall down, and it's not tight either, but I do feel like it's a smidgen too large for me. It's very comfortable, though!
Material/feel
Babydoll
I inspected the babydoll's stitchwork, and I did find two small flaws: one loose piece of trim on the bottom, and the "bra strap" was already fraying a little. Everywhere else, the stitching was well-done.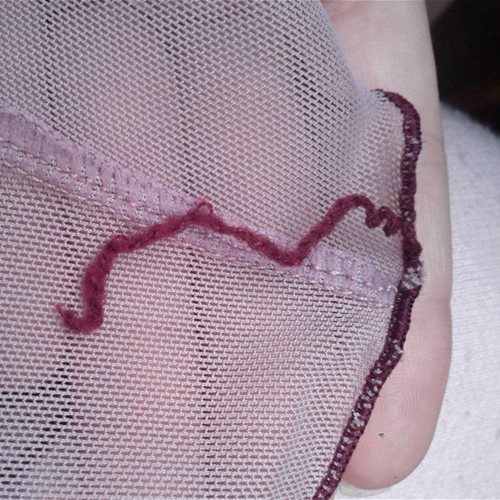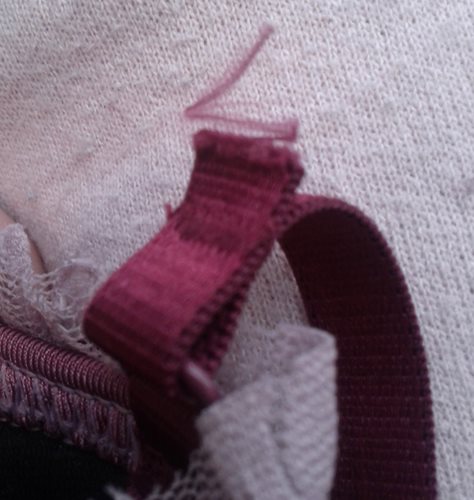 The tag says that this piece is 82% nylon and 18% spandex. The top has a comfortable and padded lining inside around the bust area. It feels more like shoulder padding, which I found to be pretty awkward around my breasts. The outside is a soft pink covered by a dusty rose pink lace, which is also stretchy. The trim is a gorgeous burgundy right underneath the bust, creating an empire waistline.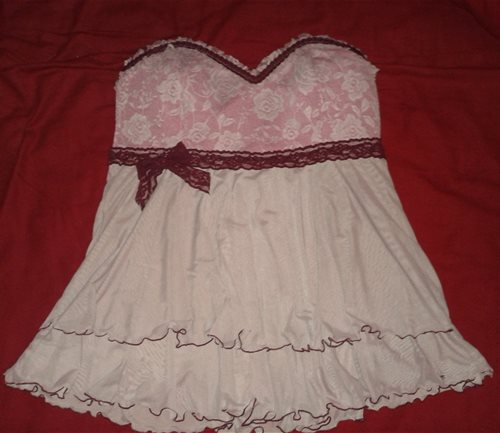 This material is soft and very light on the bottom portion of the babydoll. It's slightly stretchy and oh-so-flowy, making it very twirl-worthy. It's also very sheer! I included some pictures to demonstrate how much you can see through it with one layer. Underneath the photo with two layers is a notebook. With one layer, there's not much to leave to the imagination, but with both layers, you get some decent coverage. I'm pretty self-conscious of my midsection, so I appreciated how this covered it up.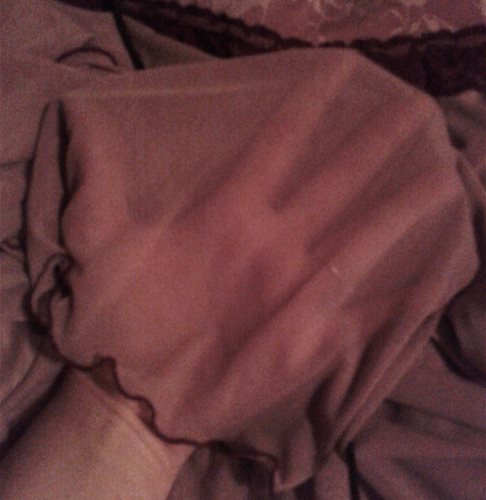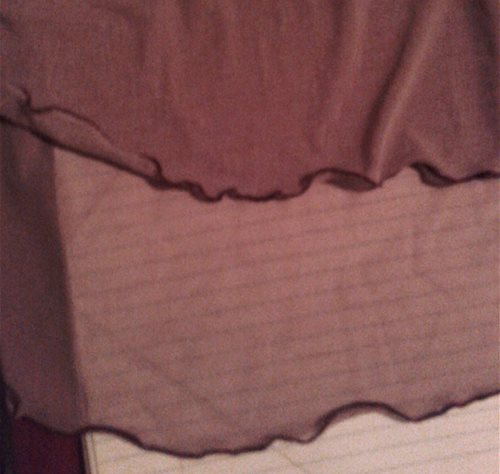 Underwear
The description labels this as a g string, but it is more like a mix between a g string and thong. The trim of the underwear is the same color as the bottom layer of the bust of the babydoll, and the inner portion is made of only the stretchy lace. There is sadly no lining in the crotch.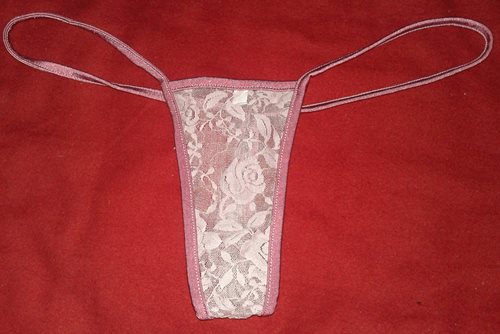 I would personally get rid of the tag on the front that has the size on it; it's very noticeable and sticks out like a sore thumb.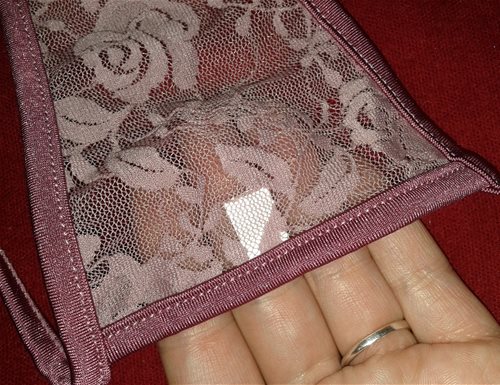 Experience
(continued)
Care/maintenance
I would definitely not throw this piece in the washer. It seems to be very delicate, even though it is stretchy and sturdier on the top. If you
do
give in and throw it in there, make sure to remove the ribbon that is attached with a pin (I don't like that it's attached with a pin). It's hanging on by only a few threads in the lace, and would definitely rip in the washer. So what you should
really
do is hand wash this piece very gently and hang it up to dry. The bottom should dry in no time, but if it's taking a bit longer on top, place it in a well-ventilated area or somewhere with some sunshine. The Pacific Northwest isn't the best for sunshine usually, but we've been getting enough rays to dry my delicates without a problem.
Packaging
The packaging was pretty minimal - it was wrapped in Coquette-stamped cellophane, and I discarded it right away. I've tried keeping lingerie in the cellophane packaging before, and I always end up ripping it somehow. I wish this piece came on the nice plush hangers that some other Coquette lingerie pieces came with. I've never received one but I've seen them in some reviews. They're gorgeous and soft enough not to damage the pieces at all.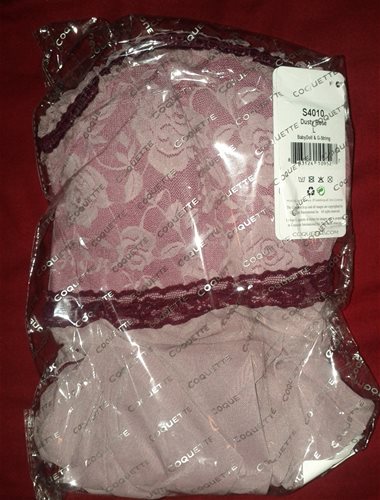 There's also a neat little tidbit on one of the tags! Coquette is donating some of their proceeds to help breast cancer research. How awesome is that?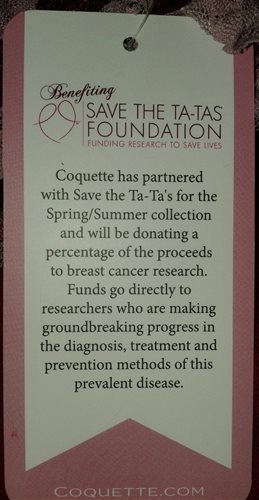 Overall thoughts
This is such a gorgeous chemise. Coquette really knows how to crank out beautiful pieces of lingerie. I have had a dud or two in the past, but overall I'm very impressed with Coquette's pieces. For me, the color and style flattered me more than I had expected it to. It's such a shame that bust needs more support (at least for my rack), because I would probably frolick and spin around the house way more than I would want to admit. I really like the burgundy trim and the lace bow accent. It's probably the most colorful piece of lingerie I own now, and I surprisingly don't hate it!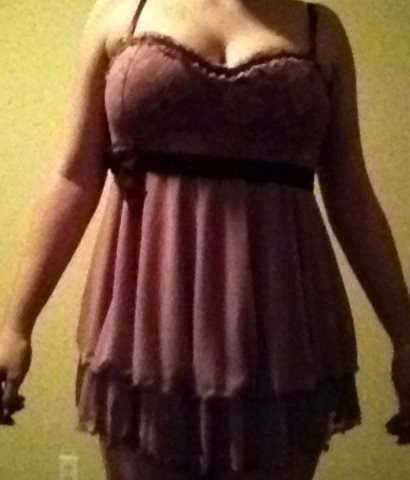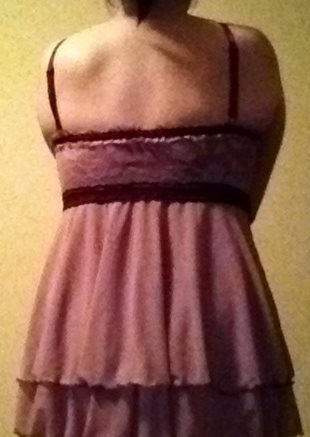 Follow-up commentary
12 days after original review
This is such a beautiful piece of lingerie, and the fact that it is so comfortable to wear makes me happy. I'm still sad about the lack of breast support, but I'm used to that disappointment. With larger breasts, it's normal not to have little to no support with sexy lingerie.
This product was provided free of charge to the reviewer. This review is in compliance with the FTC guidelines.

Thank you for viewing
Vintage Rose babydoll and g-string
– babydoll and panty set review page!