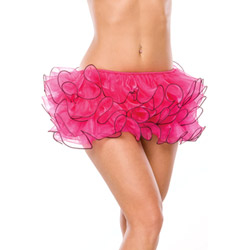 Mini cha cha skirt
Petticoat
by Coquette
Adorable and Unique!
The Mini Cha Cha Skirt is an adorable focal-piece for any outfit. It's very unique, and it really draws attention to your hips. It can be a bit scratchy if worn without anything underneath, and it doesn't fit a full range of sizes, but it's still a good skirt worth looking into if you have any outfit in mind.
Published:
Pros:
Adorable, Relatively soft on the inside, Makes your hips look wider
Cons:
Made mostly for smaller women, Hard to fit with outfits
The Mini Cha Cha Skirt is a cute skirt made One Size Fits Some by Coquette. The skirt has quite a few different features to it. It has three layers of ruffles, and at the edge of each of the ruffles, there is black stitching that makes the edges stand out. At the part closest to the body, there is also black stitching that makes a different pattern when you look at it straight-on. The ruffles are a tulle-type material, and the inner skirt itself is a stretchy spandex-type material. The bottom of the skirt does not have a hem, but because of the clinging aspect of the material, it doesn't fall away from the body.

For clarification purposes, this is being reviewed on a crossdressing male. It doesn't make much difference as this is a skirt, but it's always good to know. He fits a pants size 5 or 7 usually, and in case other crossdressers are interested, this skirt is long enough to cover up the full genital area for some discretion.

The skirt does have some stretch to it, but if you're plus-sized or just the higher end of regular sizes, you may not be able to wear it. The boyfriend is the above measurements (size 5 or 7), and it fits him comfortably over leggings without too much stretch. I'd say that you could go up to size 10 without too much stretch, and size 12 would be really stretched and possibly uncomfortable. The entire material that the skirt is made from is really stretchy, so it does mold and hug your curves really tightly. This is something to keep in mind if you have wider hips as it will definitely accentuate them. If that's something you like, then you're good to go, but if that's something you dislike, keep that in mind.

As some of the other reviewers have stated, it can be relatively itchy when wearing this skirt. As we've been mostly wearing this skirt with leggings underneath (as a cute full-outfit instead of a lingerie skirt), this doesn't bother us. If you plan on wearing this for a long period of time without any leggings, full-coverage panties (boy shorts) help cute down on the itchiness. The material itself is relatively soft on the inside, but the places where they sewed the layers of fluffy on has obvious seams on the inside and can get itchy.

The skirt seems to have good design, though. You can see me walk through the different aspects of the skirt in my video review. There's a single piece of fabric that runs underneath the ruffles, so there isn't any skin showing if you want to wear it without panties. However, it is pretty short, so it really will only barely cover your butt, so keep that in mind. It's why he tends to wear it with leggings to make it a proper outfit.

The other issue with the skirt is that, despite being the most adorable thing ever, it can be difficult to find good clothing that fits with it. It just is such a bright and vibrant piece that it steals attention from the rest of your outfit. Black leggings tends to work well, and if you find one that matches, corsets seem to go well with it. Fishnets and other hosiery seem to be fine, and because so much leg is exposed, you'll probably want to wear heels with it as well. I almost wish that they had a larger version that worked for plus-size women as it really is a cute skirt. Just remember that the ruffles are going to make your hips look wider than they actually are.

For cleaning, the manufacturer recommends handwashing and hanging it to dry. We've watched it a couple times on gentle in the washer in a lingerie bag, and it hasn't been harmed yet. We usually lay it out to dry to avoid the fabric shrinking or getting torn up in the tumble dry of the dryer, though.

Overall, it's a cute skirt. It has a bit of stretch to it, and while it's not going to fit everyone (mostly just smaller sizes), it's still an adorable piece of lingerie that is really unique. It gives you some privacy (it's not see-through) while still showing off your legs, your hips, and giving you a cute and playful appearance. For one that matches more outfits, go with the black skirt, but if you want something that has a playful pink, the pink skirt works as well.
This product was provided free of charge to the reviewer. This review is in compliance with the FTC guidelines.
Thank you for viewing
Mini cha cha skirt
– petticoat review page!