The Cheaply Cute Cha-Cha
Despite the poor craftsmanship, this skirt is cute and serves its purpose well. For $21, you can't complain about a cute costume accessory that is just-for-fun, and not to be taken too seriously. It will be the perfect cha-cha tutu for breast cancer events that I attend, but I don't plan on it lasting more than just a few of them. :(
Published:
Pros:
Cute
Color
Cons:
Cheaply made
One size
Packaging:
The Mini Cha Cha skirt by Coquette came in a nice and simple package. The packaging was a clear, thick, sturdy plastic sleeve/bag. The sleeve/bag had 2 resealable button snaps. It came with a hanger and a cardboard costume accessories tag on top. You can cut the top of the packaging off at the cardboard and just have the bag, or you can keep it all together if you want to hang the Cha Cha skirt.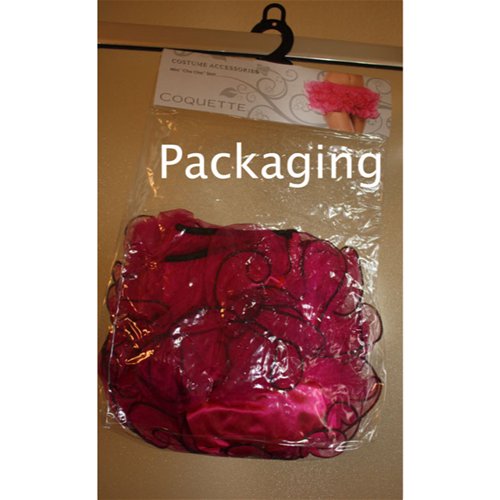 Care/ Maintenance:
The Cha Cha skirt should be hand washed only. The material is thin and doesn't hold a lot of water, so it can easily be drip dried and shouldn't take forever either!
As for taking good care of it, I decided to use the plastic sleeve to store the skirt. I didn't feel the need for the hanger piece so I took scissors and carefully removed the top portion, keeping the resealable sleeve in tact. Now I have a nice bag that is easy to store and the item stays clean and protected. I like that the sleeve/bag is clear, so I can see what the item is inside.
Design/Shape/Size:
The skirt's design is pretty much exactly what you see on the model. You get what you see!! It is a short fuchsia mini cha-cha skirt that has black accent hem finish. It is filled with 3 bubbly ruffles. On me, it fits about the length of summer shorts (or just under the butt!) This skirt also comes in a black option!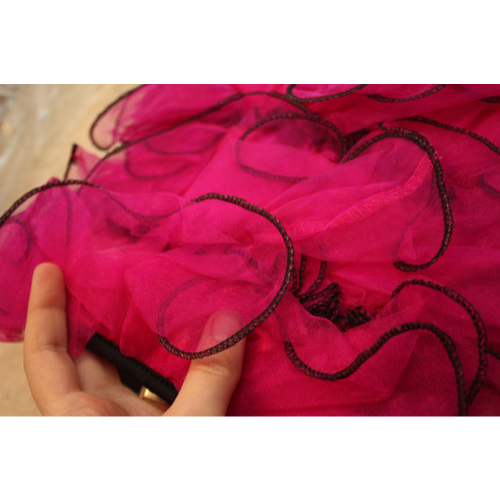 What the picture on the model doesn't show, however, is how poorly made the skirt is.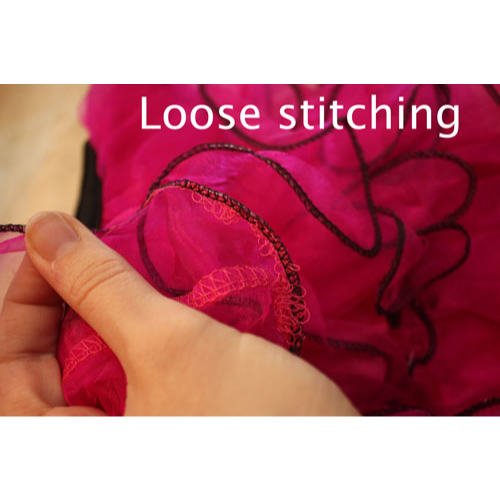 The stitching is falling apart. It is loose and gathered, barely hanging on to the skirt.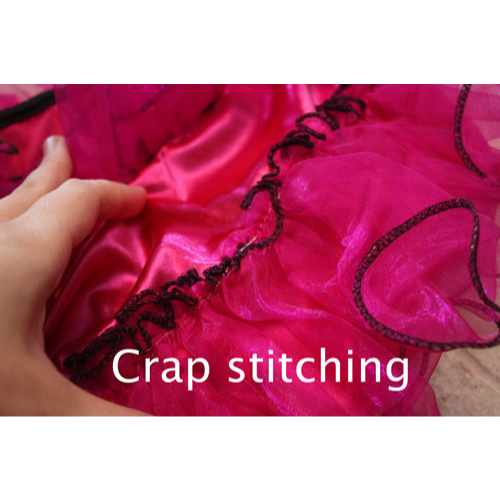 The skirt came with a hole in the mesh – brand new right out of the bag! :(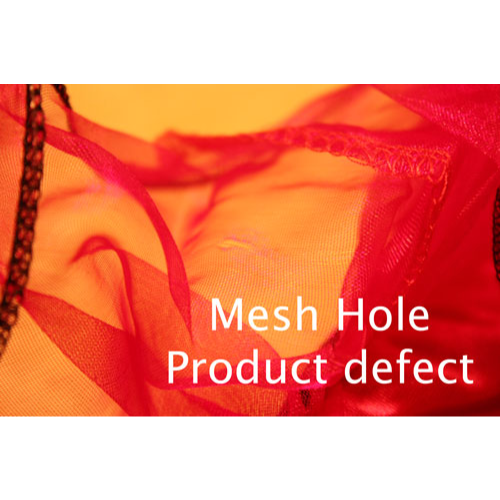 The spandex hem of the skirt was uneven and looked as though it had just been chopped by hand.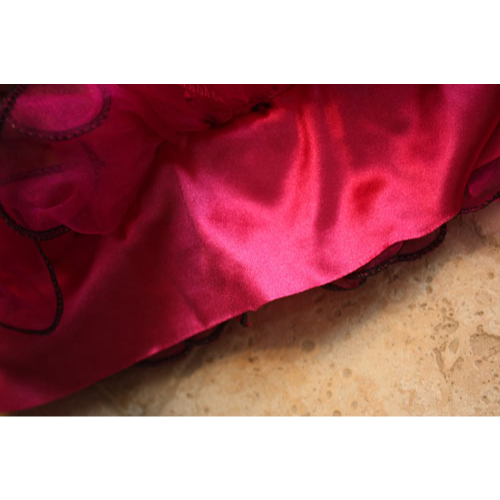 There is also only a single stitch holding the skirt on to the ruffles... so if there is a tear in the single stitch, the ruffles are bound to come right off! Lastly, the ruffles were sewn into each other and the thin elastic waist band is flimsy and felt stretched out. Made in China, go figure.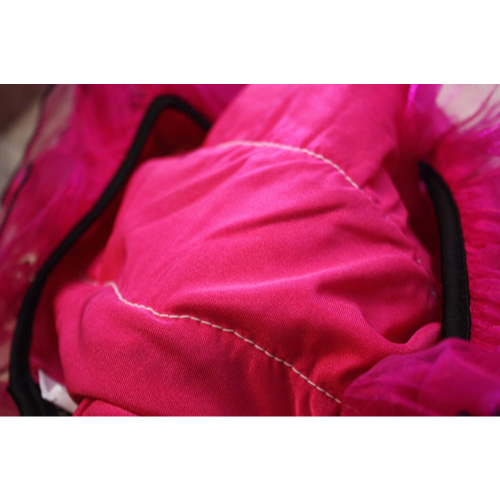 This item comes in one-size. I am typically a size small-medium. I wear size 4-6 in dresses and jeans. One-size items are usually ok on me, since I find that they are usually a medium. This item is a medium for sure. It fit right and was not tight. The band already felt pretty stretched out. It worries me that it will loosen up more and more, from trying it on, because it feels so cheap. Because of the loose waist band, this item might slip off on smaller than a size 2. I think it could be worn comfortably up to a size 8.
The skirt definitely accentuates and draws attention to your hips. (Isn't it supposed to?) Therefore, it can make you look wider, but if you wear it with other fun outfit pieces, you can distract from this.
Material/Texture:
Material: Polyester
The 3 layers of ruffles are mesh fabric and the skirt that it is attached to is pink spandex. The skirt on the inside is what makes this item not see-through. But it is short - right over the butt! Not safe to bend over in public! It is stretchy and comfortable enough when worn with leggings underneath. When wearing the piece alone, it is a TINY bit itchy (not bad).
Although the skirt is poorly made, I really do like the material of both the tulle layered ruffles and the spandex liner. It is just too bad it is made with loose stitching and poor quality all around.
Experience
Personal Experience :
This skirt is a fun addition to my costumes. I don't plan on wearing this outfit for the hubby for a "sexy" lingerie look. Unless I have a costume party at my house, I don't plan on wearing it in my home at all!
I plan on strictly using it for costumes and dress up. I will use it for when I participate in breast cancer events. I think it is a cute outfit inhancer. I will wear it with over leggings, spandex or biking shorts. It might also be cute with a longer colored tight skirt underneath. I probably won't ever wear it alone – too short!
This could be a fun gift, for a breast cancer event or for someone who likes pink in general! But beware of gifting it, you don't want to seem cheap, since it is so cheaply made!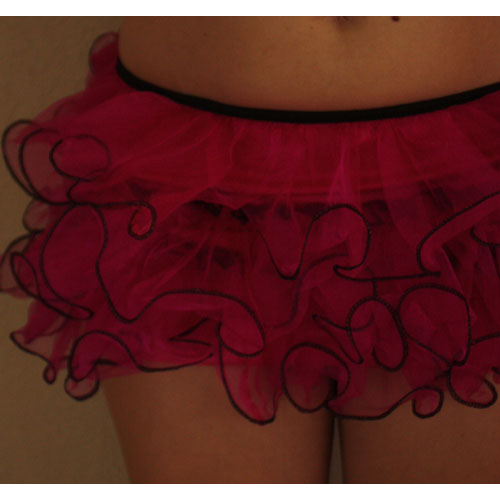 Follow-up commentary
5 months after original review
I am still indifferent on the Mini Cha Cha skirt. It came horribly made - with many flaws and bad stitching. But then again, I can't expect much from this cheap item. It has been stored in my basement and it still in the same plastic bag it came in.

I haven't participated in the October breast cancer events yet - still a few months to go - but this is still my plan for the skirt. I am hoping to wear this pink skirt as a sign of support, because pink represents breast cancer.

Other than that, I am trying to think of other ways to use it. Like a Halloween costume. Something girly since it is so pink. Maybe a fairy? A butterfly? A bottle of Pepto Bismol? What else?
This content is the opinion of the submitting contributor and is not endorsed by EdenFantasys.com

Thank you for viewing
Mini cha cha skirt
– petticoat review page!