(One Size) Let Your Inner Child Go Wild!
The Mini Cha Cha Skirt is a delightful accessory to add to your lingerie collection. It is whimsical and fun, and will make you feel like a little kid again! Go ahead and buy it. You know you want to...
Published:
Pros:
Cute and fun!
Cons:
Short and scratchy!
Do you ever look at an item on
EdenFantasys
and just want it, knowing that you will get little to no use out of it? You just...
want it
. The little kid in you comes out and says, "GIMME!" That was my reaction when I saw the
Mini Cha Cha Skirt
by Coquette for the first time...and for the second time...and for the third time...and for the...well, you get the picture. The last time I made an order though, I needed a little something to even things out for free shipping, and since this was on sale, when the little kid in me said, "GIMME!" I replied, "Okay."
The Basics
Coquette's Mini Cha Cha Skirt is listed as a petticoat. A petticoat is a lingerie item that is meant to be worn under a skirt, but sometimes it may be meant to be seen. Generally, it is meant to fluff up a skirt that is a little too flat, causing it to stand out from the hips, and making the wearer's waist seem smaller. It's a throwback to the period of time when people saw curvy women as healthy, and the overly slim were seen as sickly. Ah, those were the days!
Petticoats tend to be tiered, meaning that they are made up of several layers of material, hence the fluff. In the case of the Mini Cha Cha Skirt, there are three layers of ruffles attached to a short, form-fitting, tube skirt. It has a fabric-covered, elastic waistband. The product page calls the ruffles "organza," which is a thin, sheer fabric, in this case made of 100% polyester (as is the rest of the skirt). Eden offers this in two colors, fuchsia and black. Unlike the previous reviewers of this item, I chose the black.
Sizing and Measurements
Sizing is very simple for this item...it's "one size fits most," which I normally avoid like the plague, but you know, the little kid in me...how could I say no? In any case, Coquette's "one size" is meant to fit sizes 4 to 14, with a 26"-32" waist, and 36"-42" hips. I usually wear a 12 in pants, and have a 34" waist and 40" hips, so this should be a little snug around the waist, but otherwise fine. In truth, it isn't even all that snug at the waist, but I tend to want to wear this a little lower anyway, down on the hips, as it is rather short.
How short is it?
I'm glad you asked. From top to bottom, this skirt measures nine inches. You can see why it is meant as an undergarment. At the waistband, the skirt is 28" unstretched. The bottom of the skirt is 36" unstretched. I find that it fits me comfortably and could stretch a bit more if needed, so I would say that the Coquette size chart is accurate and should fit at least a size 14, and perhaps even a 16, but not as comfortably.
The layout of the skirt is such that a ruffle is sewn into place at the waistband, at and three and six inches below the waistband. Each of these ruffles are 4" long, so they hang over each other, with the last ruffle hanging over the bottom - unfinished - edge of the underskirt.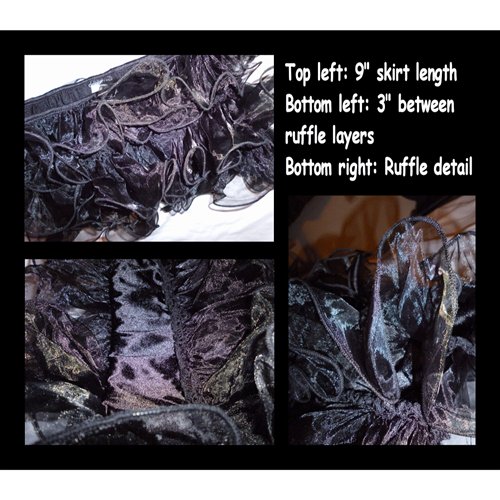 Packaging, Storage, and Care Instructions
The packaging for this item is awesome! It arrived in a thick, clear, plastic bag that also contained a cardboard Coquette insert featuring a photo of the skirt. The bag has snaps and an enclosed hanger, so it is really great for storage. You can hang it in the closet, or just store it in the bag in a drawer. The bag will keep the the delicate fabric of the ruffles from catching on anything else in your drawer.
The care tag says you should hand wash this item, then hang it to dry. This time, I think I will do as it says.
Experience
As I said in the beginning, I have no idea when I am ever going to use this skirt, but it is just so pretty and fun! Perhaps I will pick up a costume here at Eden that could benefit from the use of a petticoat. I think it would work well with
the Lager Lass
, or maybe with
the Saloon Girl
.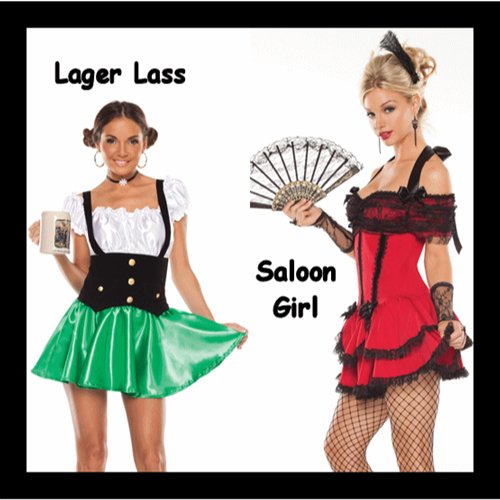 As for now, here is how it looks on top of a bodystocking with fishnets...sort of a ballerina hooker look. That's a thing, right?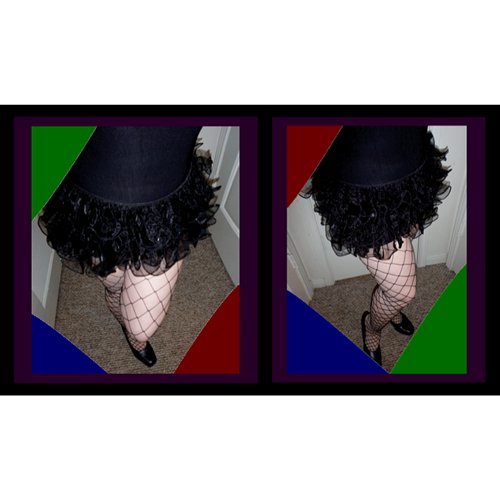 Some reviewers of the pink version of this have mentioned stitching problems and flaws in the ruffle material. I didn't see any of this on my black skirt. I should mention, though, that the ruffles are a little scratchy, so you will want to wear some form of stockings underneath. That, along with the length, has me giving the Mini Cha Cha Skirt four stars.
Follow-up commentary
21 days after original review
I still like this fun, little piece. It makes me happy just to have it as part of my collection. I have not noticed any problems with the material - it is holding up well. I do store it in the package it came in, but all it takes to get it ready to wear is a quick shake to fluff it back up. The little kid inside of me is content.
This content is the opinion of the submitting contributor and is not endorsed by EdenFantasys.com

Thank you for viewing
Mini cha cha skirt
– petticoat review page!