One-Size-Fits-Small. Still, A Pretty Sweet Skirt
If you need a sexy costume piece and want something to pop and turn heads, slip into this silky mini cha cha skirt and dance the night away. That is, if you're a size 5-7, and don't mind the itchiness of the hemline. If you fit the bill, you might find this fun little skirt a great addition to your fancy li'l wardrobe.
Published:
Pros:
Unique, flirty, great costume accessory
Cons:
Made for petite women only, itchy tulle, line dry only, made in China, not very sturdy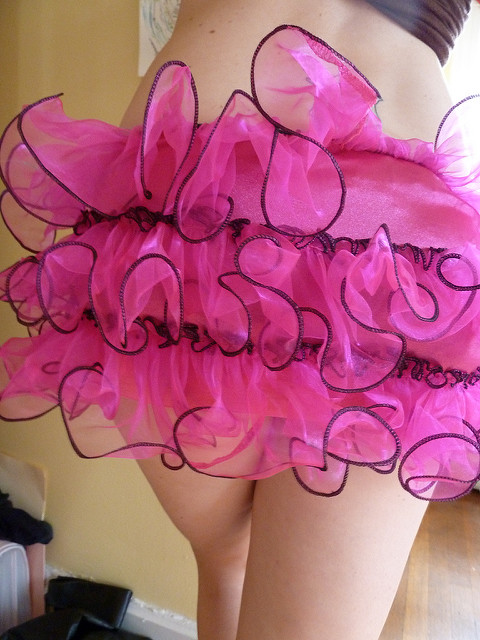 'One, two. Cha cha cha!'
We've all seen Coquette's coquettish models. Even the plus sized models don't have an ounce of gristle on them--instead they resemble an average-sized woman. Still, this 'one-size-fits-small' mini cha cha skirt is a piece to snag, if you're petite, sassy, and wear short shorts.
100% Polyester and 50% itchy (including the itchy tag... cut it out if you like), this short skirt features a silky lining with ruffly hot pink tulle running the length of the skirt, in three tiers. The black trim that goes along the waistline is the same silky Polyester of the lining, which is great, because if your waist is any larger than 33" around, you're going to be getting pretty intimate with this liner. Maybe even hiking it up to your belly button in an attempt to get it to fit. In this case, you'll be wearing a pair of fluffy pink panties, in lieu of a cha cha skirt, but if that's what you're going for, rock it.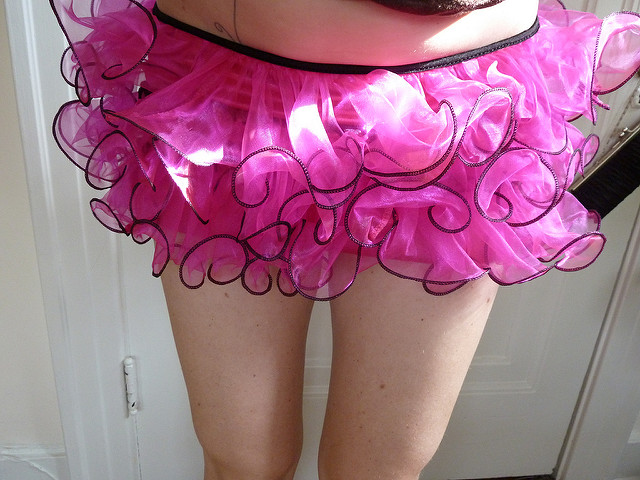 Who wears short skirts? (Why, that'd be me.)
The tulle layers hold their shape so nicely with the black accent of thread running along the edges of each frill. Oddly enough, to touch, the tulle is silky as well, but against the thighs, not so much. This piece is pretty itchy! Lucky for the mini cha cha skirt, however, it's cute enough that it doesn't really matter. I don't know many women who don't sacrifice at least
some
pain for beauty on a night out on the town. If it ain't high heels or underwire, it's itchy tulle. But pain is beauty...?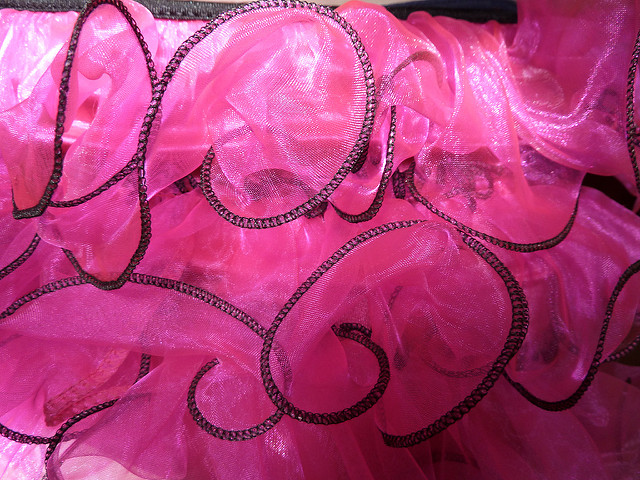 So itchy, but so pretty.
Coquette's Chinese manufacturers (sorry, supporters of local biz) command this piece to ne'er be thrown near a washer, dryer, or other fast-turning piece of machinery. Hand wash her and hang to dry, they say. But if you ask me, it'd be fine on a low-spin setting with cold water in the wash. Hanging it to dry is always recommended. But I hang everything to dry, unless it's winter.
The waistline features a bit of just slightly stretchy elastic, and will stretch to about 18" across, but that's pushing it to the limit. If your waist diameter is above that measurement, so sorry but you're going to have to look to more inclusive manufacturers to find your fit.
Another complaint I'm just going to throw out real quick and then pretend I didn't say, because it's a shame, shame, shame on a manufacturer with all their fancy equipment to do this, but the piece was sewn together pretty sloppily. A ladylike tug on the skirts main seam resulted in frayed edges, and I'll be breaking out my sewing kit for this one. A few stray threads appear hear and there, and make me wonder, not for the first time, just what the draw of 'Made in China' is, exactly.
The hem of the skirt is not finished either, but rather left cut and called a day. This part isn't visible for the most part, however, as the tulle layers overlap one another beautifully. Here or there a ruffle will allow the shiny lining to peek through, but only occasionally. An elastic lining on the hem would've been great, to prevent the riding up effect that this already short skirt has. However, once again, Coquette chose to cut corners and have thing made in China on top of it all.
You'll make an impression adding this to your Halloween costume, your leotard for ballet practice, or your circus act.
Hang on a pants hanger (you know, with the little clamps on either end) or store in your lingerie drawer; you know it's damn small enough.
And while you're at it, get another one for your dog. You know he'll be a total babe magnet in it--even moreso than he is already.
Follow-up commentary
3 months after original review
If I hadn't turned into such a homebody in these past months, maybe I'd love this skirt. Still, it's a bit too short and racy for me, and when do I ever go anywhere I could wear this? It's sitting in my closet, waiting for me to take it to my local second-hand store so I can make a couple bucks off of it. Sigh. Such is the life of an old spinster.
This content is the opinion of the submitting contributor and is not endorsed by EdenFantasys.com

Thank you for viewing
Mini cha cha skirt
– petticoat review page!