Cute, Not Quality
This cute little 'Cha Cha' skirt is a great way to make a statement while looking great in the process! If you fit into the OSFM category, this affordable little skirt would make a great addition to your closet. However, if you're looking for something high quality and comfortable, this might not be the right piece for you. The scratchy fabric makes it less enjoyable to wear and the lower quality takes away from the overall appeal of the piece.
Published:
Pros:
- Cute Design
- Affordable
Cons:
- Scratchy Material
- Quality Issues
- Only OSFM
How can it be worn?
Mini Cha Cha Skirt by Coquette is a cute little skirt to add a sweet touch to your look. This skirt can easily be worn at home (with or without anything underneath it), or out and about with some cute leggings or stockings, and makes a great costume accessory. Since there's nothing that would cover your lady parts, it would be best to wear over your clothes as a way to complete your outfit before leaving the house.
If you're a little more modest about your frills, this can also be worn underneath a skirt to help give it a little extra body. The ruffled layers allow your skirt to have a little more pouf to it, and the vibrant pink color is great if you're interested in creating more of a teasing situation by only exposing a small amount of it.
Aside from being used as or under a skirt, this piece could also be slid up over the breasts and worn as a tube top. The top part of the skirt is gathered and has a slight stretch to it, but the bottom is a little more open. Wearing a strapless bra would probably work best if wearing this way.
How does it look/fit?
This frilly skirt screams girly with its beautiful, ruffly design. The base of the skirt is a simple tube design, slightly more narrow at the top, but quite fitted all the way around. It doesn't have a lot of stretch and give to the material, but there is a small amount. The base is a solid vibrant pink color; shiny in appearance on the top, but a little more dull on the reverse side.
Over the base are three layers of ruffles; but unlike the base, these are a transparent pink color that almost has a shimmer to it. Along the edge of each ruffle is black stitching that helps prevent the ruffles from fraying and adds an attractive contrast. The top of the waistband also has a black band around it that is 3/8" wide. When the skirt is inside out, you can see some white stitching along the inside, but it isn't visible through the material. Other than those areas, the whole skirt is a vibrant pink.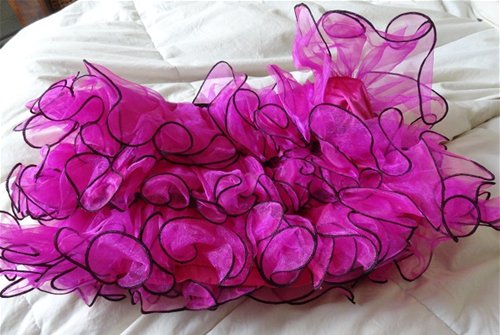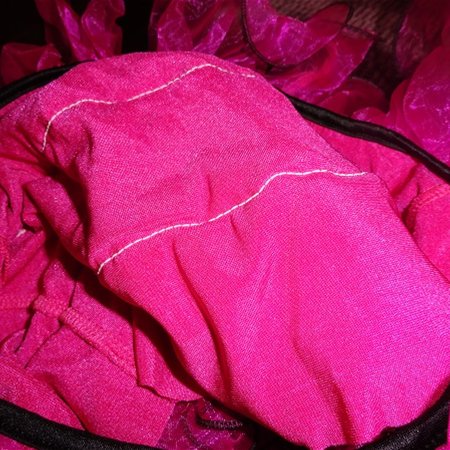 This skirt is a 'one size fits most' item which doesn't truly mean it will fit most people. It means that this piece is designed to fit people who are on the smaller side of things. According to the Coquette sizing chart, OSFM is:

A lot of one size items don't fit the way that they're supposed to. Depending on the body shape of the person wearing this, this chart may or may not be accurate. It might not be a very comfortable fit for someone who is on the upper side of the sizes, but should be suitable if you fall into the right measurements.
With the skirt laying flat, it's 14" across the top, 16 1/2" across the bottom, and 9 1/2" from top to bottom. Each row of ruffles is approximately 4 1/2" to 5" wide and goes around the entire length of the skirt. Each row of ruffles can be lifted, exposing the solid skirt underneath it. The distance between the rows of ruffles is 2 3/4" to 3 3/4", but this may vary by skirt. Because the skirt is so short, it's best to wear something underneath it unless you're at home. It would be very easy for someone to see your panties/crotch with minimal effort, so be aware of that.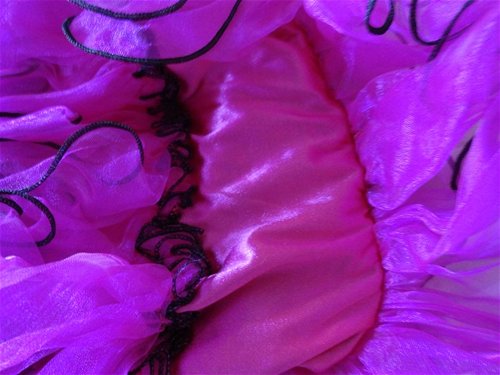 How does it feel?
This skirt is made from 100% Polyester excluding the trim which material isn't mentioned on the tag. The area that's in contact with the body has a nice soft feel to it, but the opposite side is much nicer, though doesn't come in contact much with your skin. Unfortunately, the ruffles are very coarse. They feel scratchy and rough and make your skin itch. This is probably the biggest downfall to the skirt. While it looks pretty, it doesn't feel so nice.
The whole piece is very lightweight and doesn't feel heavy when worn over or under your clothing. No matter what climate you're in, this piece shouldn't prevent you from wearing what you'd like and can be used in a variety of ways.
Experience
How do I care for it/store it?
When this skirt arrived, it came in a thick plastic bag with a hanger attached to it. At the top of the hanger it has a cardboard tag that displays an image of the skirt on the lower half of a woman's figure, the company name, and what the product is. The bag is opened with plastic snaps at the top, making it a great choice to store this, or other lingerie accessories inside of to hang in your closet. Should you decide not to store this item in the included packaging, folding up to put inside your lingerie drawer or other area is acceptable. Do use caution around anything that could snag the material since the ruffles could easily be torn or pulled.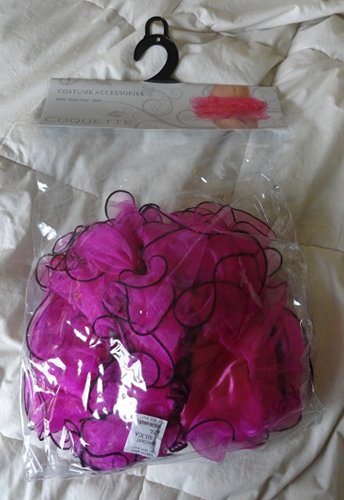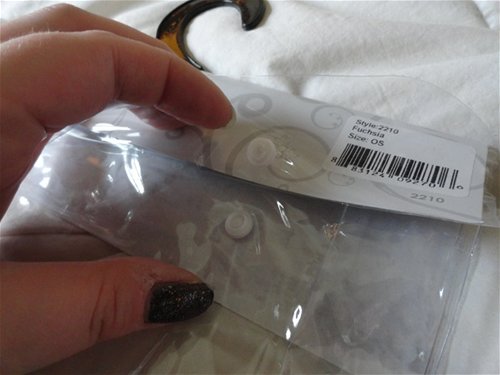 The care instructions for this product are pretty basic; hand wash, hang to dry. That's all the tag states as far as basic care goes. I would imagine using a lingerie soap would work well, but I don't think putting this in your washing machine, even in a lingerie bag, is a very good idea. Since the skirt is supposed to be ruffled, there's no need to worry about ironing the skirt and I imagine it's not recommended.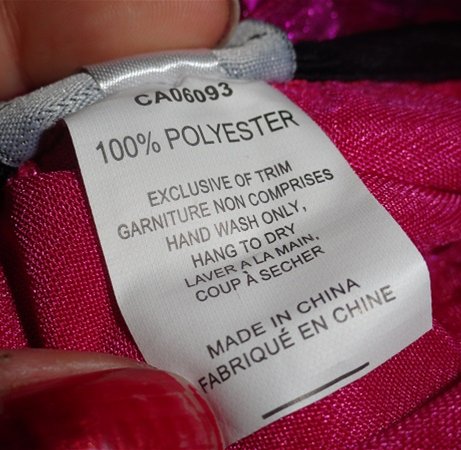 How's the quality?
After looking over this piece a few times, I'm sad to say that Coquette disappointed me with this one as far as quality is concerned. There are several areas where the ruffles are fraying and there's some issues with poor stitching. It's not immediately obvious, but it's still there. Considering this is being sold as a
Costume Accessory
I imagine that's why the quality wasn't as in check as most of their items.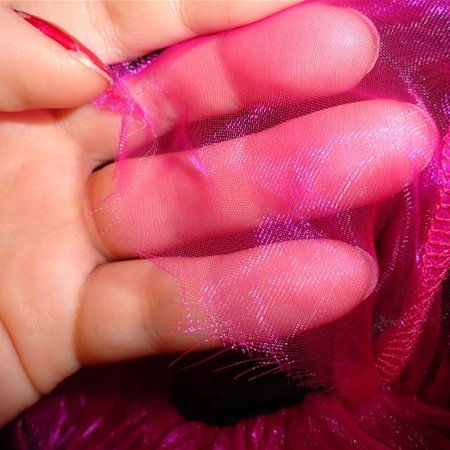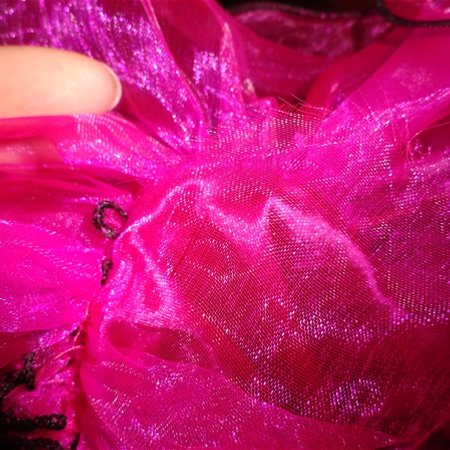 Follow-up commentary
2 months after original review
This little skirt is still so cute! I didn't purchase it for myself, but I get to see this product in use all the time. The material has held up well and though it's not without its issues, it's well loved by the person using it. The scratchy material isn't really an issue because she wears shorts underneath it and it has become one of her favorite pieces to strut around in!
This content is the opinion of the submitting contributor and is not endorsed by EdenFantasys.com

Thank you for viewing
Mini cha cha skirt
– petticoat review page!