Come on in, there's room for one more!
On the right body type, Coquette's lace and mesh babydoll could be really flattering. Sadly, mine is not the right body type.
Published:
Pros:
Nice quality g-string, soft material, well constructed.
Cons:
Runs large, no breast support, neck tie is uncomfortable.
The Lace and Mesh Babydoll and G-string by Coquette is a hot pink and black set with one of Coquette's trademark bows front and center between the breasts.
My set arrived on a plastic Coquette hanger, which sadly snapped in half during shipping.
I selected the XL, which according to Coquette's size chart fits sizes 14-16, D-Cup, 42-44 inch bust, 34-36 inch waist, 44-46 inch hips. I'm 5'11", 168lbs, 38D, 35" waist, 41" hips, usually around a size 14, so other than my hips being a little small, I pretty much fit the size chart to a tee. Your hip and waist measurements aren't going to matter much with this set, since the g-string rides low and the bottom of the babydoll is loose.
I remember reading in some other reviews that this runs a bit large, but it ended up being *ginormous* on me. Like, you could hop in here with me, provided you bought me a couple of drinks first.
The majority of the babydoll (from just below the bust down) is made up of two layers of sheer mesh fabric, and is somewhat see-through. Have you ever worn a shirt out that you thought wasn't very transparent, but then when you saw a photo taken with a flash, you could see everything? I have a feeling that's what would happen with this. Thanks to my height, the bottom of the babydoll fell about halfway down the zipper area of the jeans I was wearing when I tried it on, sort of around my upper to mid hips.
The unusual back of the babydoll kind of bugs me from a design perspective. The top part looks like the band of a bra, and is fitted with hook and eye closures that give you 3 different settings, allowing for some adjustment in the way it fits. Below that, there is a cut-out area to show off your back, and then the same flowy mesh that covers the stomach in the front. I think that part of what bothers me in terms of the aesthetic is that the pink stripe of lace you see below the bust area in the front ends abruptly in a straight line under your arms, instead of carrying over to the back or tapering off in a prettier fashion. From a distance, it looks a little like you are wearing a backless shirt with a bra, or as if your top has kind of come apart. The lower section could really use some elastic or something to help it hug your body- mine fit so loosely that I could easily pull it back about 6-8 inches from my body.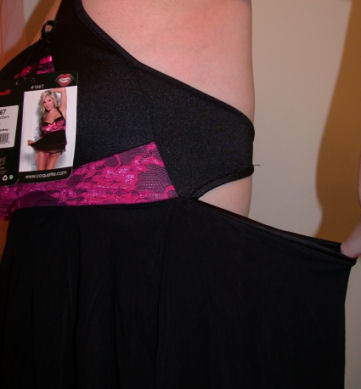 Side view
The upper part of the babydoll reminds me a LOT of a bikini top. It is made of a stretchy spandex just like a swimsuit, and ties around your neck much like a bikini. For me, the band was WAY too loose- even hooked at the tightest of the three settings, I could pull it out about four or five inches from my body with no problem. Given that the band should be supporting your bust, having it THAT loose is a problem.
The straps are half stretchy black spandex and half pink ribbon, exactly like the ribbon decorating the bust line. Since the bra band doesn't really offer support, these straps are all that can be used to hold your boobs up, and for me they didn't work at all. Even when I tied them uncomfortably tight, they didn't pull my boobs up at all. The pink ribbon was a sort of odd choice of material here- it is pretty, but doing all of the straps in the stretchy black would have been way more comfortable. The ribbon sort of cuts into my neck. After tying and untying the ribbon a few times, it was fairly wrinkly, but you could probably carefully iron it if you placed something else between the ribbon and iron to protect it.
The bust area does not have an underwire or padding, but it is thickly lined, so you aren't going to see any nipples through it. The cups are HUGE. I have large D breasts, and they are swimming in there. Even when I tied the neck straps super tight, the cups gaped awkwardly, especially in the center. I took this photo with a black bra worn underneath, you can see how far it gapes out.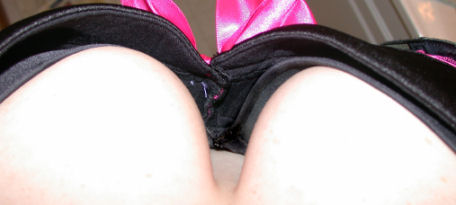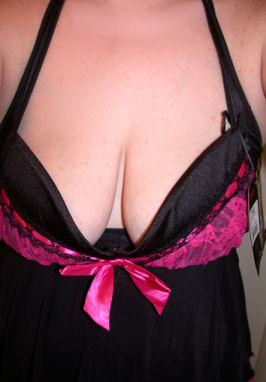 No support = sad-looking boobs.
The babydoll does have straps sewn in to hang it up with, as well as a care tag sewn into the bra band area, which suggests hand washing.
Experience
The matching g-string is pretty, made of black satin and the same pink lace overlay that decorates the top of the babydoll. The ironic thing is that it fits me almost perfectly. I have ZERO ass, so usually the thongs/panties that come with sets are too big on me, but this one hugs my body nicely. It is VERY low-rise, though. I tried it on over the underwear I already had on, since I knew I'd be sending it back, but if I had been wearing it the normal way, it would have basically covered the necessities and nothing else. If you have pubic hair, expect an inch or so to be sticking out over the top! There isn't much stretch in the waistband, so I wouldn't expect this to fit anyone more than an inch or two larger than me comfortably. However, if it does fit you, you will probably find it comfortable enough to wear under clothing-it is lined with a soft black satiny fabric and has a tiny tag with the size sewn inside the top front.

Coquette makes several other pieces that match this set- the stretch lace corset that we have on EF would go perfectly with the g-string, since it doesn't come with its own. There is also a pretty matching bra and panty set in the same colors/lace pattern, but sadly we don't have that here.

I'll be returning this set, which makes me sad, but there are just too many issues to make it work. I considered trading it in for a Large, but I think that the design problems I encountered would still be an issue, even at a smaller size.

This could be totally flattering on the right body type, just be sure to order down a size if you're not sure which to get! I'm guessing this would work best either on someone with a small chest that won't be bothered by the weight of heavy boobage putting pressure on your neck from the halter straps, or someone that has trouble finding lingerie that fits their waist/hip measurements, since this does offer a lot of comfortable room in that area.

I thought about rating this higher, because it IS really nicely constructed out of beautiful materials, but looking through some other reviews, I noticed that a large percentage of reviewers had SOME kind of fit issue. My lower rating isn't just because this didn't fit me, but because the design seems to make it pretty limited in the number of people it would fit really well and comfortably.
This product was provided at a discounted price in exchange for an unbiased review. This review is in compliance with the FTC guidelines.

Thank you for viewing
Lace and mesh babydoll with g-string
– babydoll and panty set review page!