Don't Buy This Unless You Can Sew
I originally had this baby doll rated at 4 stars, but the fact that I wore it twice before the straps ripped off knocks it down to 3. I want to give it two because I am really upset with this. Be careful with the ribbons if you get this, and make sure not to tie them too tight. You will still have to tie them pretty tight in order to adjust the top for your breasts, so it will be a delicate balance.
Published:
Pros:
Stretchy material, nice fit
Can be washed in the washer (delicate cycle)
Cons:
Horrible sewing job, I am very disappointed with Coquette for this one.
This babydoll by Coquette is designed to help accentuate curves and conceal problem areas on a woman's body. It is made of satin, lace and mesh therefore it is extremely flexible, and the flowing mid section helps you stay comfortable while you are wearing it.
The top consists of a halter style ribbon that ties around the neckline. This was my only concern when making the decision to purchase this outfit, as other reviewers had stated that this can be uncomfortable. They were right. I find that most halter style tops that tie like that can be uncomfortable for larger chested women, since we need a bit more support than a simple ribbon.
If not tied tight, the cups can sag causing your breasts to just kind of hang there, leaving some apce in between the fabric and breasts. If tied too tight it can cut into your skin and leave a rash.
However, if you tie it too tight, the ribbon straps will rip right off. I have worn this piece twice and they tore right off. I am very pissed because I did not even get a chance to wear this for my new partner yet.
Looks great on fuller figures!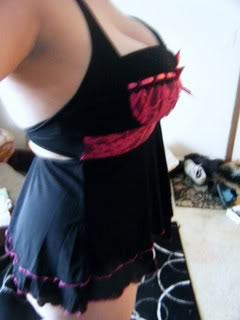 Straps after I wore it the second time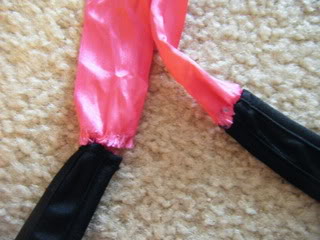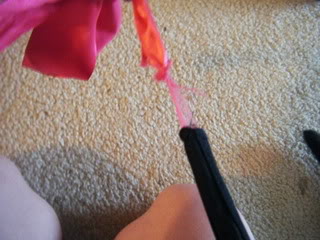 Straps are goners!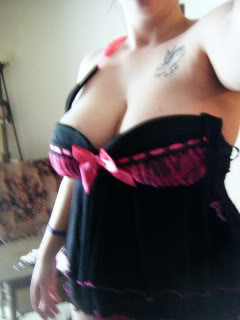 The chest area is designed with a pink lace overlay and bow (Sam is right, they really do like to
abuse bows!
) in the center of the breasts. The pink lace covers the bottom half of the breasts, like a demi cup, and wraps around the front.
The midsection is dual layered to add a sexy, flowy effect and is made of satin and mesh, and is somewhat sheer. The double layered material is a nice touch in my opinion, as it kind of adds to the effect of thinning out those love handles. For some women this can be very flattering, for others it could be the other way around. I am not particularly partial either way as to what it does for me, I do like it, but I don't feel like it is absolutely flattering to my shape.
The back of this closes like a bra with a hook and eye closure. This is designed to help support the breasts, and honestly I'm not sure if it does much help. I think it kind of looks weird because the back is open, and then you have this bra strap looking thing in the middle. This leaves a hole for the rest of your back to be shown through, and it just looks weird to me.
Experience
(Continued from top)

The G String is stretchy and very comfortable. It is made of mesh with pink lace overlay to match the babydoll.

This outfit can be washed in a washer on gentle cycle in warm water only. I recommend using a mesh lingerie bag and air drying it. The G String will be fine with the rest of your clothes.

I measured the piece by laying it flat and doubling the measurements to get a rough estimate of who it will fit. Please note that the material is very stretchy, and therefore generous with size.

32 inches across the breasts
30 inches across waist
44 inches across the hip

The length of the piece is 22" long from the top of the cups to the bottom of the back. The back is longer, and the front only measures to 18" from the top of the cups to the bottom of the second layer.

I ordered an XL. According to the size chart, XL should fit a size 14 - 16, bust size D 42 - 44 , waist size 34 - 36, and hip size 44 - 46.

I am 42D, with a 36 inch waist and 44 inch hips and this fit me great. In fact it was a little larger in the bust area.


I loved this thing when I first got it. I wore it twice around my house before the ribbon started ripping, and it finally ripped off when I went to take pictures for my review. I think this is due to the lack of support in the chest area causing me to tie the straps tight around my neck.

Unfortunately I can't sew so I'm screwed and very dissapointed in Coquette for doing such a shitty job on the stitching of this piece. I have also noticed the sewing along the hem starting to come off in places is well.

I was planning on wearing this for my partner to celebrate his birthday, but now I can't because it won't stay up on me at all.
This product was provided at a discounted price in exchange for an unbiased review. This review is in compliance with the FTC guidelines.

Thank you for viewing
Lace and mesh babydoll with g-string
– babydoll and panty set review page!