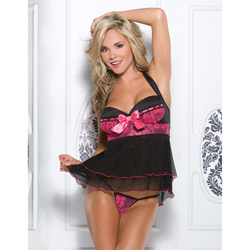 Lace and mesh babydoll with g-string
Babydoll and panty set
by Coquette
Perfectly Sexy
This is a gorgeous outfit, and I'm proud to have this as my first piece of lingerie. If you're looking for something that is flattering to your body, beautiful, and will tempt your partner, this is absolutely perfect.
Published:
Pros:
Durable, beautiful, fits a variety of sizes, flattering to most figures, perfect for plus-size.
Cons:
Bra cups are too big for anyone under a C cup, g-string is a little cheap.
The Lace and Mesh Babydoll with G-string comes with two pieces: you guessed it: the g-string and the babydoll itself. The entire set is made with satin, lace, and mesh and comes in this beautiful pink and black color. The set is made from Coquette and is a piece from their main line.

The packaging was very basic. My lingerie just came in a large plastic, sealed bag that held the lingerie and the g-string. Surprisingly, it must have been packaged nicely because none of the lingerie is wrinkled in the slightest. The babydoll piece comes with a tag from Coquette on it. The tag just includes the size as well as the same pictures that are shown here on EdenFantasys. It also includes their website information, but surprisingly, no cleaning information. The tag is attached by a clothespin and comes off easily without harming the babydoll.

To let you know sizing-wise, I'm usually a 1X/2X on my top half and about 3X/4X/5X on my bottom half. I weigh about 290 pounds, and I'm 5' 8''. When I requested this for review, I was a little worried about it fitting since my bottom-half is larger, but I'm pleasantly surprised to report that it does fit - and it fits almost perfectly.

The babydoll itself is gorgeous. The colors are perfect and adorable. The breast portion is made from satin with a lace overlay. The bra cups don't have any underwire nor does they have any padding or filling. They are comfortable to wear and have nothing itchy in them. Instead of having straps, the top is held up by a halter top style. The straps are made from satin, black, and attach from the sides of the cups. About half-way up the straps (where the straps would meet your shoulders), the straps turn from the black satin to a pink ribbon. It makes it a little annoying to tie on your own because the place where they are sewn together weakens the tie just a little bit. It does look cute if you have short hair though. (Long hair, like mine, covers it up) The front of the bra cups are covered with the pink lace overlay, a ribbon running along the tops of the cups, and a black lace overlay going right through the ribbon. In the middle of the cups is a cute, pink bow that measures about three inches wide and four inches tall when laid flat. The bow actually looks pretty adorable if you are wearing the set. All of the upper portion of the babydoll is satin and not see-through. On your back, at the same height of the cups, will all be bare.

Underneath the bra cups comes the mid-section meant to accentuate your curves by keeping the babydoll close against your skin to help accentuate the upper-waist. The front panel has the cute stripe across of the pink lace overlaying the black satin. I have a lone thread that's come undone right here since I received it a week ago. The top-half of this strip across does have a seam on the inside, and I did find that to be slightly itchy, but nothing horrible. The backside of this strip includes to satin pieces that meet in the middle across your back. It has a bra clasp on it with the three various clasp sizes. It's also meant to keep this piece as close to your body as possible. Also, in this section, there are two little strings on either armpit to holding up the outfit when its not in use on a hanger. This entire mid-section piece is all made of satin and not see-through.

The bottom half of the babydoll is made from two layers of mesh. It's meant to stay free-flowing away from your body. The bottom-most layer hangs down about two inches farther than the top layer for a cute layering effect. The bottom of the mesh layers includes two little strips of pink fabric for highlighting. Since this portion is made from mesh, it all is see-through. This portion has seams, but you can't really feel them against your skin, and it's perfectly comfortable to wear.

Measurements for the babydoll:
Under-bust circumference: 40 inch circumference, possibly up to 44/46. The back clasp will allow for an extra two inches past that.
Mesh portion hangs down 14 inches
Each string for the halter portion is 20 inches each, equaling 40 inches total leeway
Mesh portion circumference at the upper half: 48 inch circumference
Mesh portion circumference at bottom half: Over 70 inches
Experience
The g-string is completely made from the black satin. The front panel of the black satin g-string includes pink lace overlays. Overall, it's just a regular g-string. The satin of these undies is pretty soft and doesn't ride up at all. I feel like the undies would fit just about anyone who could fit the babydoll itself, but the crotch portion of it does sag down a little bit farther than I'd like it to. There's no specific crotch-lining on this, and there's a tag included on the front portion of the thong. If it would bother you, it's easy to cut off.

Measurements for the g-string:
Waistband: 40 inch circumference with no stretch, 60 inch circumference with stretch
Crotch portion before turning into just strings: 14 inches
Entire front-to-back piece starting and ending at waistband: 28 inches

For the most part, I was surprised by how well made the set was. It wasn't all that expensive, but the set actually was made quite nicely. There were a few seams on the inside of the babydoll that did get uncomfortable if I moved in certain ways, but for the most part, it all was very soft against my skin. The seams are still holding strong, and I don't think they will be falling apart anytime soon.

So how did it fit me? Pretty nicely. Even with my weight as I stated above, it all fit nicely. The mid-section was tight against my body, and the lower mesh portion actually wasn't. It hung out just like it was supposed to, and the boyfriend said it looked amazingly sexy. My only fault? I'm a B cup, and the bra cups literally *hang* off me. I don't fill up even a semi-decent portion of them. That having been said, C cups would look nicer in it, but unless you have D or DD, don't expect to fill out the cups. I thought it looked ridiculous hanging off like that, but the boyfriend says it makes my breasts look bigger, so I guess it's not as bad as I thought it was. As for my measurements, my hips are 60'' and my waist is 50'' and this still hangs off nicely, so unless you are about five or ten inches bigger than those, I believe this babydoll would fit just as nicely. The bottom of the mesh portion does fall about half-way down my butt as well, so be prepared to expose your butt or wear some covering undies compared to this g-string.

Finding cleaning information about this set is located on the inside tag of the babydoll. It just says handwash. I haven't had to wash it yet, but when I do, it'll be handwash with cold water. I'm tempted to put it in a lingerie bag and put it in a delicates cycle, but I'm not sure how it would work.

Overall, I'm impressed. Seriously. It's beautiful, I'm so happy I purchased it, and it's just downright gorgeous. I would recommend this set to anyone seeking out a flattering set that hugs your curves just perfectly. (Even if you have more curves than most. :) )
Follow-up commentary
2 months after original review
Eeeee. This is easily still my favorite (and only) piece of lingerie that I own. It doesn't quite fit in the breasts, but because it's larger, it makes my breasts look larger too, so I can't quite complain. I've worn it a couple times around the house, and it's extremely easy to put on and take off by yourself, and it's just downright gorgeous. The skirt is swish-y too which is amusing.

For someone (me) who can never manage to find flattering clothing (much less lingerie) because of my size, this is a savior. And I love it. So much.
This product was provided free of charge to the reviewer. This review is in compliance with the FTC guidelines.
Thank you for viewing
Lace and mesh babydoll with g-string
– babydoll and panty set review page!