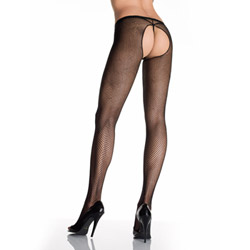 Crotchless fishnet pantyhose
Crotchless pantyhose
by Leg Avenue
Crotchless Fishnet Pantyhose (OS) Review
Is there anything sexier than a pair of crotchless pantyhose? Not in my guys opinion!

This pair of pantyhose is sexy and comfortable. I loved them so much, in fact, that I purchased two pairs. The second pair did not, unfortunately, live up to the first pair, so it makes me think that there might be a lack of quality control. While the second pair left me disappointed, the first pair was great enough that I'm willing to take the chance and purchase these again.
Published:
Pros:
Sexy, Crotchless, Stretchy, Should fit most!, Comfortable
Cons:
Seems to be a lack of quality control
My boyfriend frequently tells me how sexy he thinks crotch-less fishnet pantyhose are. In an attempt to surprise him, I hesitantly ordered this pair. My expectations were low, as what can you expect for $3.99? I loved these stockings so much that I ended up ordering a second pair.

Now...
My first pair? They're amazing. My second pair? The quality wasn't as great. Before we get into that, lets take a closer look at these sexy crotch-less fishnet pantyhose.

The Basics:
This pair of crotch-less pantyhose is brought to us by Leg Avenue. They were made in Taiwan, but available for purchase here on Eden Fantasy's.

The pantyhose are black in colorway, with a fishnet design. They are also crotchless. In the stock photo, the model is shown wearing a thong; the thong is not included.

The pantyhose have a small seam at the center of the front and back, right at the waistband. The seam does not bother me at all. The waistband, by the way, is elastic, and is very stretchy.

The.. Wearing?:
Putting these on is fairly easy, although they can easily get tangled. Just be patient, and slowly slip them on. Don't tug too hard, or you could rip the delicate material.

Personally, I like to wear these to surprise my lover. The first time I wore them, I paired them with a basic dress. He was ecstatic when he reached under my dress and discovered that these were crotch-less. You can bet that some fantastic sex followed, and the pantyhose didn't even need to come off!

After that, I got a little more daring and decided to wear these out. Now whenever he sees me out in these stockings, he asks me "are those...the ones?", with a hopeful smile on his face. Nothing gets him more excited than when I say yes.

This pair of pantyhose looks great under dresses, skirts, and even when paired with lingerie. The really great thing about these is that you don't have to remove them during sex. I've had sex multiple times in these stockings, and they have held up amazingly.

If you do decide to wear these out, just be aware that the hole may slip down a bit while you're wearing them. So... it's probably not best to pair them with mini-dresses.

The Material:
These are made out of 100% Nylon.

I have purchased two pairs of these same stockings. One pair felt extremely soft, whereas the other was slightly less soft. The pair that felt extremely soft was much more delicate, and tore almost immediately. The pair that was less soft has held up very well to multiple wears, and isn't at all itchy or uncomfortable.

The Care:
It is recommended that you hand wash these in warm water, and then allow them to drip dry. If you need to bleach them, you should use only non-chlorine bleach, and sparingly. You also should not iron these.

I would stick with the care instructions outlined above. The only thing I would add is that I would use only a very, very small amount of soap (as little as you can get away with, really), as too much soap seems to make these feel a little stiff (and who wants that?)

As for storage? I would recommend that you place these inside of a plastic baggy, and then place them in a drawer with your other stockings.

The Sizing:
Leg Avenue has made these available in One Size Fits Most. That's right, there's NO plus sizes. Now, before you roll your eyes and say "there's no way these will work for me!" -- relax! These are very stretchy, and they really should fit many different people.

It is stated on the package that these should fit anywhere between 90 and 160lbs. Personally, I think weight is a lousy way of sizing items, so I'll tell you about how these fit me.

I am 5'6" with a 33" inseam. Height wise, these fit me great, but I could see them fitting someone taller, and someone shorter, than me. This is due to the fact that the material is so stretchy.

My waist is a 32", and my hips are 40". These stockings fit just fine in these areas, but there is still plenty of stretch to them, so they should fit larger individuals as well.

The last bit that you should consider is thigh size. My thighs are 26" around at the largest point, and these fit me comfortably. They should be able to accommodate both larger and smaller thighs, as well.
Experience
The Packaging:
The packaging for these is your basic cardboard sleeve. The cardboard has a photo of the models legs on both the front and back. Inside of the cardboard sleeve, the pantyhose are wrapped around a piece of cardboard, and then inserted into a sort of plastic covering.

The packaging is not suitable for storage, as you basically need to destroy it to get the stockings out.

The Quality:
As I've mentioned, I have purchased this same pair of stocking twice.

The first pair was (and is) amazing. The stockings have held up to some rough use, and they haven't snagged at all.

The second pair, on the other hand, was less than desirable. The second pair had bits of loose thread coming off of it, and they ripped almost immediately.

All in all, I am giving these a 3, mainly as there seems to be a lack of quality control.
Follow-up commentary
2 months after original review
I wrote in my review that I had purchased these twice. One pair that I purchased rocks, and continues to rock, whereas another pair completely fell apart right out of the box. Since my review, I've purchased a few more pairs of these, and the quality of the new ones seems to be good so far.

I do, however, feel that there's little to no quality control with this product.
This product was provided at a discounted price in exchange for an unbiased review. This review is in compliance with the FTC guidelines.

Thank you for viewing
Crotchless fishnet pantyhose
– crotchless pantyhose review page!