Sexy, cheap and easy access.
These stockings are awesome. Not only are they sexy, practical and fit well, but they are cheap too. For the price, you need to spring for a pair. You might end up wanting to get more of them too. Nothing to complain about here. I got exactly what I was expecting and more. Now all I need to do is get my woman to wear them.
Published:
Pros:
Fit well, stretchy, sexy, accessible, affordable
Cons:
none
The crotchless fishnet pantyhose are your standard stocking with a hole in the crotch to access your private parts without having to take them off. Quite frankly, they probably are better to wear, since they let your crotch breath better, preventing possibly yeast infections for women. Besides the obvious use for wearing during sex and foreplay, they also mean you could go commando and not have to drop your stockings to pee or use the bathroom. The crotch opening is quite large. It comes up well above your pubic hair area, is wide enough to expose some of your thighs and also shows your entire butt crack. That's not a bad thing, just pointing it out. Of course they don't have to just be for ladies, some men may enjoy these too who have fetishes and it's good to know they can fit most.
I'd recommend wearing your panties over them, just for easier removal to urinate or have sex (if that was the plan). For everyday use, they would be very comfortable as well and you could wear your panties underneath. Alternatively you can wear a thong/bikini with a side clip, like mine, for easy removal when you were ready to get laid and want to keep the stockings on.
I originally purchased these for my partner, but she never even tried them on nor seemed interested, so I decided to try them myself and post a review from my own perspective. I think she might think they are too slutty or impractical, but I'd say they are just the opposite and very practical (slutty yes, if you want to be...optional). I can see where this style would be more appealing then wearing regular panty hose.
These are one-size fits most and I am 6'2" almost and have long legs (34" inseam and 200+ lbs) and found these to fit quite comfortably. I'd say I had extra room and length too, if I happened to be taller. My waist is approx 38" currently and the waistband fit securely. Not too tight nor too loose. If you are really short and petite, these may even be too big possibly.
The stockings themselves were very comfortable and sexy feeling to wear. I know you're asking yourselves, "but you're a guy, how could you compare?" Well, I've actually tried on and worn some panty hose and stockings before, out of curiosity, to see how they felt and found it arousing too. I'd say these were the most comfortable ones I've tried. I'd even say they work well for a guy who is into some light cross dressing, as you can wear them and have all your important parts exposed and easily accessible too. It's similar to wearing a garter and stockings, without the hassle of the clips and stockings sliding down constantly.
The material is nylon, but has a kind of cotton feeling with rather small squares on the fishnet pattern. They are quite stretchy and I was surprised they had as much give and extra room as they did. I'm not sure you could wear these under something clingy without them showing lines underneath, but with some fabrics and loose skirts/dresses, I'm sure they would be just fine. Being fishnet, they do not hold in as much heat either; great for summer and hot/humid weather. While these look like special occasion hose, I think you could wear them everyday and might find you prefer them over traditional hose. You will definitely prefer them if you are the type to enjoy easy access and spontaneous play wherever you happen to be. You may need to play around a bit to get the thigh openings to be symmetrical on both sides.
They fit such that you have access, not only to vaginal penetration, but anal sex or toy play, as well. I admit, after I tried these on, I was aroused and I had to insert an
Njoy butt plug
and have at it with my
Julie Ashton pussy and anus
.
Due to the fragility of the product, I'd recommend hand washing these and line drying.
The packaging is a standard cardboard sleeve with a photo of the lower half of a model wearing the hose. The packaging is not discreet and is recyclable.
At $4 a pair, I might just have to order more. Too bad they don't come in more colors.
I like to include photos in my reviews, but since my "model" never even opened the package, I had to model them myself. EF first?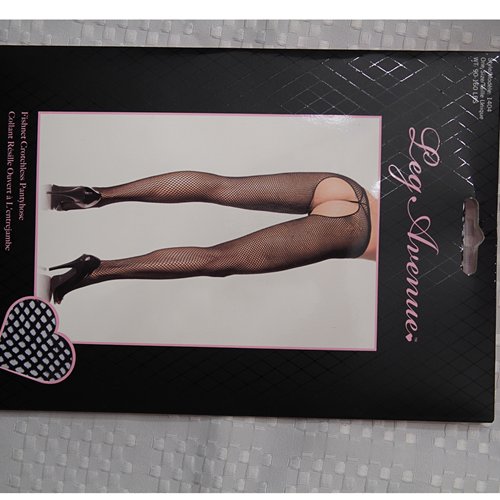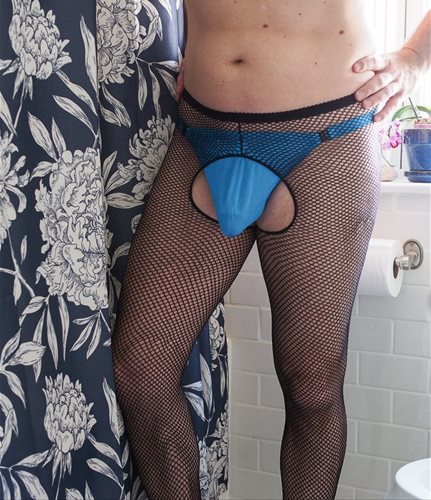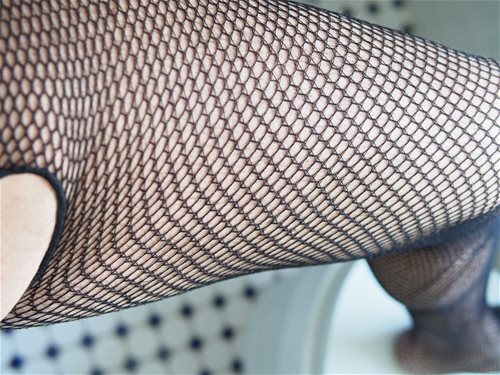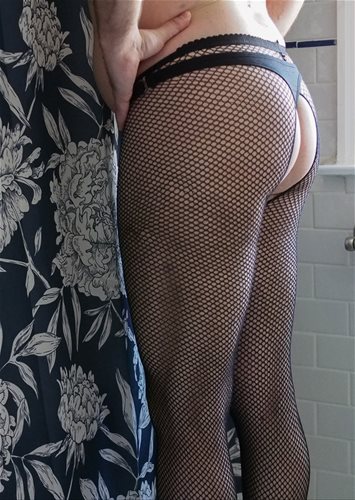 Follow-up commentary
31 months after original review
Still love these. They feel and look sexy when wearing them. Pretty durable too. I'd buy them again, or a similar variant.
This content is the opinion of the submitting contributor and is not endorsed by EdenFantasys.com

Thank you for viewing
Crotchless fishnet pantyhose
– crotchless pantyhose review page!