What easy access you have there ma'am!
For 3.99 I guess I couldn't expect a whole lot, and even though there is some pros to these pantyhose the cons over way them and make it so I won't be wearing these under my dresses in public. According to other peoples reviews not everyone has had issues with them, so mine might of been one of the few that had problems. If you are looking for a pair of crotchless pantyhose to wear a few times I would recommend taking the chance with these as the design is great.
Published:
Pros:
soft, can fit a wide range of sizes, crotchless, cheap
Cons:
netting shaped differently in spots, snags easily
Since I have oodles of thigh highs and very little pantyhose I searched EF looking for a cheap pair that I could wear in and out of the bedroom, and that is when I came across these crotchless ones by Leg Avenue. Reading reviews on them and most of them praising how great they are especially for the price I was sucked into buying them.
I really wanted something I could wear with my dresses, so I purchased these when I bought the off the shoulder dress hoping I could wear them together. They came in a small cardboard box with the same picture on it that the product page has. On the box it states that it is best to wash these by hand in a warm water, and to drip dry. It also since that these are a one size fits most pantyhose, and with the weight range being from 90lbs. to 160lbs. . Although it says this I do believe that someone up to 180lbs. could wear these comfortably, and that someone at the lower end of the size chart might find themselves swimming in them. I am 5'5, and 155lbs. and I have plenty of room to stretch them in both ways when I have them on.
At the top of the pantyhose is an inch thick elastic waist band, that unstretched measures at 10" inches long. When stretched out the farthest it goes, it measures at 25" inches! From that elastic band down is the fishnet, so there is no control top or solid nylon area on these pantyhose. The open crotch starts unstretched about 2" inches down from the waist, and 10" inches down on each side by your legs (unstretched). The crotchless area is in an upside down U shape thats pretty wide, so when wearing these your crotch and most of your booty are open like how they are on the model. You can wear panties or a g-string with these if you don't want to be that much exposed.
Made out of 100% nylon each honeycomb shaped netting is thick and stretchy. Even though I found they tend to snag on things easily, I would imagine it would be hard to actually rip them with how thick the nylon is. As the fishnet goes over your legs the netting gets larger the more they are stretched. You will not find any toe reinforcement on these, just a thick seam of where the fishnet meets together. Although you shouldn't have any issues with your toes sticking through as the netting is small at your feet.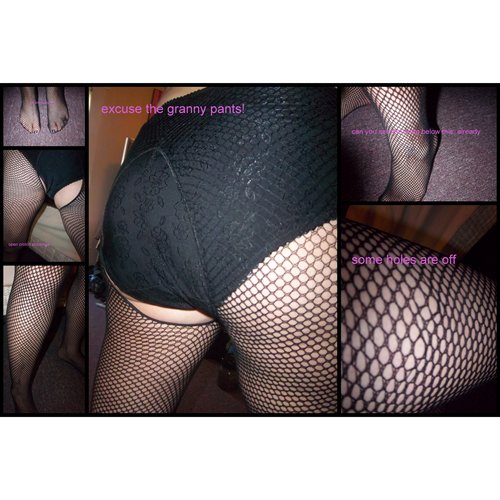 Experience
When I took these out of the package right away there was acouple snags which has caused spots on my legs that look darker when wearing them. This is a HUGE pet peeve of mine so unfortunately I don't see myself stepping out of the house in them. My main use will be to suprise my boyfriend and let him discover that I'm not completely covered under my dress, and once he gets the pleasure of discovering this it will probably be the last time I wear them. Also another reason I won't wear them out of the house is up by my thighs there is acouple spots where the netting is shaped differently from the rest. I find this to be funny because in another contributors review on these she had the same issue and I thought it was just hers that were deffected. This is disappointing because they are very comfortable and soft to the skin to wear. I was intrigued by the whole crotchless design so now I'm going to have to find some that I can wear out of the house.
Follow-up commentary
6 days after original review
My boyfriend was impressed that he had easy access when he lifted up my dress and found these to be crotchless. Telling me I should wear these more often when we go out, secrectly knowing what is exposed and waiting for him he found to be exciting. Even though he heard the gods when discovering I had these, I on the otherhand still don't like them do to not getting over the different sized holes on the thigh. Trying to explain and show him why he couldn't have the satisfaction of seeing me out of the house in these was like talking to a wall! Isn't it amazing how most men can't see when something is of bad quality or made wrong?! I will be getting more crotchless pantyhose to make him happy just not this kind, and maybe, just maybe if he's a good boy these pantyhose will get one more wear out of them and then in the garbage they go!
This content is the opinion of the submitting contributor and is not endorsed by EdenFantasys.com

Thank you for viewing
Crotchless fishnet pantyhose
– crotchless pantyhose review page!