Sexy as hell AND inexpensive, what more can a kinky girl ask for?
If you don't own a pair of crotchless fishnets already, these are the pair you should try first! The sizing is versatile and the price can't be beat. Just be sure you're not too short!
Published:
Pros:
dirt cheap, durable for the price, sexy as all get out, very stretchy
Cons:
no reinforced toe, might be too big for smaller or shorter girls
I like stockings and especially love garter belts paired with thigh highs. I'd never owned a pair of crotchless stockings until my order arrived including this pair and a few crotchless body stockings. I didn't quite know what I was in for, but I'd seen some very sexy pictures of girls wearing the crotchless fishnets and riding reverse cowgirl and knew that it was something I needed to show my guy, and I needed to do it in person.
On sale, I snagged these at just pennies over $3.00. I expect to be able to wear them at least a half dozen times before they're really done, so these are really worth the price. They have held up well to the first two uses, and my boyfriend loves the way they look. I haven't had much issue with snagging or any other physical deterioration. The worst thing I've noticed after two wears is that a few of the diamonds in the knit pattern have become a little "warped". A picture is included below. I think this could have been avoided if I had been a little gentler when putting on and adjusting the stockings, but I also think the stretches in the design can be salvaged.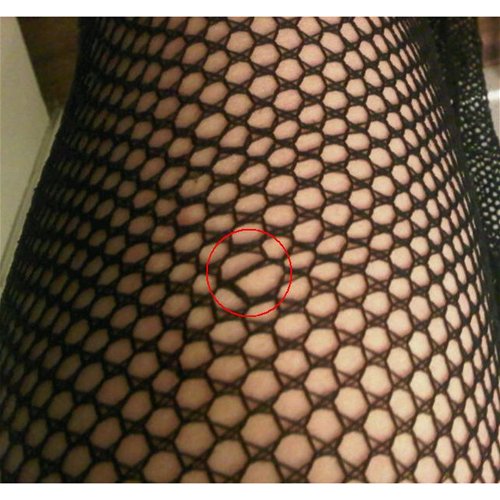 I wasn't really willing to yank on the stocking and try to re-align the pattern, but you probably could if you were truly determined. I had maybe 3 or 4 of these spots come up (with my not-so-gentle use), but they aren't very noticeable.
When the skin on my feet is very dry, the stockings will catch on the dry skin and sort of stick to my feet as I take them off. This hasn't caused any pulls or snags in the stockings, but is mildly annoying when putting them on or taking them off. I should also note that the feet of these stockings are not reinforced, but the size of the fishnet seems to keep your toes from slipping through. I didn't have a problem with the lack of reinforcement, but if you wore these often or wore them often with shoes, you might. Here is a picture of what the foot of the stocking looks like. As you can see, there is a LOT of stretch in there, you can see the seam run down the right side of my size 9.5 foot after it has already covered my toes.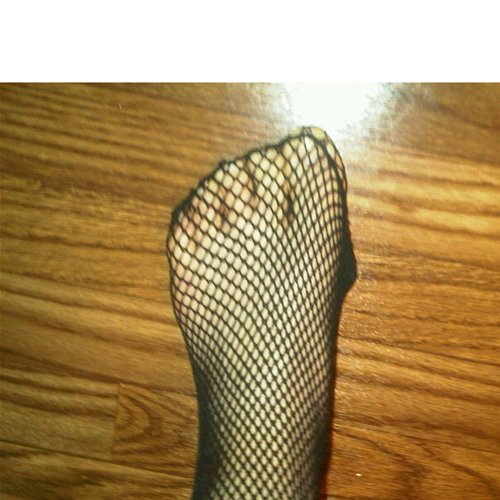 To keep these clean, I just hand washed them in the shower and let them drip dry over my towel bar. The second wear felt as good and solid as the first. The stockings weren't stretched out from wearing or washing and they still felt new and clean.
Putting them on was pretty simple. I just put them on like regular tights and focused on adjusting them once I got the crotchless cut out up to my crotch. The size of the cut out is fantastic. It's large enough to accommodate a wide variety of body sizes. The packaging indicated that these stockings were "One Size" for the 90-160lbs weight range and I would definitely agree. I would even hazard a guess that you could rock these at a weight above 160lbs, but you might run into problems with the elastic waistband cutting into your waist.
When I shimmied these up my legs, there was a LOT of give and extra room. I'm fairly slender but have thick thighs. I'm about 5'6", so my legs are of an average length, too. With these stockings, I had no problem getting the cut out to the right area while keeping the pattern looking smooth on my legs and not stretched in any area. As you saw in the picture of my foot, there is a lot of extra room in these stockings if you need it. They are very stretchy. I imagine I could fit both my feet and calves into one of the legs without problem (you know, for some twisted, kinky version of a potato sack race). When I got the cut out up to my crotch, I just aligned the bottom edges of it with the tops of my thighs and let the back of it wrap around my ass like the model shows here on EF. It was quick and simple to get lined up and I was able to put the stockings on and put my pants back on top of them (they were a surprise) in 5 minutes or less. I'll have to time myself next time I put them on! But these are really simple to work with.
Experience
These stockings measured 35 inches from top to bottom when laid flat. If you haven't already picked up on this, they stretch. A LOT!

The waistband of the stockings measured about 9.5 inches across when flat. It's just a simple elastic waistband about a half inch wide. It didn't cut into my waist and leave me with muffin tops, but it has the potential to if you're thicker in the waist. My waist is about 27 inches. It seems you'd be fine up to about 29 or 30 inches, but you might get a little bit of pinching after that.

The cut out for the crotch is about 6.5 inches tall when laid flat. It's easily adjustable to best suit and accentuate your body type, and I experienced no pinching or muffin tops on my thighs or ass from the cut out. The edge of the cut out is just finished nylon and very simple. The cut out is large enough to leave your holes easily accessible, and if you are wearing it properly (ie, it isn't twisted around and covering the wrong spots), you shouldn't get many fluids onto it because the stocking just isn't in the way. A crotchless body stocking I ordered at the same time as this doesn't have as large of a cut out and it has ended up crusty and very used every time I've worn it. That is not the case with these fishnets.

The distance between the cut out and the elastic waistband is about 3 inches when laid flat. It was a good size cut that fit my body well, and should fit most bodies well.

The one thing I wasn't happy with about these stockings was that they were just a little bit too long for me. After wearing them for 30 min to an hour, I quickly realized that I was getting a little bit of sag or extra material down near my ankles and feet. I only noticed it because the stockings weren't as tight around my ankles and feet and it affected how easy it was to walk on hardwood floors for a moment. This wasn't something that was visually noticeable, but it could be if you are shorter and smaller than me.

I would not recommend these stockings for anyone shorter than about 5'4", because I think they might just be too big for you. I am 5'6" and 130lbs, a size 4 dress and size 6-8 in pants. You could rock these if you're a pants size smaller than me, but probably not any smaller than that. You'll just be swimming in them. Larger than 160lbs and you might be able to wear them, depending on your waist size. At $4.00 a pair, though, you might as well just try them!!!
Follow-up commentary
10 months after original review
These are still a good investment, but have only held up to about half a dozen washes. I may be a little rough with them but I am gentle with my hand washing and drip drying. The material is sturdy but if you use these pantyhose often enough, they will need replacing.
This content is the opinion of the submitting contributor and is not endorsed by EdenFantasys.com

Thank you for viewing
Crotchless fishnet pantyhose
– crotchless pantyhose review page!