Emerald Lace and Everything Nice
This bustier is completely gorgeous. The lace detail, the tie up satin ribbon in the back and the shimmer color of emerald...all impressive. Its only flaw is the sizing. As long as you read the reviews closely, and compare yourself to the pictures, you shouldn't have a problem though!
Published:
Pros:
Gorgeous
Well Made
Color
Cons:
Sizing if Off
Hard to Get On
The Eyelash Lace Bustier had mixed reviews... someone wanted to give it seven stars
(see Crystal1's review)
but then others only gave it one star
(see darthkitt3n 's review)
. Way to throw a purchaser off!
I decided to take the plunge on this one, hoping that it looked as good on my as it did on Crystal. I knew the risk I was taking, but I liked that there were a few other reviews of four stars too. This gave me some hope. Well hope was on my side, and I found that I LOVED this item, and here is why...
Packaging: Well packaged
The Eyelash Lace Bustier by Coquette came in a very gorgeous displayed packaging. It was above the standard. The bustier was neatly placed inside a crinkly plastic garment bag and hanging on a satin padded Coquette hanger. There were also moisture absorbers included in the bag to keep the item fresh. The hanger isn't a cheapy plastic thing either! This is the real deal! The hanger has two nobs on the top to hang the item from the strings that are sewn on the inside of the garment.
The garment had a typically Coquette tag attached by small safety pin on it, stating the basic information like size, details, item number (1064) and photos of the model demonstrating the piece.
The presentation was exceptional, and I would love to get this as a gift, just like it came. It is so exceptional, that I didn't change a thing when storing it. It is hanging in my closet with the same hanger and same plastic garment bag – protecting it from dust and debris.
Contents Included: Bustier, Bra Straps, Garter Straps
Made in China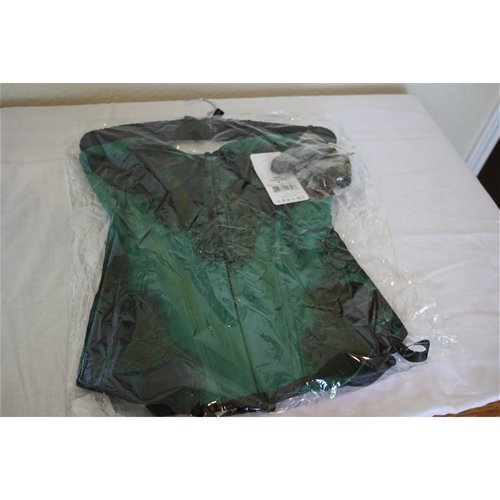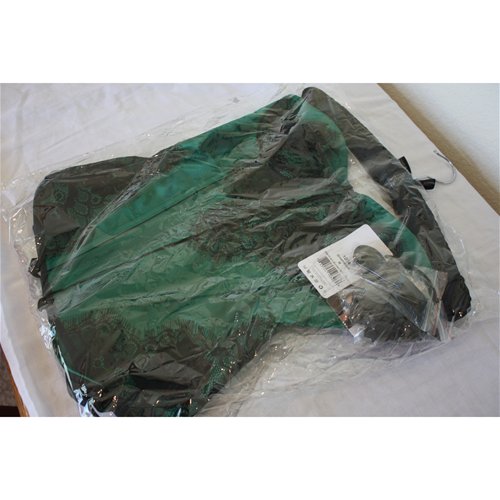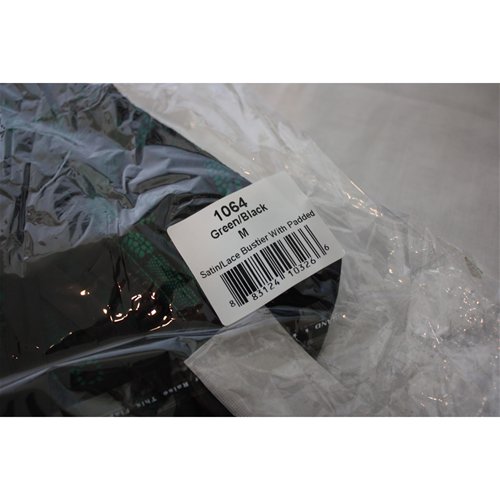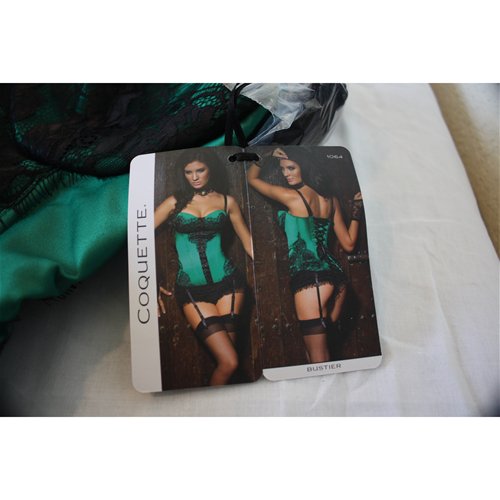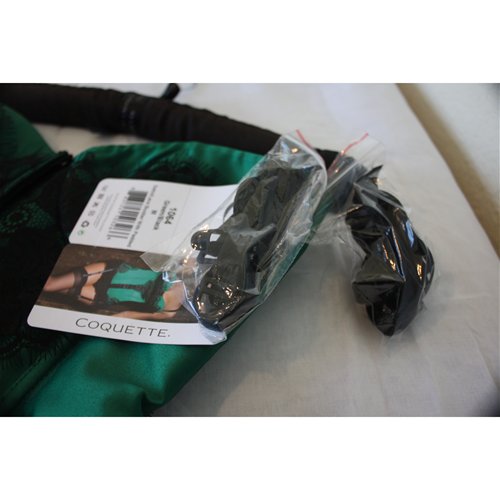 Care/ Maintenance: As expected...
The care instructions for this item are as expected. Of course this can't just be thrown in the wash! Do you see how lovely it is? So, believe it or not this item is handwash only and hang dry. I try to only wear this briefly so I don't have to deal with washing at all. I make sure to take good care of it, and keep it clean to avoid ruining it by washing it, even handwashing makes me nervous!
To maintain its shape, I recommend and placing inside original packaging.
Size: It's tricky.
It is available in the sizes: S, M, and L.
I ordered size: M - Medium
I am typically a size small-medium. I wear size 4-6 in dresses and jeans. I have a 34D bust. The rest of my measurement can be found on my
profile page.
Size Chart From Coquette for Medium:
Dress size: 8 – 10
Cup: B
Bust: 36 – 38
Waist: 26 – 30
Hip: 38 – 40
I decided to order the medium because I didn't want to go any higher on the suggested dress size. The suggested dress size was already bigger than what I wear, but I knew the bust and cup were smaller, so I decided to cut my losses. I typically find Coquette to run small. I have never fit into a small Coquette item. The medium was a good fit for me, but I think the large would have been better.
Here are the measurements I took of the piece:
Laying flat across top tied up completely – 2 inches
Laying flat across mid tied up completely – 26 inches
Laying flat across bottom tied up completely - 33 inches
Top to bottom length – 13 ½ inches
Security panel – 7 inches
I wear this piece with just about 1-2 inches of the security panel and lace up showing. When it is pulled all the way tight it is much too tight. I like the lace up idea because it is more or less laced up throughout the back. I need more room in the bust, but less in the waist and this lace up design allows for that. My boobs pop out of the top – but this is standard. Size suggestion – order up a whole size! Ladies with C cups and above need to beware!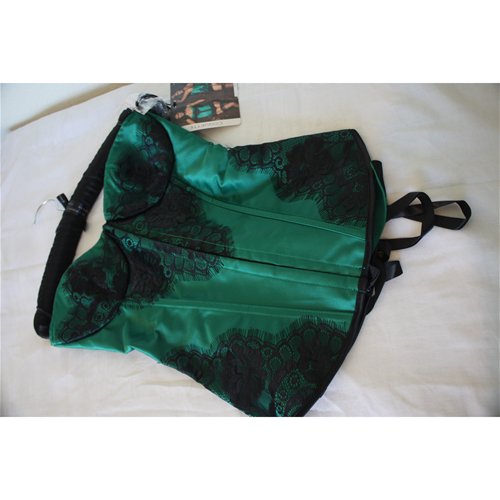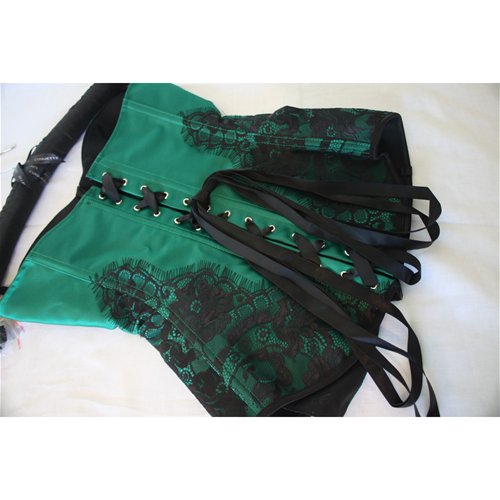 Design/Shape: What more can I say but GORGEOUS?
I've got to be honest, have you seen a bad photo of this? Probably not. This item is gorgeous! The color is stunning, the lace is delicate and lovely and the bustier is designed for a feminine body.
Experience
CONT....
The bustier is emerald green with black lace accents throughout. The inside lining is solid black. There are hook and eye closures on the front of the bustier, running the entire length. There are two adjustment sizes of these. The back is a full lace up with security panel that matches the rest of the bustier fabric. This item is larger on the top and the bottom and cinches at the waist. It is a strapless, but includes straps you can attach and adjust. There are also attachments for garters on the bottom of the bustier. There is four boning pieces that are plastic and flexible. The bra cup is lightly padded and has underwire.
Material/Texture: Thick and Well Made
The item is 100% polyester (minus the accents of lace and satin ribbon)
The piece is comfortable to the touch and when it is on for short durations. I haven't worn this piece for longer than a couple of hours, since I don't want to get it dirty, but I don't think it would be comfortable all night. A few reasons I think this are because sometimes you have to adjust the modesty panel and the fact that the fabric is heavy duty and keeps you very warm.
The item is made well and I cannot see any designer or seamstress flaws. The stitching is durable and the fabric quality is very good.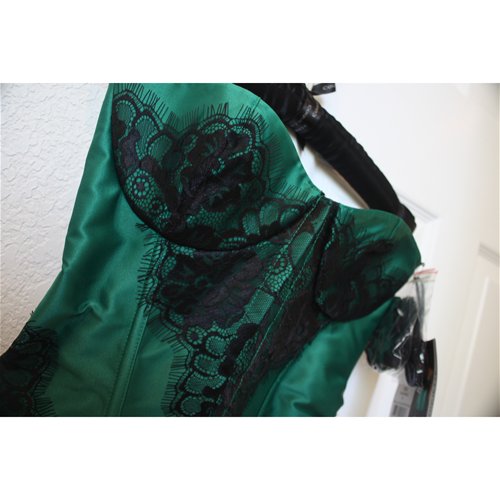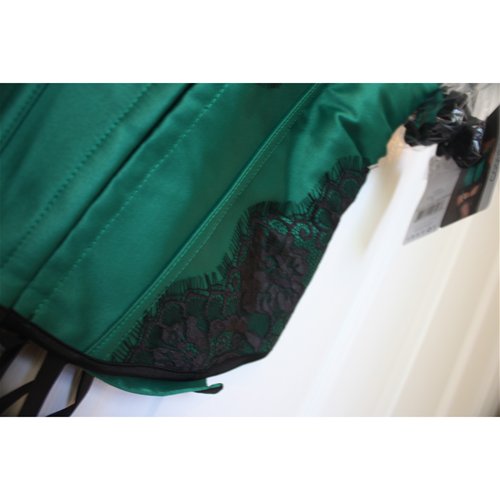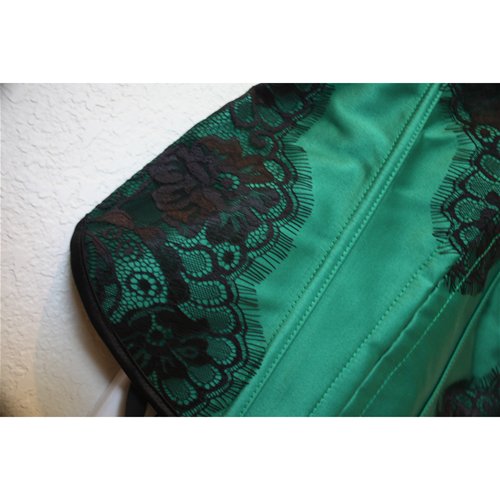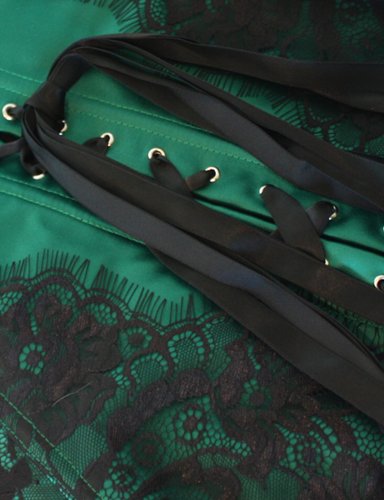 Personal Experience : Sad about Sizing.
At first this item is tricky to get on. You have to get the lace portion on the correct setting and then go from there. I recommend getting help with that. Once the lace portion is at the right fit, never adjust it, then you should be able to manage getting this on and off by yourself from the from hook and eye closures in the front.
I was a bit disappointed in the small fitting sizing. I found the sizing is pretty off on this item, I should have order up a whole size. This does fit me, but I would rather not have that much security panel showing in the back, I like when the lacing is tighter. Not only that, I feel like I have to keep adjusting the panel to make sure I am not showing any skin. Oh right, and my boobs are popping out.
As for the rest of the item, this is stunning. The piece is just amazing. It can be worn out or in the bedroom, I've never owned any lingerie more beautiful.
This content is the opinion of the submitting contributor and is not endorsed by EdenFantasys.com

Thank you for viewing
Eyelash lace bustier
review page!