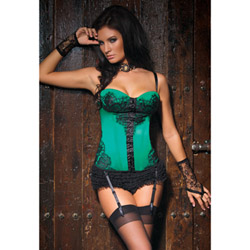 Eyelash lace bustier
Bustier
by Coquette
Green Monster
Where do I start with this bustier? Receiving it and holding it in my hands, I thought it looked pretty and was soft feeling. Unfortunately, that's where the liking ended and the hating started. The fit is very poor. The chest area is baggy on me while the rest is uncomfortably tight. The ribbon lacing cuts into my skin painfully even when it's not tight. The hook and eye closure system is the most frustrating set I have ever attempted to use.
Published:
Pros:
pretty, soft material
Cons:
poor sizing, poor fit, ribbon lacing, horrible hook and eye closure
I like the color green. It's pretty and flattering, yet it isn't a very common color choice for lingerie. I'm also a fan of lace, so as soon as I had some spare cash, I decided to do a buyout assignment on the Eyelash Lace bustier. The bustier is available in sizes small, medium, and large. I chose size medium.

The bustier arrived wrapped in a cellophane bag. Other reviews on the bustier stated it comes with a padded black hanger, however mine did not. I think when my order was packed, the concern was more of fitting it all into as small of a box as possible, and so I did not receive the hanger. A small black safety pin attached to the bustier holds two small bags and a tag onto the bustier. The tag shows a model wearing the bustier and states the sizing of it. The bags contain the removable straps and garters.

A small tag inside the bustier lists more information. It is made out of 100% polyester. The care instructions are to hand wash and hang to dry. The bustier cannot be bleached or thrown into the dryer. It is made in China.

Right out of the box, I absolutely fell in love with the bustier's appearance. It's lovely emerald green in color and has black lace detailing all over it. The outer material is a nice, soft, shiny satin. The back laces up with black ribbon that meets in the middle, rather than at the bottom. The lace detail has little eyelashes of thread hanging off of the outer edges of it. As well as having the back lacing, the corset does have a hook and eye closure system in the front. This has two choices in size, with about half an inch between each row of eyes. There are 15 hooks spaced about an inch apart that match up to the eyes. Behind the eyes, there is black felt. I noticed that the lace design does not line up well from one side of the hook and eye closure to the other. I think Coquette could have done a much better job matching up the lace considering the price of the bustier.

The inside of the bustier is not lined. However, the inside of it does not feel rough against my skin at all.

The bustier curves upward at the hip area, so it offers a bit more coverage in the front and back than it does on the hips. On me, it still covered my hips. It measures 16 inches from top to bottom in the front and 14 inches tall on the sides.

While the bustier is described as having padded cups, they are not very much padded at all. It's more like a light lining like a t-shirt bra. It'll cover nipples, but that's it. The cups do have underwire, which provides some support. The underwire matches well for about a 36C or 38B bra. I personally wear a 34B, so the cups are a bit too big for me.

Like corsets, bustiers have boning in them. I've found that most bustiers don't have as many strips of boning as corsets, which provides less support. This particular bustier has 6 strips of plastic boning. Plastic boning is more flimsy than metal boning, however it will still work a bit to give you shape. I do not suggest this bustier for corset training; however it does work well for just casual wear as a top or lingerie. Each strip is very flexible and will conform against your body.

The bustier comes with black removable straps and garters. These are hooked into the bustier on little black loops that can't be noticed regardless of whether or not you choose to use the straps and garters. These are adjustable in length. The garters have little ribbons covering the part that attaches to your stockings.

It does feature a privacy panel, which is made of the same emerald green satin. Inside, it is just a plain black material. The panel measures 6 ½ inches wide and 13 ¼ inches tall. If you have to let out the ribbons more than 6 ¼ inches or so, you're going to have skin exposed underneath the lacing.

Size Chart (medium):
Dress size: 8 – 10
Cup: B
Bust: 36 – 38
Waist: 26 – 30
Hip: 38 – 40

I am about a size 5 to 8 in dresses, depending on the manufacturer. My bra size is 34B. My waist measures 27 inches and my hips measure 35. I purchased the bustier in a size up because so far it had been working out better for me to order a size medium from Coquette. Also, I wanted the privacy panel to actually work for me.

Continued..
Experience
And here's where the shit hits the fan.

Note how my measurements clearly fit below what Coquette suggests for size medium. When I finally managed to get into this bustier, which took me about half an hour, it was not flattering to me in the least bit. I had to let the laces out pretty much all the way just to get into it. The privacy panel did not offer me any coverage in the back. Somehow, despite the bustier clearly being too small for me, the chest area of it was super baggy in the front. It looked like I had put on a bra for someone who was like size 34D. The cups offered me no support and did the opposite of boosting my bust up and giving me a bit of cleavage.

Not to mention how difficult the process was of getting the bustier on. The ribbons are extremely difficult to work with when trying to loosen them. They do not pull out very easily and it takes a lot of fiddling back and forth to get them to move. They also have this disgusting sound when they're rubbing against each other. It's almost like dead leaves rustling against each other.

I finally managed to get the laces loosened enough to get the thing on, and then I ran into another issue. Unlike other Coquette corsets and bustiers, the hooks and eyes do not stay hooked together. So, as I'm fastening one together, another one's unfastening. I finally managed to get the thing on with only a couple of hooks and eyes undone. The row against the satin was impossible for me, which sucked because I didn't want a stripe of black material showing in the front of the corset.

Then, of course, there's adjusting the ribbon in the back again. This was impossible for me to do by myself. I also noticed that pulling on the ribbon would force other sections to rub against my skin painfully, almost like a paper cut.

Finally I gave up and threw the whole mess on my bed. I have to say: thanks, Coquette, for making me feel horrible about myself because I can't even properly fit into a bustier.

Reading through other reviews, no one else seems to have had an issue like this with their bustier. I guess it's possible that I have a lemon. Based off of what I received, though, I do not recommend this bustier to anyone. The sizing is inconsistent with the size chart. Also, putting it on is a pain in the ass. I'm not sure what I am going to do with my bustier just yet. It's either getting returned or thrown in the furthest corners of my closet.

Most likely I will add photos of it once I compose myself or my fiancé is available to help me put it on.
This product was provided at a discounted price in exchange for an unbiased review. This review is in compliance with the FTC guidelines.

Thank you for viewing
Eyelash lace bustier
review page!