Can I Give This 7 Stars?
I can't recommend this bustier highly enough. I have almost every corset or bustier Coquette has made, but I think this is the prettiest one I've ever worn. Putting it on and making the adjustments can be on par with doing brain surgery while studying rocket science, but the results are worth it!
Published:
Pros:
Gorgeous emerald green, provides bust support, adjustable lace-up back
Cons:
Adjusting the laces in the back can be really tricky if doing it yourself!
Green is my favorite color, so when I saw this bustier show up on Coquette's homepage with their new 2012 items, I was absolutely drooling and spent the next couple of weeks checking Eden every morning, hoping it would show up. Then I just had to try to be patient (NOT one of my best skills!) until my order arrived!
This bustier is a part of Coquette's Emerald Isle collection, which also includes a corset (which I reviewed
here
), a babydoll, a robe set and a bra, garter belt and g-string set.
All you get here is the bustier itself (with removable garters and straps), there are no included matching stockings or panties. It does come on one of the sweet padded Coquette hangers, though!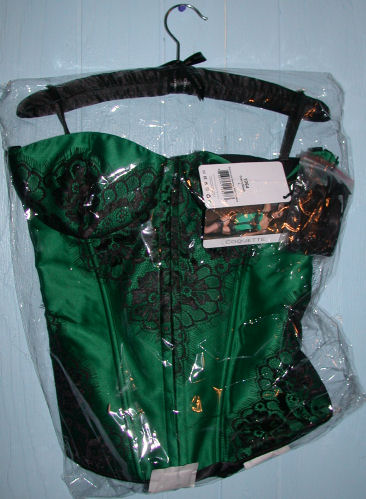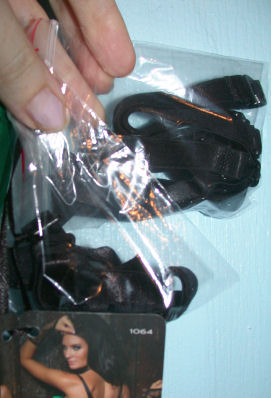 Accessory bags are attached via tiny safety pin.
Unfortunately, this only comes in sizes Small, Medium and Large. I ordered Large, which should fit dress size 12-14, 30-32" waist, 40-42" hips, 38-40" bust, 150-180 pounds and a C cup. I'm a size 10/12, 33" waist, 39" hips, 155 and a large D, bordering on DD, so the bust was my main concern in terms of fit. I've had kind of hit and miss luck with Coquette fit in the past, but I was so drawn to this piece that I just had to order it and hope for the best!
The bustier is made in China and is constructed of 100% polyester. According to the care tag, you should hand wash this and hang it to dry.
The majority of the bustier is made of up of emerald green fabric with a satin finish. The fabric isn't stretchy at all, so this does a better job of shaping than many other Coquette corsets and bustiers. The inside of the bustier is lined in black fabric that reminds me of what black dress pants are made of, while the inside of the bra cups have a more soft, spongy texture.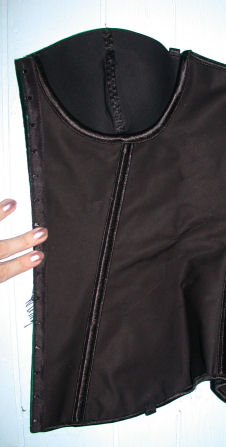 Around the bust area and above each hip, you'll find delicate floral patterned black lace. A strip of black ribbon runs up the center front where the hook and eye closure is, while the back has a lace-up corset design with a modesty panel. There are 6 pieces of plastic boning sewn in, which are pretty sturdy for plastic, but obviously won't provide the same shaping results as steel.
So, why is this called eyelash lace?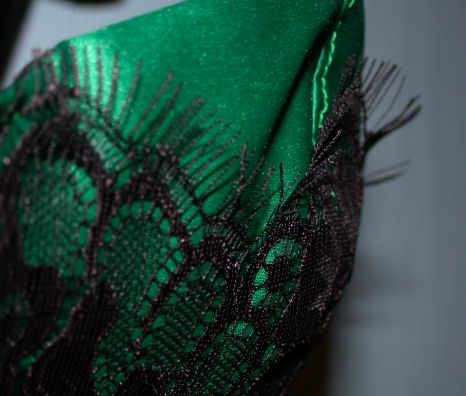 Ohhhh.
I do have a little problem with the support in this bustier. There is an underwire, but without using the removable bra straps, the cups can sag a little, pulling away from your body. This is what it looks like if I don't use the straps: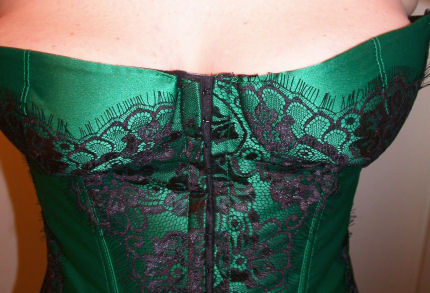 Not horrible, but if your breasts aren't super firm, things can look a little droopy. I was so excited that this actually FIT my chest that I didn't mind much, though! A note about the straps: make sure to attach them BEFORE putting the corset on, as trying to reach around to hook them in once you're wearing it involves displacing several major organs. I'm pretty sure my spleen is shoved up under my lungs now.
With the straps added, I was thrilled that this DIDN'T smoosh my boobs flat, as the matching corset did. YAY FOR BOOBS!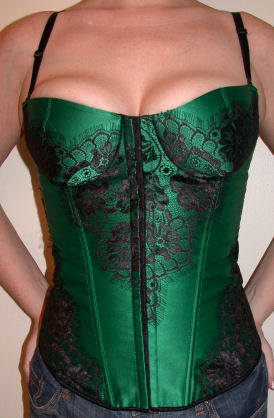 The next time I try to put this on, I'm going to need an assistant. Preferably one with an Irish accent, since it's from the Emerald Isle collection. Preferably Bono. Anyway, trying to adjust the modesty panel and all the laces and everything was such a giant clusterfuck that I snapped this awesome photo of my back: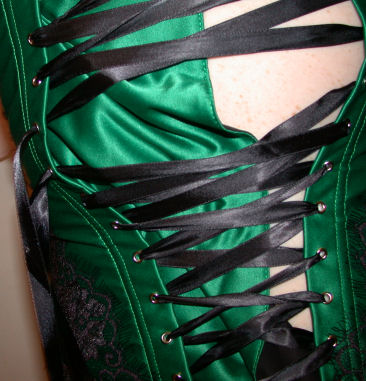 Experience
The basic idea when putting this on is to loosen up the laces in the back, undo all of the front hooks, wrap it around yourself, hook up the front and then tighten the laces. That can be tricky enough in general, but when you have the modesty panel getting all bunched up among the laces, too, it's almost absurdly difficult. I finally gave up on trying to get it perfect after about 10 minutes of messing with it, and just snapped the pictures as it was.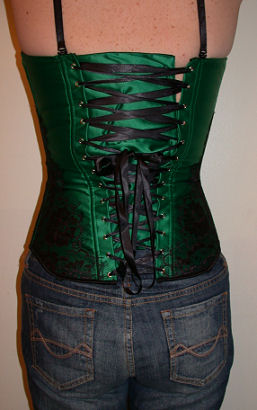 Close enough?
I really like having the modesty panel, but as you can see above, it can look a little awkward if part of your laces are spread wider than the panel. I have to keep them really open on the top since I apparently have a ginormous upper body, but I think that if I'd had someone to help out I probably could have adjusted this well enough that no skin would have shown. The modesty panel is rectangular and 6" wide, so you may want to order up a size if you think you'll need to expand the laces more than 6" at any spot. That wouldn't work in my case, sine L is the largest size available and I wouldn't be able to pull in the waist of a larger size enough to fit, anyway.
The front panel has two columns of hook and eye closures, just like what your bra hooks with in the back. This gives you the option of wearing it on the tighter or looser row, but that seems a little odd to me, since you can just adjust the fit in the back instead. I definitely prefer to wear this on the tighter set, because if you put it on the looser one, you get this weird black gap in the front: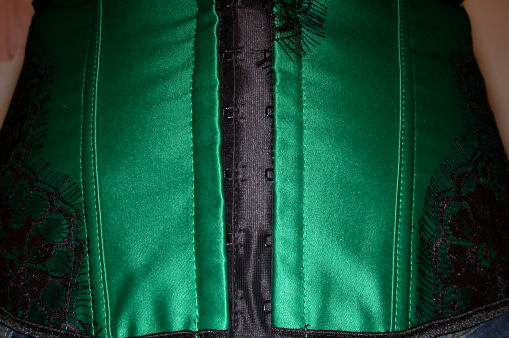 A few more measurements, for those that love numbers:
15" tall where it hooks up the front
14" tall where it laces up the back
28" across just below the bust when laced at its tightest
34" around near the bottom hem at tightest
Bra cups are 6" tall along center seam
Underwires are 8" wide, measuring across the tops of the U-shape.
If you need other measurements, just ask!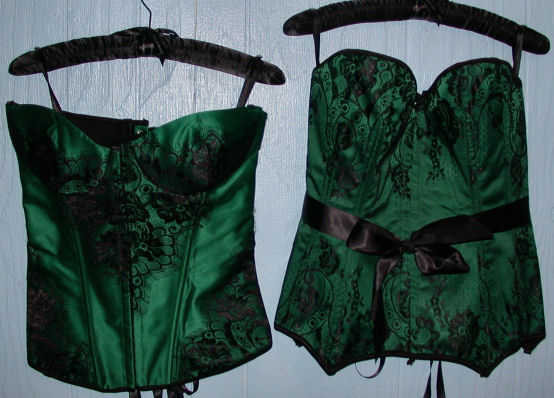 This is the bustier (left) next to the corset from the same collection (right). I really love both, but if I had to pick, I think I like the Eyelash Lace Bustier just a little bit more. Despite the issues with getting this adjusted, I still have to give it 5 stars because it's soooo pretty! It's beautifully constructed, it gives me a great shape, and it actually fits my chest! Win!
A note for other Coquette enthusiasts: Although this looks really similar to the purple Floral Bustier (see link below in similar products), this one fit me MUCH better, especially in the bust since the cups are a little bigger.
This product was provided free of charge to the reviewer. This review is in compliance with the FTC guidelines.

Thank you for viewing
Eyelash lace bustier
review page!