Easy Being Green
I'm in love with Coquette's new Emerald Isle collection! It's hard to get much prettier than this pretty green corset, which can be worn in or out of the bedroom.
Published:
Pros:
Beautiful color and lace, adjustable fit, removable straps and garters
Cons:
Boobs might disappear into the abyss, "belt" ribbon isn't removable
The minute I saw this corset featured on Coquette's homepage, I knew I'd be ordering it the second it showed up on EF, and that's exactly what happened!
The corset is a gorgeous green satin adorned with black floral lace, a black ribbon tie at the waist and a sexy black lace-up back. The green is a little darker in person than it looked on my computer, but not significantly. I'd put it somewhere between emerald and forest green. It's 100% polyester, and should be hand washed an hung to dry. The corset features a hook and eye closure in the front for easy on and off, plus a lace-up back to adjust it to your body shape. There are no panties or stockings included, but you do get removable garters and straps.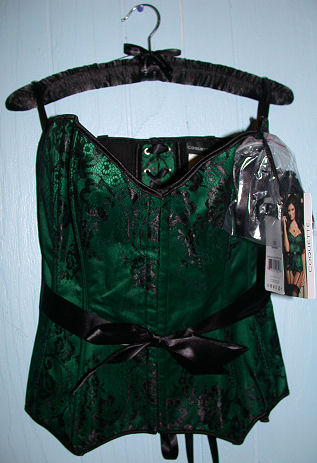 I'm in love with the pretty padded hangers that come with some Coquette lingerie, so I was excited that this arrived on one! The corset has those little loops of ribbon sewn in that make it easy to hang, but you can also fold it lengthwise (to not bend the boning) to store it. The garment's tag was attached via tiny safety pin, along with little plastic bags that contained the removable garters and bra straps. I usually use the pin to attach the two little bags to the tag and then toss it all in my Box-o-garters, so if I should want the straps or garters in the future, they're identified by the tag to let me know what they go with.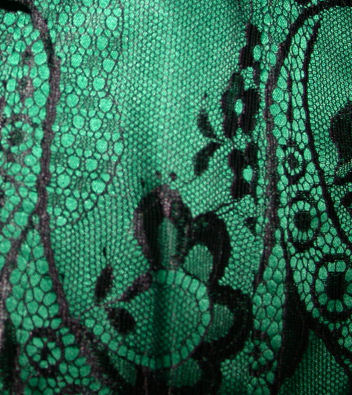 Lace close-up
I was almost hesitant to untie the bow on the front of the corset to try it on, since I knew I'd never be able to tie it again that pretty myself!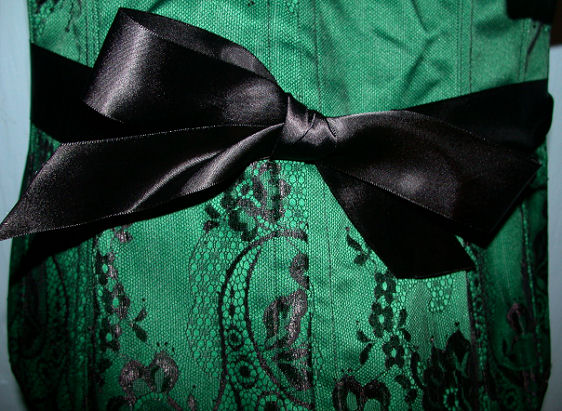 This corset comes in six sizes ranging from Small through 3X/4X, which going by the size chart means that if you're between a size 4 and 26, or 100-260 lbs, there should be a corset to fit you! Of course, we're all built differently, so even with the wide range of sizes it doesn't always work out. In my case, the bust area of Coquette's lingerie is sometimes too small for me, since they (like most lingerie designers) think small body = small boobs and large body = large boobs. Thankfully, this corset has a lace-up back, so you can make some adjustments regarding where it is tightest and which areas are a little looser!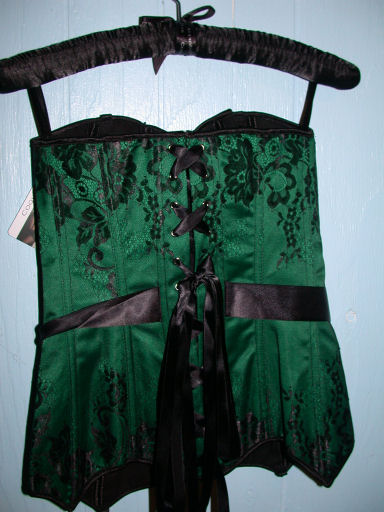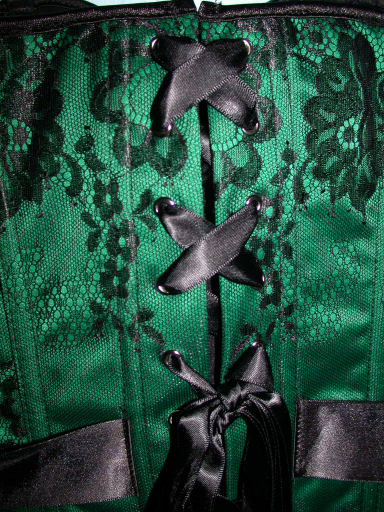 Close up of the back
The ribbon that laces up the back is really nice. It's quite thick and sturdy, but doesn't look cheap or industrial like some laces I've seen on corsets.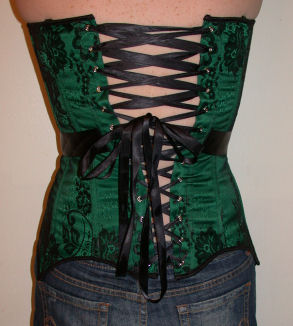 I was a little surprised to see that the ribbon that ties at your waist is not removable. It's sewn on to either side of the back closure: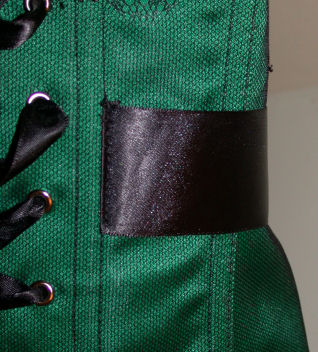 That's one of the very few things I don't like about this corset. I like the ribbon, but I'd also like the option to wear it without.
I ordered size large, which should fit dress sizes 12-14, 30-32" waist, 40-42" hips, 38-40" bust, 150-180 pounds and a C cup. I'm a size 10/12, 33" waist, 39" hips, 155 lbs and a 38D, bordering on DD.
I was SO EXCITED when I saw that this doesn't have underwires! I know that may sound weird, but getting my boobs to fit into designated cup areas is my biggest problem with lingerie, so corsets that let you kinda just "freeboob" it (I'm coining that term as the female version of freeballing!) make me happy. The down side of this is that unless I adjust the laces *just* right, I end up with my boobs smooshed flat.
Experience
The easiest way to put this corset on is to totally loosen the laces in the back, undo the front hooks, wrap it around yourself, do up the hooks, and then adjust the laces. It's quite a process, and much easier if you have someone to adjust the laces for you!
I love this photo of Coquette's model getting some help with hers!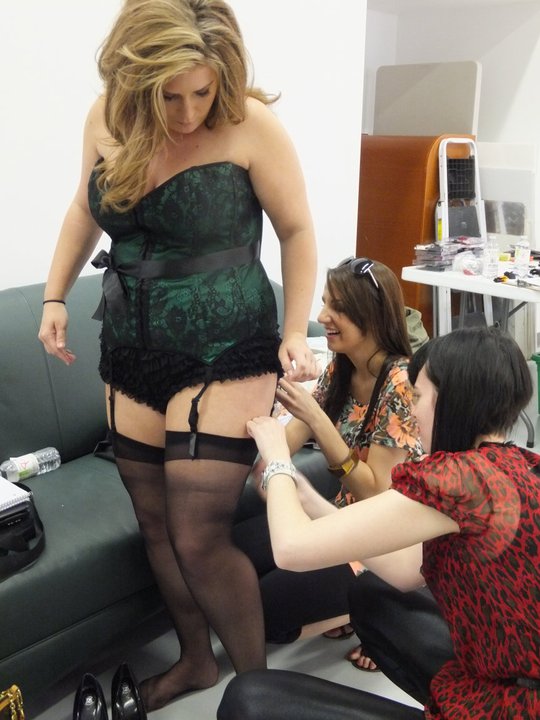 Although it's kind of hard to tell here, this really flattens me out. I tried adding a strapless bra underneath to try to preserve the shape of my breasts, but it really didn't help and felt awkward.
There are two columns of eyelets for the front hooks, but if you wear this on the looser setting, you're going to have a kind of weird looking black stripe running down the front: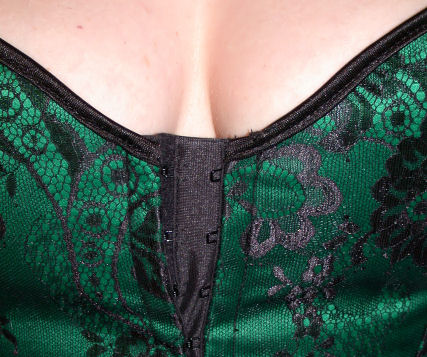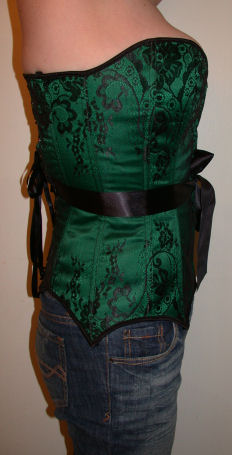 Side view. I don't like the bulk that the bow adds to my midsection, but it's still cute!
This is definitely a corset that can be worn in or out of the bedroom. If you do choose to wear it out of the house, it's easy to pair with a cardigan or shrug. I'm wearing it here with the little shrug that came with a DreamGirl set: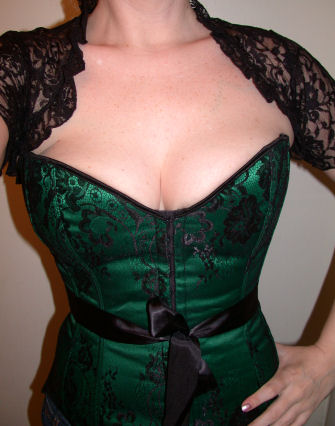 Measurements for size large:
14" tall where it fastens up the front
15" tall where it laces up the back
About 30" wide halfway down when laid flat if laced as tight as possible
Each half of the ribbon that you tie at the waist is 24" long
Just for comparison, here's the corset (right) next to the bustier (left) from the same collection. I also reviewed the matching bustier
here
!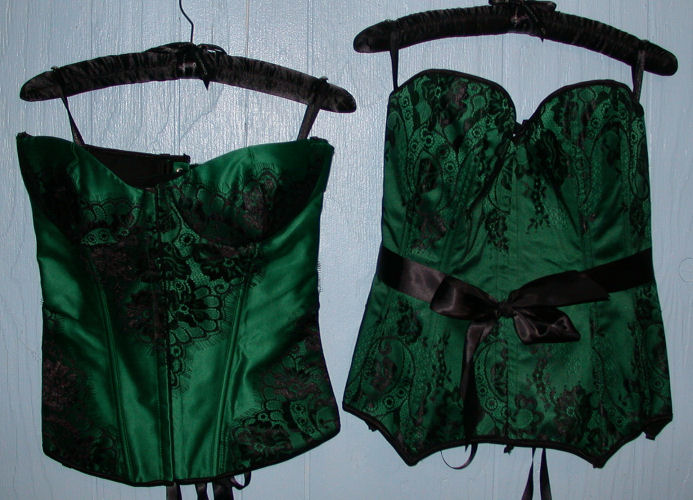 This product was provided at a discounted price in exchange for an unbiased review. This review is in compliance with the FTC guidelines.

Thank you for viewing
Satin and lace corset with hook and eye closure
review page!