Enticing Emerald Enchantment (Size M)
This corset is the embodiment of elegance. It provides medium shaping with its non-stretch materials and plastic boning, and the lace-up back creates a customized fit. More importantly, though, its uncommon deep-green color, lush scrolled-lace overlay, and plunging neckline will make you feel like Victorian royalty.
Published:
Pros:
- Green satin w/black lace
- Six detachable garters
- Quality construction and materials
Cons:
- Bust area not very contoured
- Darker than product images
Essentials
This gloriously green corset is designed by well-known lingerie manufacturer Coquette. It can be worn by anyone who has the desire to wear a corset and the ability to fit the size range in which it's offered (S through 3X/4X). Since it isn't sheer, it can not only be used for alluring bedroom wear, but can also leave the house and take you out to an upscale nightclub, couture costume party, or elegant dinner date--providing you're feeling adventurous, and won't mind being the object of many an admiring gaze. For a little more modesty, it can be worn with a black mesh or lace shrug, or beneath a dressy, fitted black jacket.
Elements
The body of this corset is a deep-green satin, overlaid with a beautiful scrolled- and floral-lace netting. All of the fabric is rigid, 100% polyester--no stretch whatsoever. Its upper and lower edges are finished with black satin piping, and a total of ten plastic boning strips are sewn in for medium-strength shaping. The neckline is a plunging sweetheart style, adding to the cleavage-creating effect of the corset, while the hemline is drawn down into six points where the
six
garters can be attached, if desired. Detachable straps are also included. At waist level, two wide, black satin ribbons are attached in back, and can be wrapped around to tie in front in a pretty bow; one side is a little longer than the other, which facilitates tying the bow off-center, as shown in the product photos.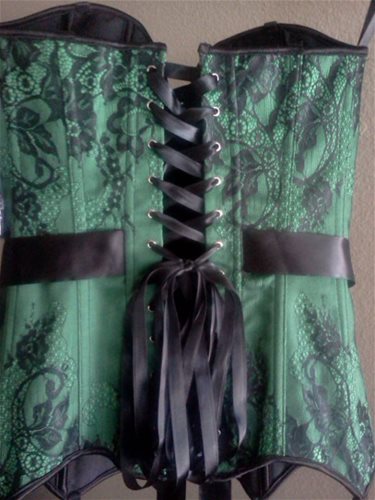 The front of the corset features a center hook-and-eye closure with two settings; what with the lace-up back, though, I doubt many people would want to use the looser hook setting, as it creates a strip of black down the front. The product photos show black satin ribbon trim along each edge of the front closure, but the corset I received does not have this trim. The rear laces up through 13 pairs of eyelets with a very nice-quality black ribbon, which is thick and satiny on both sides. The corset arrives with the single, very-long ribbon laced in a criss-cross or X-shaped style. A long loop is left for fit adjustment and tying on each side, just below the natural waist, and then the two ends are tied into a knot at the bottom of the corset. I spent a considerable amount of time unlacing and re-lacing this ribbon; I wanted it laced in a V-shaped style (see photos), and wanted the tying loops to better align with my natural waist and the wide waistband ribbon.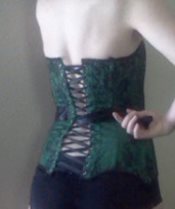 Embrace
My measurements, at present, are:
36.5" bust (34B-C)
29" underbust
27" natural waist
35.5" high hip/low waist
39.5" hips
Size 6 dress, 8-10 jeans
I am 5'5" tall, and weigh about 140 pounds. Coquette's size chart says a Medium should fit:
B cup
36" - 38" bust
26" - 30" waist
38" - 40" hips
As you can see, I fit into all of those parameters, and the Medium in this corset does fit me well. When hooked on the tighter setting in front and laced tightly in back, I have a 2" gap in back at the top, 1.5" at the waist, and 3" at the bottom. So, if you're an inch or two smaller than I am in the bust and/or hips, this size will still fit you; you can also be an inch or two larger than me, and it will still look great with a wider laced-up gap. My only complaint about the fit is that the bust area lacks contouring, and therefore flattens my bust considerably, as you can see in my photos. I may add a strapless push-up bra to counteract this flattening effect.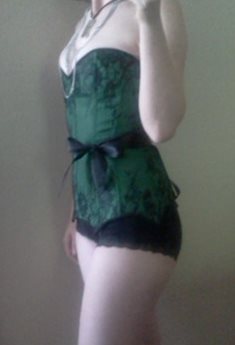 The corset's actual measurements--on all its smallest settings, taken flat and doubled--are: 31" at the bust, 25" at the waist, and 33" at the lower hem, which hits just below the high hip.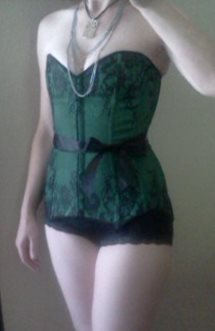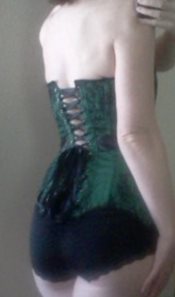 Endurance-Extension
This corset should definitely be handwashed, due to its delicate lace overlay and plastic boning. This will prevent snagged lace and bent boning. Just add some luke-warm water and a little liquid laundry soap to your bathtub, wash the garment by swishing it around, soaking, and/or gentle rubbing, then rinse thoroughly. You may want to use a nice-smelling fabric softener in some fresh water before the final rinse, to make the inside of the corset feel a bit softer on your skin. After rinsing, you can safely fold it lengthwise and squeeze a bit to remove some of the water, but don't wring or you might have misshapen boning on your hands. Hang it to dry using the ribbon loops attached at each side. Never dry this item in the dryer, or again, you may very well wind up with warped boning.
Experience
Externals
My corset was packaged very simply, in just a transparent cellophane bag printed with "Coquette" all over in small silver letters. There was no hanger included, padded or otherwise. The straps and garters are in two separate little plastic bags, attached to the corset via a plastic tag-hanger through the top inside edge of the piping. A folded paperboard tag showing three views of the corset on a model is also attached through the inner edge of the piping, but with a small black safety pin and a thin black ribbon. If this corset is to be a gift, I suggest removing this tag; the last thing your beautiful partner needs is to see an airbrushed image of a surgically-enhanced lingerie model showing her how she's "supposed" to look in it.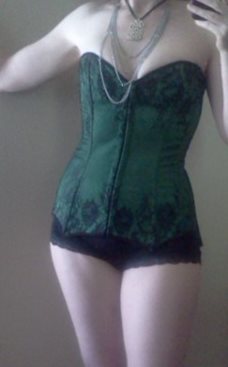 Experience
This corset doesn't look much like the product image, to me, but I am still very happy with it. I like the look on my body shape better without the waistband-tie ribbons, and will probably cut those off. The quality on this piece is excellent, and it is well worth the retail price. The boning is sewn in well, and is the right length; I don't get that curling effect at the edge that many less-expensive corsets have, due to the boning not being quite long enough. It may not come with a matching panty, but matching panties for corsets are often not worth wearing anyway, and almost any black pair will coordinate well with this one. If you absolutely must have a matching pair, consider purchasing the
bra/garter/panty set
from the same collection, as it will match perfectly.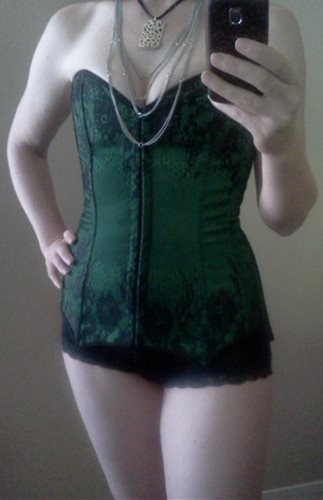 This product was provided at a discounted price in exchange for an unbiased review. This review is in compliance with the FTC guidelines.

Thank you for viewing
Satin and lace corset with hook and eye closure
review page!