A real gem
This a knockout number by Coquette. This beautiful, jewel-toned, green piece gives you that perfect hourglass shape that men drool over; it is also long enough to smooth out any pesky love handles in the process. Coquette has even offered this piece in a wide variety of sizes for all of us women. As my very first corset, I was extremely pleased by how sexy this made me feel: I will definitely be buying more!
Published:
Pros:
Beautiful
Quality made
Hides love handles
Available in a wide variety of sizes
Cons:
Plastic boning bends a bit and can become uncomfortable
The Satin and Lace Corset is brought to us by Coquette, a company that makes some absolutely stunning lingerie. This one is a gorgeous piece in their Emerald Isle collection. It is a fully boned, lace over satin corset with an attached ribbon sash at the waist, hook and eye closures down the front of the corset, and a lace-up back. It also comes with removable garter straps and shoulder straps if you need a little extra support keeping it up.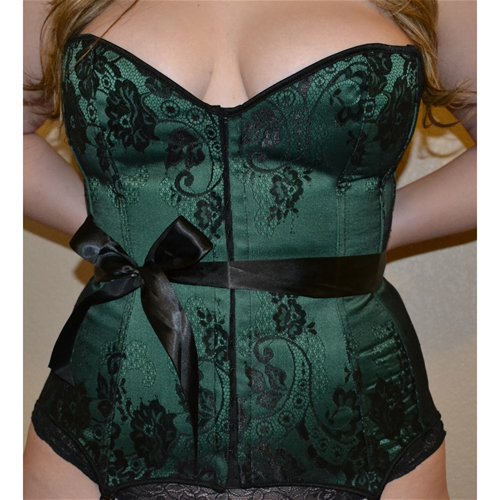 Design
First off, I will say the lace pattern on this corset it stunning: it is a very pretty floral pattern. The lace is black, and it lays over the emerald green satin that makes up the body of the corset. The floral pattern is more concentrated on the top and bottom of the corset where the bust and hips are. This really helps to accentuate the hourglass shape that the corset gives you. All of the trim on the corset is also black.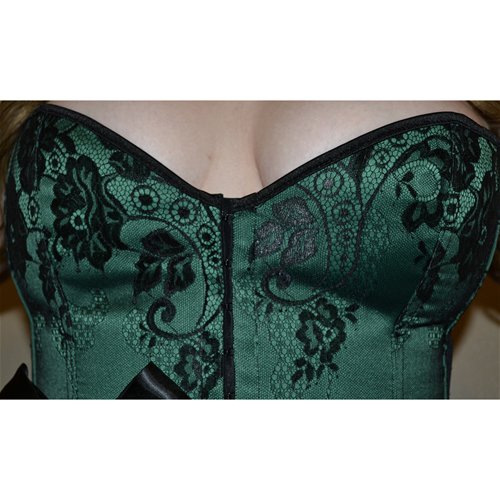 There is an attached, black, satin ribbon around the waist of the corset that is meant to be tied in a bow around the front of the corset. The ribbon is 1.5 inches wide, and you will notice that it is about 5 inches longer on the left side, as the bow is meant to be tied on the right, front side of the corset, rather than dead center over the hook and eye closures.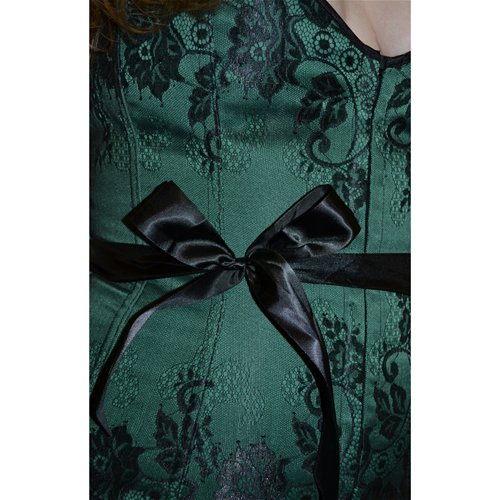 There are two rows of 14 hook and eye closures along the front of the corset. This is the same thing that you will find in a bra clasp. The two rows are about a half an inch apart from each other. I wore the corset with them fastened along the first row of eyes. If you choose to wear the corset with the hooks fastened to the second row of eyes, you will have a half inch strip of black material running down the front of the corset, unlike what is shown both in my pictures and in the model pictures on the product page.
The back of the corset laces up with half inch, black ribbon. It took me a while to figure out the lacing with this, as the ends of the lace where you would tie it come together in the middle rather than at the bottom or the top. This allows you to control the tightness of the fit over the hips and lower abdomen separately from the bust.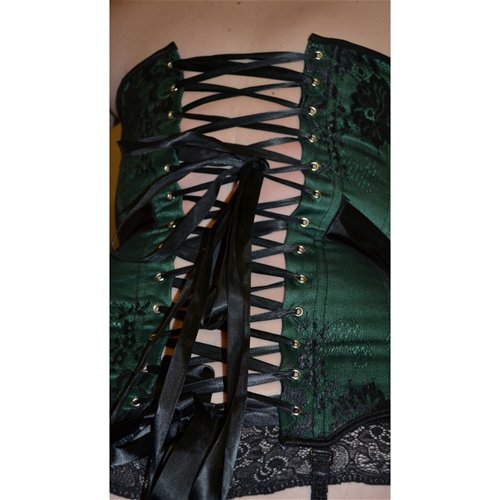 Coquette has also included removable shoulder and garter straps with this corset. There are two, black shoulder straps that look just like bra straps, and six garter straps. The garter straps attach to the front and back, right over the middle of the thighs, as well as directly down the sides. You can attach these to your favorite pair of thigh high stockings to complete the look. The garter straps are adjustable and very stretchy. At the shortest, they are 4.5 inches long, and at the longest, unstretched, they are 7 inches long.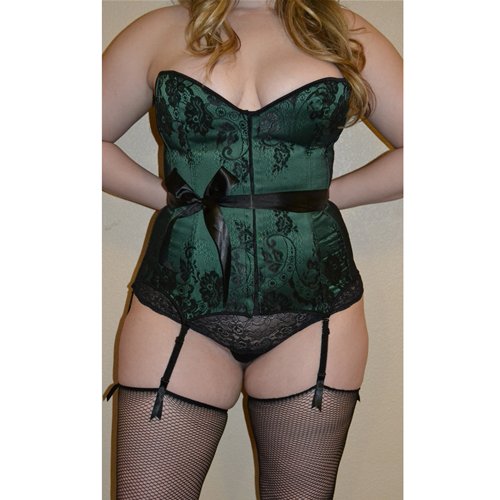 Materials and Construction
The Satin and Lace Corset is made from 100% polyester, exclusive of trim. It is a pretty thick material which holds its shape well. The inside of the corset is lined in what feels like a soft, canvas material. It is not irritating at all, however on a warm summer night, is almost too heavy and hot. The corset is also fully boned with plastic boning to help give the wearer an hourglass shape. There were no stray threads or issues with stitching or construction on the beautiful piece that I received.
Sizing
Coquette offers this corset in a wide range of sizes from small to 4X. I ordered the XL in this piece. You can find all the size measurements in the chart below. My personal measurements are bust 42 inches, waist 37 inches, and hips 44 inches. I normally wear a size 12-14 and a 36D bra. I was happy with the way that this piece fit; I still had plenty of room to let the laces out in places should my weight fluctuate at all. I was very pleased with the length of the corset and where it hit on my hips. One of my biggest insecurities is my muffin top area. This corset is 17 inches long from top of cup to the bottom and ends seamlessly right over my hips, smoothing out the love handle region instead of accentuating it. This also really helps to bring out that beautiful hourglass shape in even a bigger gal like myself.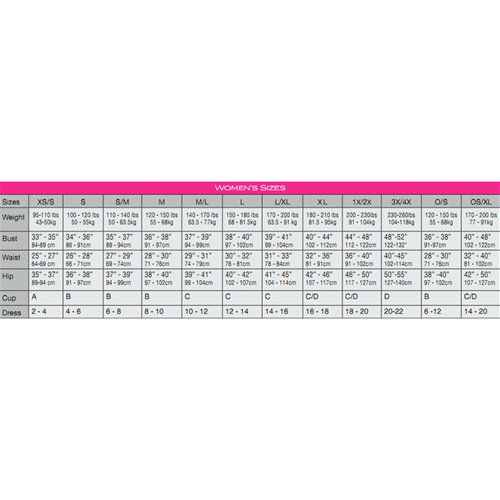 Experience
Care
Like most fine lingerie, this piece is hand wash only when it comes time for cleaning. After being carefully hand washed, it needs to be hung to dry before storage. Do not place it in the washing machine or drier, as it could ruin such a beautiful and sexy piece of lingerie. You can use a very mild detergent, if needed, in lukewarm water. For storage, you can either hang this on the included satin hanger, or set flat or rolled in a drawer, taking care not to fold the boning, as that would misshape it.

Packaging
The Satin and Lace Corset came hung on a very nice, black, satin, padded hanger covered in plastic to protect the corset during shipment. A tag with the size on it and two baggies containing the straps were attached to the corset via a tiny safety pin. The hanger is very sturdy and is great for storage between uses.

Personal Comments
This was the first corset that I have purchased. I picked it up because my partner has mentioned how sexy he finds them, and I wanted to get something to wear for him. I was instantly attracted to the deep, jewel-toned green of this corset, as the color green agrees with me: I am a green-eyed girl. Being inexperienced with corset wear, getting this on and laced up was a challenge. First, I loosened up the laces and tried to wrap it around me: it wasn't enough, so more loosening of the laces was done. After I was finally able to wrap it all the way around me, getting all 14 hooks and eyes closed became the next hurdle. After the first half, I was finally able to get the hang of all those tiny hooks. At that point, I enlisted some help at getting the corset ready to go. Since I had loosened the laces so far that at that point, it wasn't a simple pull and tie, but I think my partner rather enjoyed lacing me up in this sexy, little number. Once it was on and laced up, I felt instantly sexy - like a bombshell in this hot, little, green piece - which speaks volumes for the appeal of this piece for me, as someone who is very self-conscious of her XL frame at the moment. I finally felt like a little vixen for my partner.

As sexy as this made me feel, I would not call it comfortable in the least bit. Maybe I just am not used to wearing pieces like this and need more experience. I even had my partner loosen the laces several times. My biggest issue was that the boning would fold down into my back rolls, which became a bit painful upon sitting down. Until I get more comfortable with wearing corsets, which I fully intend to do, this piece won't be one that I plan on wearing for hours at a time. My body shape and location of certain unwelcome rolls might be the issue as well; the material just gets pulled in there. I am still really pleased with this piece.
This product was provided at a discounted price in exchange for an unbiased review. This review is in compliance with the FTC guidelines.

Thank you for viewing
Satin and lace corset with hook and eye closure
review page!