Super sexy and worth the money!
Over all, I am so glad I bought this corset! It is now probably one of my favorite pieces of clothing. It's sexy and looks great and I love the colors. It's very nice for those with a little bit longer of a torso. It may be pricey, but it's worth every penny spent for simply in the bedroom, in the club, or a mix of them both!
Published:
Pros:
Comfortable material, very sexy, great colors, even comfortable to dance in.
Cons:
A little confusing to tie at first, but not really that big of a deal.
When I first saw this item the first day I was on Eden, I knew I had to have it. Though, the price pushed me away for a while. When double points week came, I took that as an opportunity to but the item. I worked hard every day to earn as much as I could so I could have this lovely item and I finally did it! And let me tell you, I'm so glad I bought it! I cannot wait to use this for my Poison Ivy costume for Halloween. And it's perfect for any day going out apparel as well.
In general, I have a lot of problems finding a nice corset that actually fits well. My torso is a little longer and my hips have a bit extra weight on them, so most just make me look like a fat girl squeezing in to a pair of skinny jeans! Which if I must say is in no way flattering. However, I loved the look of this one so much, I had to give it a try. On top of how much I love it, I am trying to piece a costume together for Halloween to be Poison Ivy from Batman and thought even though it's darker with the black, it would be perfect to pair with a pair of green or yellow skinny jeans and my black boots.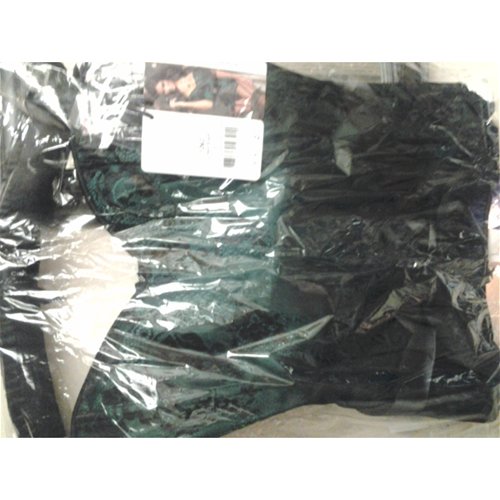 When it arrived, I took it out of it's bag and off the hanger right away to try it on. I had gotten the XL size and still had to mess with the back lacing a bit to make it stretch far enough to fit. Though, with it separated more, that just means more of my tattoo is shown, so that's never a problem. The only thing I do not like about the back is it ties in the middle, so it's the loops you are tying, not the ends. Don't get me wrong, it makes it fit and look better, however it makes it like there's 4 strings and it makes it a pain to tie it in general. It's doable, but can get confusing. The front snaps up and has two different rows where you can latch on to which is nice it you want it all the way closed or have a thin black strip to add more look.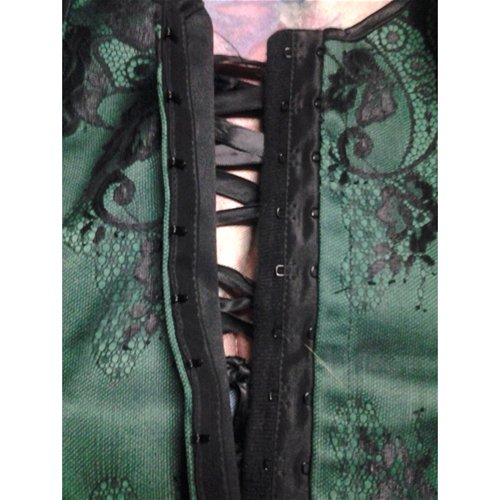 The guarder straps easily attach to the corset and detach. They are very simple to attach to the knee highs as well in the front and the side. However, I did have a lot of trouble twisting properly to attach the back ones. They don't really stretch long enough to just bend and grab from the front. I had to manage to latch them by leaning back which could be complicated for some users.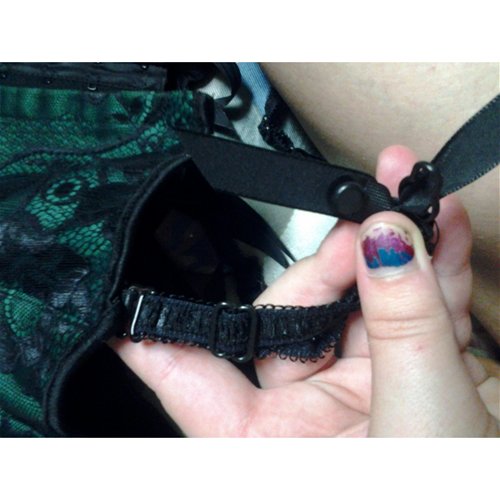 By reading, I already knew that it came with the garter straps. However, after looking at the corset and wondering how my breast will stay in this, I noticed they have shoulder straps as well. I was ecstatic. I did not like the look of my breast without a bra in it because it made them pretty much even with my stomach. So I did wear a bra with it and having the straps kept my breast IN the corset more and make them feel more secure as well as helped me keep my strapless bra hidden so no one noticed from the front.
The bow in the picture does not go all the way around, which is fine it is still very cute. It is securely sewn on to the corset and ties in the front.
With previously owned corsets, the boning would dig in to me and just hurt and be very uncomfortable to where I'd just cut them out because it hurt so bad. With this corset, that is in no way the case. The item holds its shape, and yours, and does not cause me agonizing pain. It's actually quite comfortable but the top is digging in to my armpits when I sit, though that can be solved by wearing it a little lower.
It does NOT come with bottoms so you would need to pair your own underwear with it.
Style
The set includes: Corset
Bottom style: Garters
Lingerie closure: Hook and eye / Lace-up
Pattern: Flower
Top style: Strapless / Straps
Lingerie special features: Bows
Material: Polyester
Color: Black / Green
Length: 17"
Cup Size: one size fits most
Boning: Plastic Boning
Weight: 0.75 lb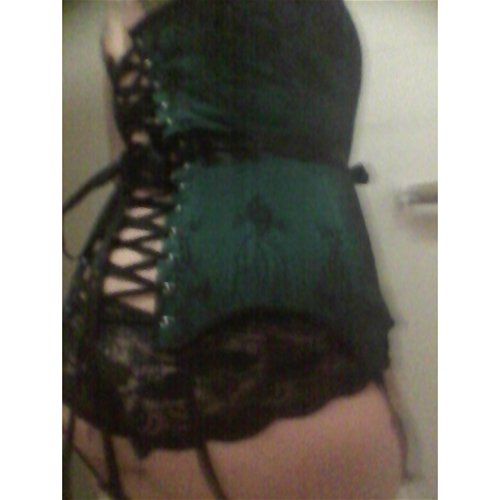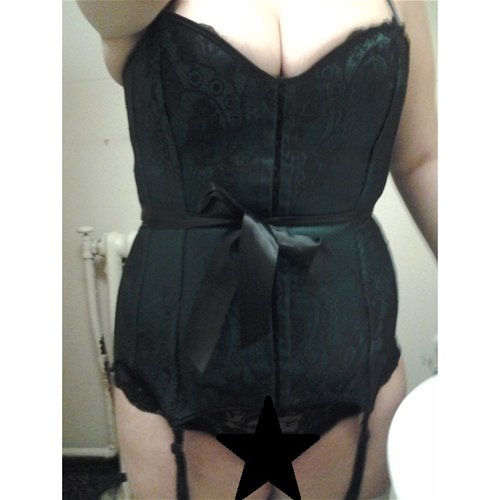 (Ignore the bulge of my arm in this one. It's just because of the angle I had to hold my camera at because of my tiny bathroom! :))
Experience
About 2 days after I got the item, I decided to wear it out to the karaoke bar. It was a lot of effort to get on, but it was well worth it and no more effort than any other corset. After getting dressed, my mom wanted me to to go get paint with her. All through Lowes, I was getting looks and compliments of how much they loved my top that I had paired with dark jeans and my black boots. After, I went to the bar with my friends and got even more compliments. And to my surprise, it was comfortable all night. I had more problems with my pants than I did my top! With all the compliments, it made me very glad I bought the top and will continue to enjoy wearing it out.
The best of all, is I actually wore this dancing. Yes, I said it,
dancing
! And it was actually comfortable to dance in! It did no pull on my or dig in to me. I was very surprised! I never thought I'd be able to go dancing in a corset!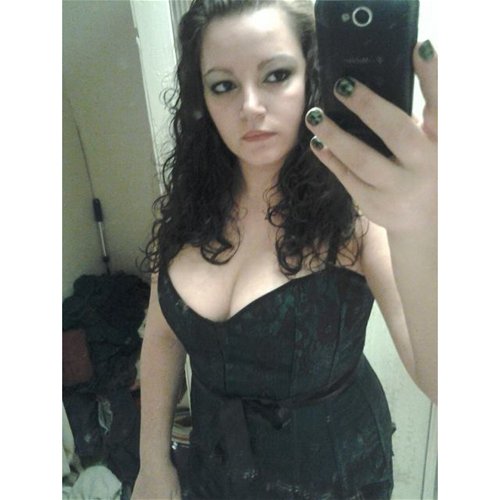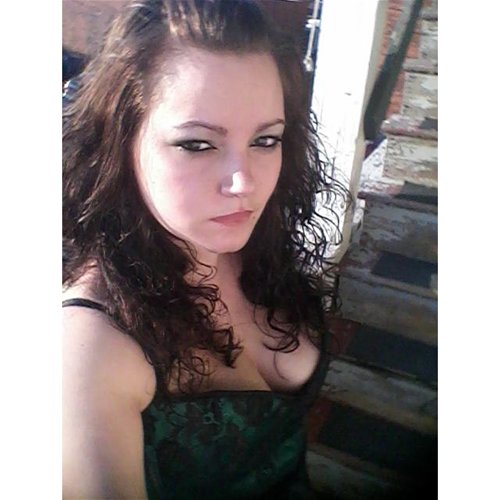 Follow-up commentary
2 months after original review
This is still my favorite corset. Sadly, I haven't been able to find the correct jeans for my poison ivy costume, but hopefully I can next year! I still love it and it's still comfortable as ever, even to dance in at the club all night.
This product was provided at a discounted price in exchange for an unbiased review. This review is in compliance with the FTC guidelines.
Thank you for viewing
Satin and lace corset with hook and eye closure
review page!