Lace me up!
Although this corset has no bust support, it fits beautifully over the stomach and hips. The wonderful emerald green color and lace flower pattern allow it to be dressed up as sweet and romantic or spicy and flirty.
Published:
Pros:
Long enough to come over the hips
Beautiful color
Great fit
Cons:
No bust support
I fell in love with this corset as soon as I saw it; glowing reviews, beautiful color, and seemed well made. I placed an order for it as soon as I could and I am so glad I did!
First off, the basics. The corset came hanging from a fabric wrapped coat hanger with detachable shoulder straps and garter straps pinned to the top. The whole thing was covered in a clear plastic bag for protection. The fabric is polyester and needs to be hand washed and then hung to dry. The material has absolutely
no stretch whatsoever
. There are ten plastic bones inside of the fabric, which are stiff but flexible and give a nice hourglass shape to the wearer.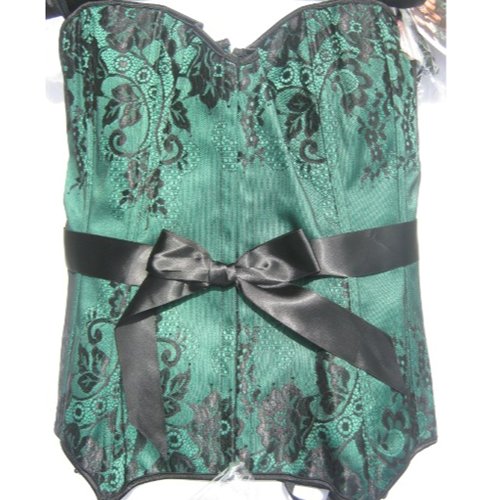 As for dimensions and fit, I would say that the corset runs mostly true to size, perhaps just a smidge small. However, since it has a lace-up back, that's easy to adjust. On the front are hooks and two sets of eyes, so you can adjust the size a bit there too, but if you move the hooks so they are on the eyes that make the corset wider, there will be a black stripe down your front. I prefer to hook them on the innermost hooks and adjust the size with the laces at the back.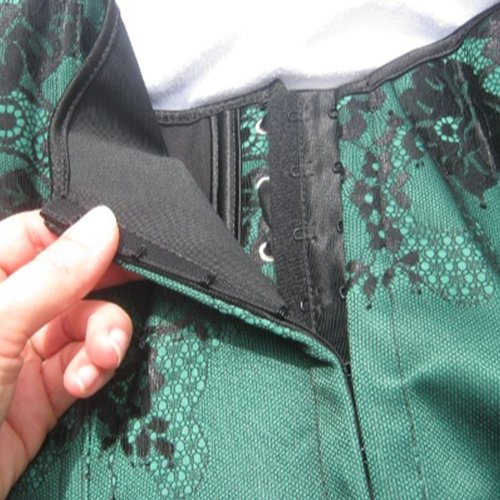 I was a little concerned that the corset may not be long enough for me, but I was pleasantly surprised. The dimensions I'm about to give are for size XL. It measures about 17 inches long at the longest point (from bust to the bottom hem), the middle front is just under 14 inches long, and the center back is almost 15 inches long. Each side of the corset is about 16.5 inches, giving a total circumference of 33 inches. That doesn't sound like much, but remember, the back opens up a whole lot as it is supposed to.
OK, nitty gritty over. Now the fun stuff!
When I took the corset out of the box, I noticed that it was heavier than I expected. It felt sturdy and solid in my hands. The color is so gorgeous that the photos really don't do it justice.
I unlaced the corset almost all the way and tried to close the front (hook and eye closure). The front, however, is so stiff that every time I got a hook through the eye, another hook came out. It took a lot of time and frustration for me to close it. My husband, standing in front of me, can close it much faster and more easily.
There was no way I would be able cinch the laces by myself, so my husband did it for me. Honestly, I was trying not to quote lines from the corset scene of
Gone with the Wind
while he was adjusting it. Afterwards, taking a look in the mirror, I was very pleased with the hourglass shape it gave my middle, but not very happy with the lack of support in the chest. There is no underwire or defined molding. That is where it lost a star for me.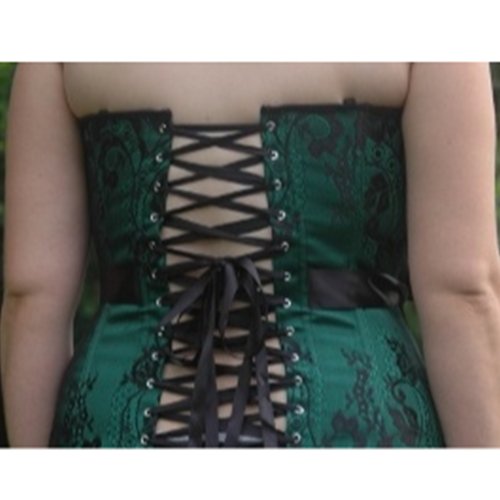 I wore it around for a while to see how it felt. It didn't itch like cheap lingerie can, wasn't particularly hot and was fairly comfortable to walk around in. That being said, due to the structure that makes it a lovely corset, it was almost impossible to sit down. I could only accomplish it if I dropped straight down onto the edge of a chair. Any movement that required bending was completely out of the question.
Overall, I love this corset. I don't wear sexy lingerie very often, but when I do, I'll be heading straight for this piece for quite a while. I love the way it feels on me and my husband loves the way it looks.
Follow-up commentary
5 months after original review
Although I still love the look and feel of this one, I want to be able to put it on and surprise my husband. However, the way the hook and eye closures are, I have trouble putting the corset on myself because every time I get one hook and eye closed, another comes open. I can loosen the laces, keep the hook and eyes closed, and get it on that way, but then I have trouble tightening the laces.
This product was provided at a discounted price in exchange for an unbiased review. This review is in compliance with the FTC guidelines.

Thank you for viewing
Satin and lace corset with hook and eye closure
review page!