Where the hell did my boobs go? (M)
This corset is gorgeous! It's emerald green color and satin ribbons make for a studding ensemble, however, it doesn't do my exact body type the best justice. My boobs disappear from the side, and I'm totally not a fan of that. Personally, I'd give this corset 3 stars, but my dissatisfaction is probably mostly due to my extreme particulars when it comes to corset fitting.
Published:
Pros:
Gorgeous emerald green, high quality, removable garters/straps
Cons:
Bust!
A while back I went on a corset buying spree. This was one of the corsets I bought and never reviews because I was unsatisfied with it. I thought I needed a larger size, but procrastinated and never returned it. I've lost a bit of weight now and it fits much better, but I still don't like the bust. My boobs disappear from the side and I'm not sure why. My D/DD breasts look fine from the front but are gone or weirdly shaped from side angles. Not cool! It's a shame since this corset is so lovely looking from the front and the detailing is exquisite. I think the odd fit has a lot more to do with how tight I like my corsets than it does with this not working for many people as you can see from the many positive reviews, so take my review with a grain of salt knowing that I may like to wear my corsets in a different way.

*Contents/overview: One piece, removable parts

*Corset
*4 Garters
*2 Straps

This corset from Coquette has plastic boning and two rows of metal eye and hooks in the front with a small modesty panel. It tightens with ribbon in the back. The removable garters and shoulder straps are adjustable. There are no designated cups, padding, or under-wire. It comes in green and sizes S, M, L, and XL.

*Material: Sturdy, durable

The corset is made of 100% polyester, exclusive of trim. The trim is the metal hooks, ribbon, and plastic boning. The material is NOT AT ALL stretchy (Keep this in mind if you usually order down when there is give in the corset). The lace over top of it isn't scratchy, but it isn't soft either. The inside is smooth and also not scratchy.

*Design/craftsmanship: Pretty, but flawed bust

The most gorgeous thing about this corset is its emerald green color. That and the dramatic bust line. The rise on the plunge is about 3". I'd describe it as a sweet heart bust line. It's best for girls with medium-large chests. The small side may find this to have a gap since there is no underwire and there isn't any padding either. This corset can have straps or not. I can wear it with or without. They're just like bra straps in the way that they adjust.

The corset only ten pieces of boning. The boning is plastic and quite flimsy. It will buckle if you don't get the right size (too small). It provides the ability to smooth things out and bring in the waist a little, but won't do anything drastic. There are no pieces or boning in the front center. They start off to the side and wrap around to the back.

There are two rows of eye and hook closures in the front, about 3/4" apart. There are 14 of them which is pretty average. There's also a very small privacy panel if you choose to wear the row that makes the corset larger. I never wear my corsets on anything but the smallest choice, because you can see the other row of hooks which looks tacky, in my opinion.

The front is straight across which I prefer. The corset comes down at four points, where the garters can be attached. This has a very pinup look.

In the back there are 13 grommets on each side, about 1" apart from each other. The ribbon going through it is 1/2" thick. The ribbon cannot come out, it's fused in one solid piece. I prefer this.

In terms of putting this on my self, it's not the most difficult, but it also isn't the easiest either. The pictures you see are how I got it on solo. I have been having a hard time getting the bust looser and the waist as tight as it needs to be at the same time. It's easiest to loosen the back. Step into it and start to hook it up the front. Then you can pull from the middle to tighten it to where it needs to be. Adjustments from there are a little hard to do solo.

*Cleaning/care/storage: Hand wash, padded hanger and bag

The tag says hand wash and hang dry, which means spot clean. You shouldn't have to do much more than that. It came on a nice padded hanger. I'd store it on the hanger or folded and laid flat. Made in China.
Experience
*Sizing/fit:
Runs true to size
I wear a medium in most Coquette corsets. I chose a medium for this one too. At the time I was about 8 pounds heavier and didn't like the fit. I gained a few more pounds and have recently lost 12. Now it fits how I want it to in the waist and hips.
The medium on Coquette's chart is supposed to fit a 8-10 dress, B cup, 36-38" band, 28-30" waist, and 38-40" hips. I weigh ~139 pounds (size ~7/8); curvy but fit, with size 34 DD breasts (got remeasured as VS last weekend, I'm shocked my boobs didn't get smaller...). My waist is about 29.5", under bust 33.5", and hips 37.75". (NOTE! My measurements have changed!)
The fit in the waist and hips is great. It did fit me when I was 8 pounds heavier, but it didn't close as much in the back. It could accommodate larger, but there will be even more of a gap. There is plenty of lacing though. Any larger than a C, small D cup in the medium will likely feel smooched like me. I don't like the bust. They look okay from the front, but the
My Re-done chart:
For the medium
Dress: 8-10
Cup: B-D
Band: 33-37"
Waist: 27-32"
Hips: 37-40"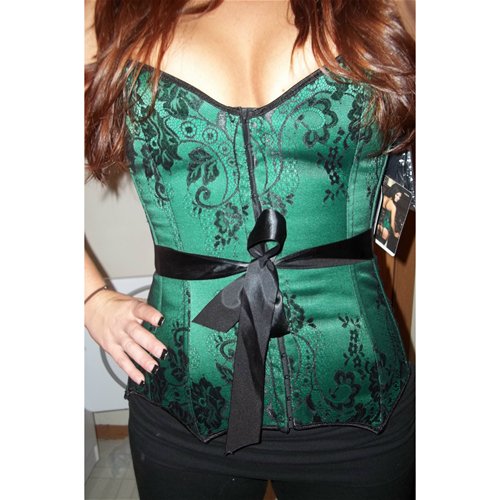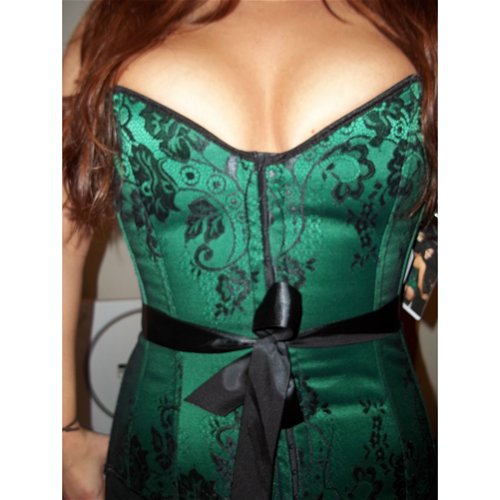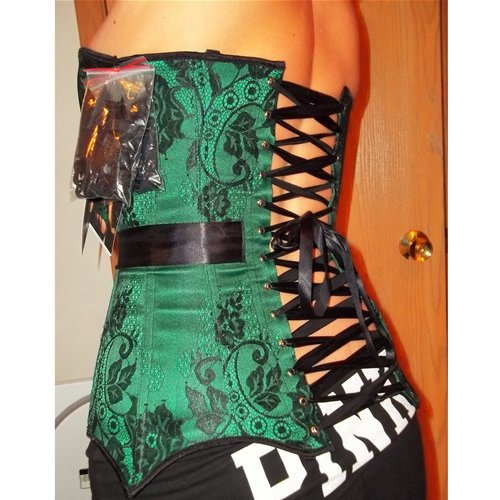 Back: I can get it tighter than this.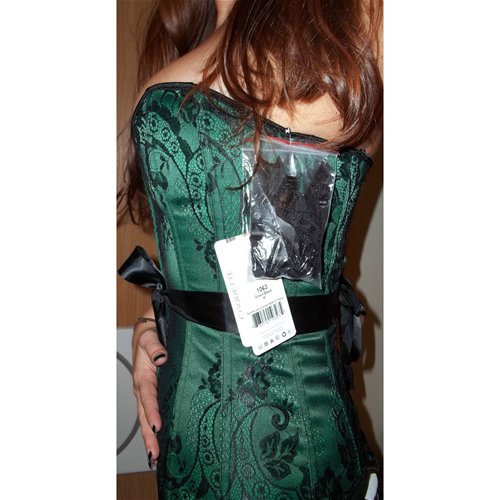 Seriously, the lack of definition of my boobs pisses me off. I think it's too tight, although it doesn't feel that way and I can't get it just right to look good all around.
*Possible accessories:
Wearing this out would be great with a plain black crop shrug. I have quite a few and they all work perfectly.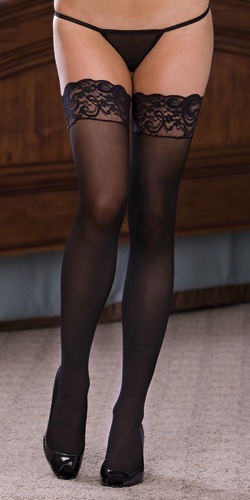 And stockings wouldn't hurt...
Stockings
*Conclusion:
❤❤❤❤
Follow-up commentary
3 months after original review
I can't hate on this corset too much. It's so pretty! I really want to wear it to a slightly naughty holiday party and will just deal with it smashing my boobs down. It's too gorgeous not to wear.
This product was provided at a discounted price in exchange for an unbiased review. This review is in compliance with the FTC guidelines.

Thank you for viewing
Satin and lace corset with hook and eye closure
review page!