Gorgeous and elegant green corset (Large)
I lusted after this gorgeous green corset for months before finally taking the plunge to order it. I'm so glad I did because it is absolutely stunning. For big chested girls the corset's bust might be an issue.
Published:
Pros:
Gorgeous emerald green and black lace combination
Great quality
Cons:
Flattens out chest from the side
Design:
This corset has a black lace all over emerald green fabric. There is a 1 ½ inch wide black satin ribbon belt that can be tied to the front or to the back. The belt is not removable. The front of the corset has 14 bra style clasps (two rows) and one inch wide privacy panel.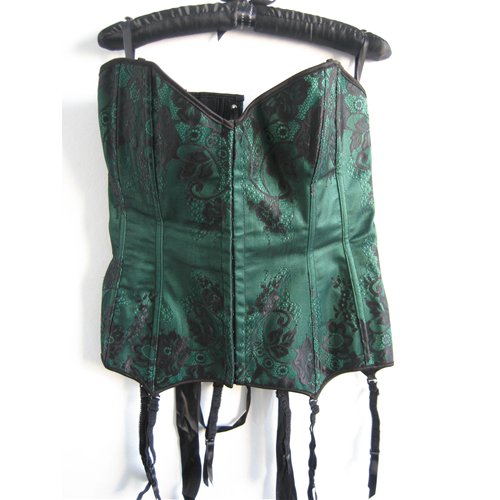 The closing at the back is corset style with a half an inch satin ribbon (no privacy panel). The back lacing is tightened from the top and the bottom with the bow coming to the waist.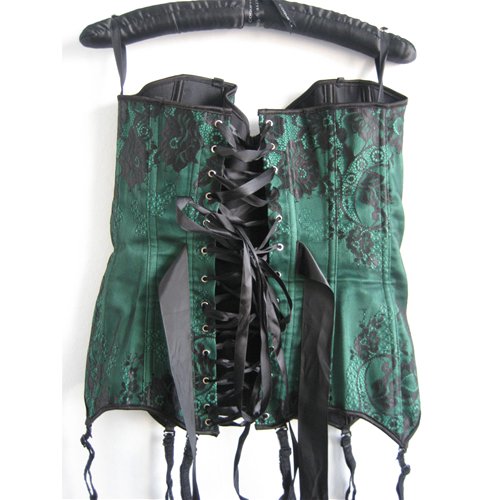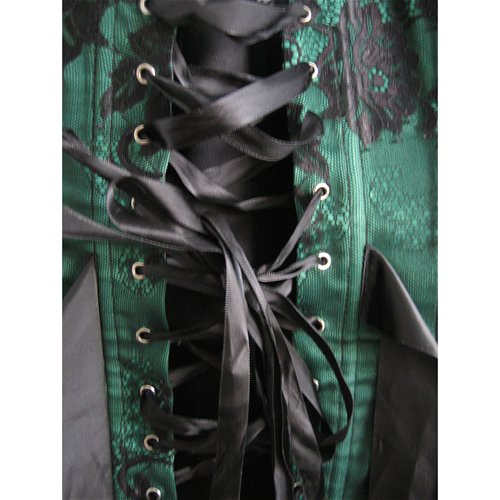 There is so much of the satin ribbon I might have to cut it shorter.
There are no under wires at the bust and the boning on this piece is plastic. There are five pieces of boning on both sides. I have noticed that they have molded a little bit already so they are definitely not the sturdiest type.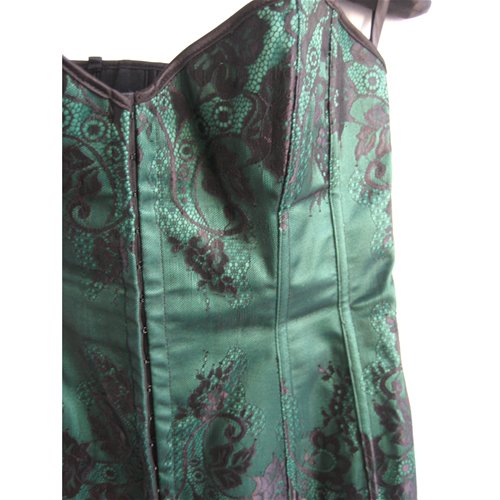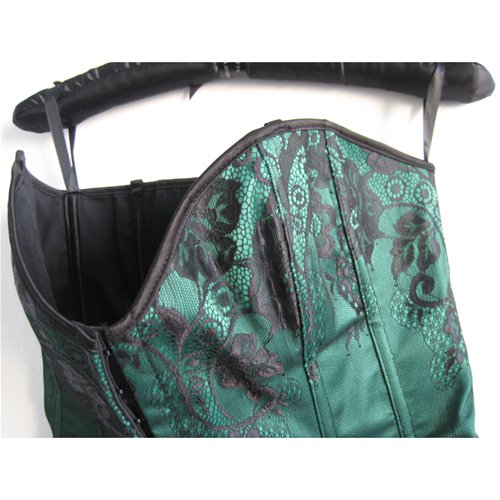 The corset also comes with six detachable garters which are stretchy and can be adjusted between 5-10 inches. The garters and removable shoulder straps are similar to another corset from Coquette I own.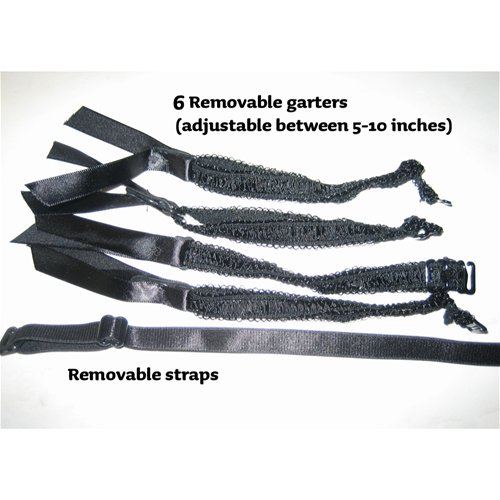 The corset provides enough support for my big chest as it is so I like to wear it without the straps. No stockings or thong come with this piece.
Sizing:
This corset is available between sizes S-4X. After reading up on other reviews, I decided to order this in Large. Here is Coquette's sizing for Large:
Size: 12 - 14
Bust: 38 - 40 (C cup)
Waist: 30 - 32
Hips: 40 - 42
My size:
Usual size: 12
Bust: 39 inches (over), 32 inches (under)
Bra: 34 DD/DDD
Waist: 33 inches
Hips: 38 inches
Cinched to the best fit there's still a couple of inches of skin showing at the back so I if my measurements go down slightly I can still wear this. But at hips I can get the sides to touch. So I would say that for this corset Coquette's sizing chart is kind of accurate and you should mostly follow it. The fabric doesn't have stretch in it so don't count on the material to give in. But since the back is corset styled (with a ridiculously long ribbon) it gives you some wiggle room with the sizing.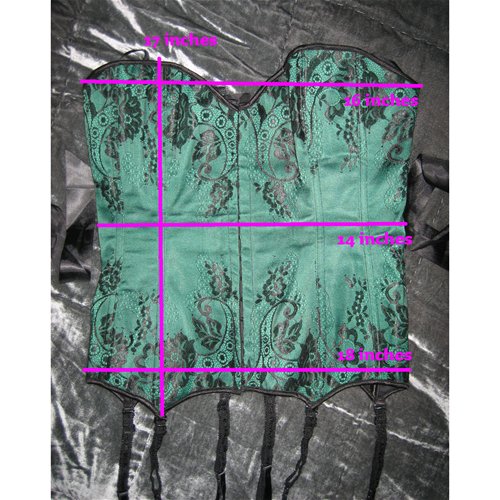 Here are some measurements for the corset at the tightest possible fit:
Armpit to armpit:
16 inches
Waist:
14 inches
Hip:
18 inches
Care
This corset is 100% Polyester. According to the washing instructions this corset should be hand washed. You can lay it flat or hang it up to dry. Use the padded hanger that comes with this set to hang it up in your closet or lay it flat in your drawer.
Experience
Like with all corsets the back needs to be cinched properly to get the best fit out of this corset. Ideally a partner would be most helpful but it can be done by yourself as well. But this requires patience and most likely couple of tries to get it right. But after that you can use the clasps on the front to put this corset on more quickly for sexy times.
Obviously, as a corset bending down while wearing this is not comfortable. The plastic boning will start to bend as well and poke a little bit inside. This corset evens out the torso nicely but it is not suitable for serious corset training.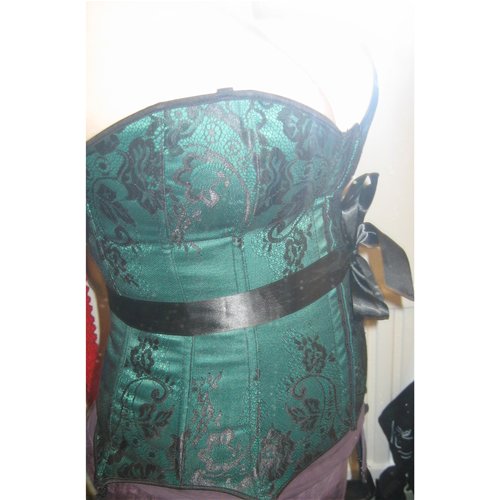 My boobs do look a bit smooched from the sides. I noticed that Lauren has also had this problem. So it is an issue those with bigger boobs (D+) will probably have. However, from the front my chest looks great. I get crazy cleavage with this corset.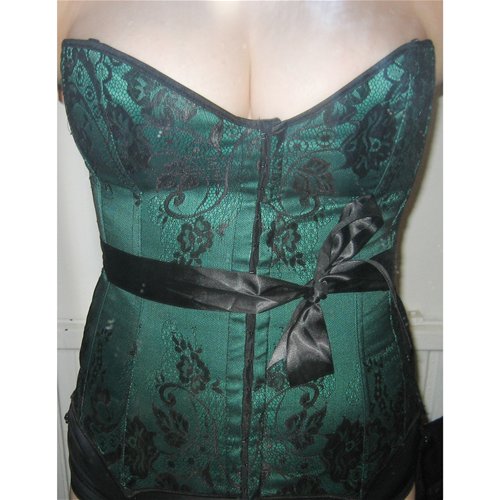 I would not be comfortable wearing this corset as a top outside of the house because of the cleavage. But if you're O.K. wit the cleavage it provides, the corset is subtle enough to look good as a top as well so you could pair it up with a shawl or a jacket.
The quality of this piece is wonderful. I have not noticed any loose threads around. Overall the only issue I have is with the bust so I'll remove one star because of it. But other than that this corset is amazing and would receive five stars from me.
This product was provided at a discounted price in exchange for an unbiased review. This review is in compliance with the FTC guidelines.

Thank you for viewing
Satin and lace corset with hook and eye closure
review page!