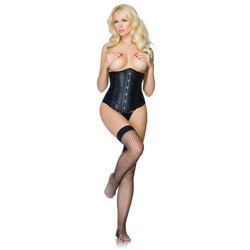 Satin princess cinch
Cinch
by Leg Avenue
Feel Like A Princess
This cinch would be a great addition to any woman's wardrobe, even though it lacks the frills and ruffles of more sensual pieces. The steel boning is sturdy without being uncomfortable, and it fits so smoothly to your body that you can wear it under all but the tightest shirts without it becoming visible. I would recommend this to anyone looking for something sturdy and comfortable to take a few inches off their waist.
Published:
Pros:
Steel boning, flattering, does its job, cute, comfortable, soft lining.
Cons:
Only offered in black, no plus sizes, shiny material (may not bother some)
Leg Avenue's Princess Waist Cinch is a great piece of lingerie, albeit one with a few flaws. It works well both worn over a flowing top or dress (for a slightly pirate like look) and under any clothing short of a sheer or extremely fitted top (like a compression shirt for working out). Unlike a corset, waist cinchers do not cup your breasts, so this is a good piece for those who want to nip in their waists but have trouble finding corsets and bustiers that fit them correctly.
My partner is nowhere near my size and couldn't wear this piece, but I suspect it would work for crossplayers or other males looking to get a slightly more feminine shape, even though the product is clearly marketed toward females. The metal boning is awesome and does a far better job smoothing and shaping your body than plastic boning does, but isn't a lot less comfortable, so I would recommend this cinch to those who want a little extra shaping from their lingerie. Keep in mind that this piece has neither garter straps nor lace or frills, so if you're looking for something romantic to tease your lover you should probably look elsewhere.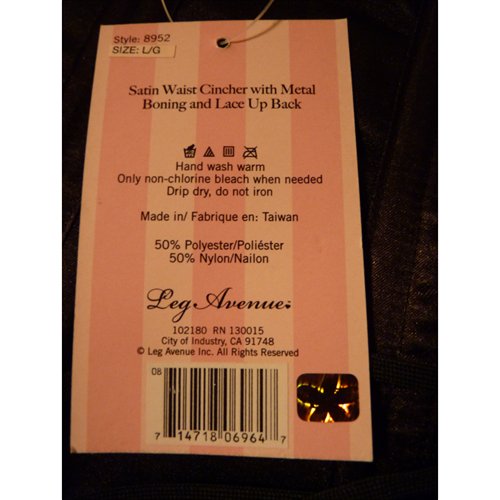 The cinch came packaged in a clear plastic with a cardboard tag attached. The packaging isn't horrible for storage, but I chose to just store mine in a drawer. The front of the tag features the same bra-less model from the product page, so if you want to be discreet it'll go straight to the trash. As the tag says, this cinch should be hand washed and drip-dried.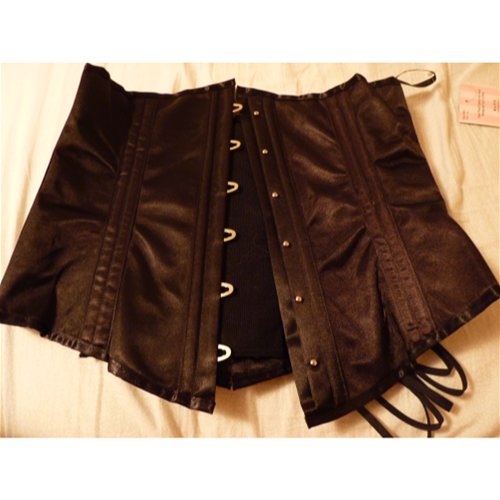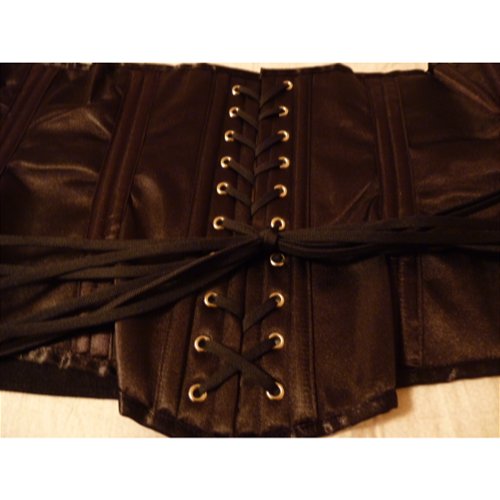 The Princess Waist Cinch is fastened shut with a line of grommets down the front, and lacing in the back. There's also a modesty panel that can be used to fill in any gaps left between the laces. The grommets are both very sturdy and very sharp, so watch your fingers! I pinched myself pretty badly messing around with them. I found that the best way to put on the cinch is to loosen the laces completely, put it on and fasten the grommets, then have a buddy tighten and tie the laces for me. If you don't have another person around to help you out, you can wear it backwards, and lace it up yourself. I found that I could get it laced tighter with another person helping out, but it was still comfortable and looked about the same when worn backwards.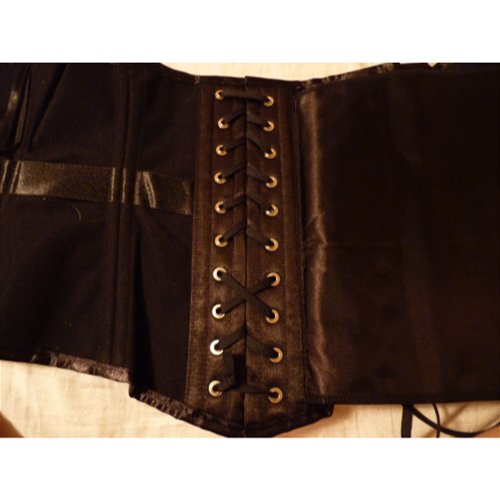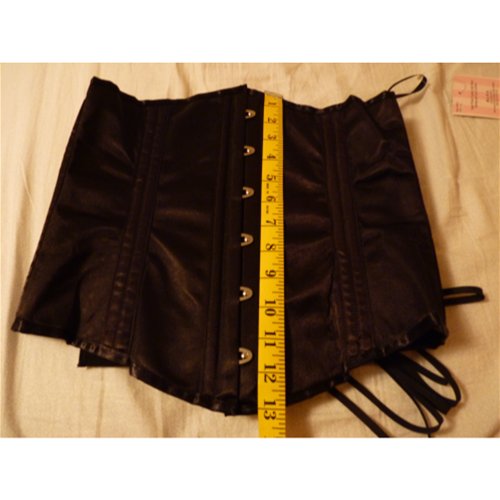 Measurements: Laces fully loosened (laces fully tightened)
Width: 34" (27.5")
Length at longest point: 13"
Modesty panel: 6.6"
Experience
I bought the Princess Waist Cinch to wear under everyday clothing, and it works perfectly! The outfit I had in mind was only slightly fitted, so the discreetness of the cinch wasn't a big deal, but it turns out I had nothing to worry about anyway. The only shirt through which I could see the outline of the cinch was an Under Armor compression shirt that I use for exercise, and I certainly won't be wearing a cinch on my nightly jog!

I do have some issue with the material. While the lining is velvety soft, the outside is shiny like costume satin, and I don't like wearing it out. Those who like shiny fabric will have no problem with this, I just prefer less flashy fabrics. Regardless, it looks super cute on top of a loose top and I will probably wear it that way from time to time.

I fall squarely in the middle of the large sizing for this piece, and it fits me perfectly. Sadly, it isn't available in a plus size, but if you wanted you could try replacing the lacing with longer ties. This would require you to use it without a modesty panel or replace the modesty panel as well, but it could be worth a try if you're really desperate.
This product was provided at a discounted price in exchange for an unbiased review. This review is in compliance with the FTC guidelines.
Thank you for viewing
Satin princess cinch
review page!