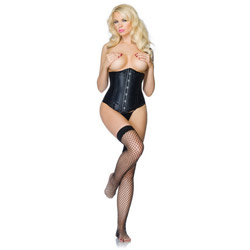 Satin princess cinch
Cinch
by Leg Avenue
Ooh la la!
This is an incredibly high quality piece and I would highly recommend it to anyone looking for something like it. While it looks great, it is functional for both those wanting to use it as an accessory or those looking for something to seriously cinch in any problem areas. It may not be the best for bedroom wear, but it is incredibly sexy.
Published:
Pros
Cinches in waist, high quality, can be worn under or over clothing, independent of breast size
Cons
Hard to get on/off by yourself
As a girl, I always LOVED how corsets looked. I loved the unnatural cinching effect, and when I was younger I played around with some too-small girdles in search of the same look. When I began putting together an outfit for a convention, I finally found an excuse to purchase something that would give me the 'look' I was going for.

This corset is VERY well made, and I can see it lasting for as long as it will fit me. The metal boning is very well sewn on, the grommets are impenetrable, and the clasps must be sewn on with diamond threading. The result of this solid construction is that you can tie it as tight (or leave it as loose) as you want.

With my knowledge of corset sizing, I was aware that you should order something about 2 inches down from your actual waist size if you want the Victorian hourglass look. I ordered a medium, which lists a 25-27 inch waist, and it fits my 30 inch waist wonderfully. I feel like the lacing and style make it much easier to adjust the size. I feel like this would easily fit someone with up to a 34 inch waist if they're looking for a constricting look, but if you only want to wear it loosely as an accessory you may want to stick to the size chart.

Like most corsets, having a helper is almost a necessity if you want to wear it tightly at all. I would recommend first fastening the front clasps (which may require loosening the lacing the first time) and then having someone help to tighten it. Some helpful hints; the two laces tie in the middle when you get it, but they look best when you thread and rethread them to tie at the smallest part of your waist. This allows for more comfort and an even more 'cinched' look.

After you have it adjusted properly, you should be able to take it off and on without needing to re-tie it. I found that the best way was to hook the top and bottom fastenings, and then suck in your diaphragm and stretch your torso. Again, it may be best to have some help if you like to wear it tight.

Personally, this isn't the sexiest piece of lingerie. I wouldn't recommend using this as bedroom wear (especially if you have laced it tight) because how hard it is to remove it, how it restricts movement, and the fact that it's a bit hard to breathe with it on. This is awesome to wear both underneath and over clothing, but if you're wearing something tight and slinky people may see it if you're wearing it as an undergarment.

This is made of satin and polyester, so I would recommend spot cleaning and hanging it dry, but if you had to you could handwash the entire piece. I would recommend wiping dry the metal pieces if they ever get wet in order to prevent rusting. It is a bit shiny, but it's not glitzy or a 'wet look' fabric.

While this is great for cinching in your waist, I would not recommend this for 'waist training.' If you're looking for something to wear regularly and alter the shape of your body, splurge on something custom fit.
Experience
I have always wanted a corset, and I finally settled on getting this one with some Eden points I had lying around. I REALLY like it, and it is awesome to wear for my costume. I was concerned because I have 34 D breasts that if I got an over bust corset I would end up overflowing or being smushed. I would highly recommend this for women who have breasts that don't quite fit in with any of the full corsets sizing charts.
This product was provided at a discounted price in exchange for an unbiased review. This review is in compliance with the FTC guidelines.
Thank you for viewing
Satin princess cinch
review page!