My Corset Is In Another Castle.....
If you're just looking for a fashion corset, then this may suit you. However, if you are wanting to get into tightlacing (actual body modification via corsetry), or if you're looking for a steel-boned corset that will last, then you will definitely want to look elsewhere. I've personally gotten a corset that is *much* better quality and is completely steel boned, and it actually cost less than the Satin Princess Cinch, even with shipping factored in. I'm very disappointed.
Published:
Pros:
Beautiful, has a modesty panel and waist tape.
Cons:
*Plastic Boning* despite what the product description says, unsuitable for tightlacing, cheap.
I *love* corsets. Not only are they beautiful and make me look and feel sexy (and Synthetik likes them on me), but the restriction I feel while wearing them is a *huge* turn on for me. So when I saw the Satin Princess Cinch here on EF a while back, I figured I'd snag it.
In complete honesty, I was *so* disappointed with it. Maybe I'm getting elitist, crotchety, or too high on my proverbial horse, but when a product lacks features that is hailed and advertised in the description itself, it's not exactly welcome when I find out that such claims are untrue.
Things I liked:
When it comes to looks, this corset really is beautiful. The outside, of course, is made of black satin. The inner liner, from what I can tell is fused to the inside of the satiny outer fabric. So luckily it's not just the satin that's pulling the weight, which wouldn't have made for a very strong cincher. Granted this isn't exactly the "He-Man" of corsets, but it the fused liner does help it some. Since it's polyester, however, it isn't as breathable and won't be as cool, temperature-wise, as a cotton inner liner.
There are 20 grommets in total on the back of the cincher for lacing, and there are eighteen bones. The busk is metal and seems to be secure, and there is a waist-tape inside the corset.
For those whom don't know, the waist-tape is on some corsets to help with it's longevity. It helps give strength to the area of the corset that'd have the most tension, the smallest part of the waist. There is also a modesty panel in the back, that you can use if you don't want your skin or clothes to be exposed in the gap where the laces are.
Things I didn't like:
Here is the description of the corset, posted verbatim (any emphasis is my own):
"The Satin Princess Cinch from Leg Avenue is a fine example of waist cinchers. Made out of satin, ***this cincher features double
metal boning throughout the construction of the garment
for the sturdiest and most effective shaping***. The front has metal eye and hook closures and the back features classic lacing so you can expertly shape your waist."
Remember how I mentioned earlier that there were eighteen bones in this corset? That's lovely, except the bones are *not* metal. They're *plastic*. Granted, the busk is metal, and the bones that sandwich the back grommets are *possibly* metal (if they are, it's not exactly good quality metal bones, since they wound up warping), but other than that, they are plastic. Which makes the bit about "metal boning throughout the construction of the garment" completely false. This was such a letdown, and has affected my opinion of this corset immensely.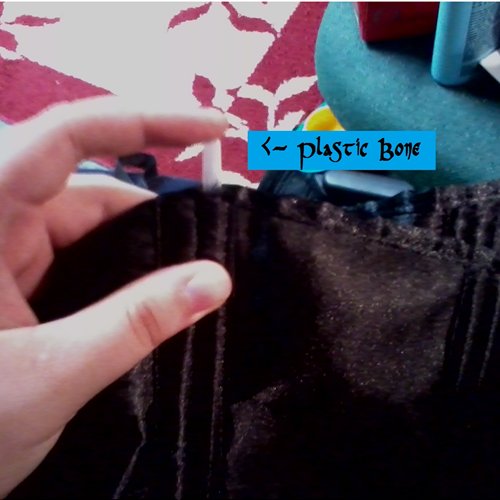 Some corset sellers will make claims that the bones are metal, when in reality only the busk is. The reason they can get away with it is because some people consider the busk to be a sort of boning. Usually you'd see this sort of dishonesty in descriptions on places like eBay, so I was shocked. I had more honesty from an eBay seller with a less expensive, higher quality corset, than from this Satin Princess Cinch from Leg Avenue.
The problem with plastic boning is that it tends to be prone to warping and bends very easily, especially when exposed to body heat. For some, this may not really be a deal breaker, and may not really affect them or their corset very much. But for me, a lady with curves, this meant that the boning in the back kinked up (and not kinky in the good way, mind) and would poke me in my back. It made things *very* uncomfortable and painful at times, to the point where I'd have to remove the corset. Metal boning would've been infinitely better.
Not to mention that the ends of the bones aren't covered or rounded, so the sharp edges have poked through the fabric a bit. Because of that, I've seen firsthand that the bones aren't metal. Since the bones are plastic like the bones in bustiers or fashion corsets, its highly unsuitable for tightlacing.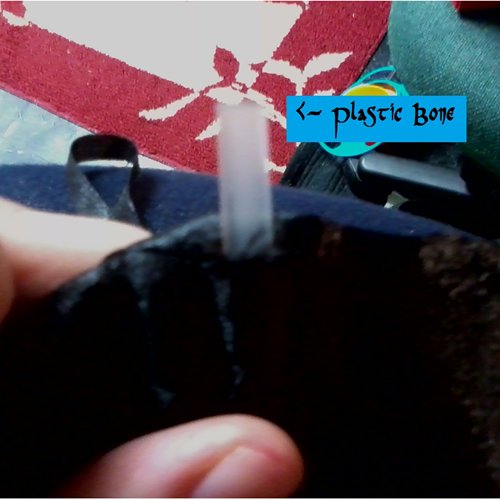 As mentioned before busk is actually metal, though it's not as sturdy as I had hoped it'd be, and is very bendy. Again, this is something that may not bother some, but it's good to note because, depending on your particular shape, it may cause the busk to bow out towards the bottom, which is what it did in my case. It's one thing for a busk to have a little bit of give to it, that's perfectly fine, but it shouldn't be able to bend quite *that* much.
Experience
Granted, I did have some good experiences while using this product. Synthetik *loves* how I look in corsets, and I love how they make me feel and look. Needless to say it got both of us rather 'hot and bothered'.
This product got me even more interested in corsetry, I'll give it that, but in my eyes the downsides of this corset
far
outweigh the good. It had such good potential, it really did, and would have made a great introduction into corsetry for people, to kind of "dip their toes in" and see if they liked it. If only it had been made with metal bones (as advertised) instead of plastic. I guess I wouldn't be so malcontent if the description wasn't misleading, because I truly expected better.
(Please note: I do not know whether the description was provided by the vendor, or what, but I'm not pointing fingers at *anyone* in particular, except possibly Leg Avenue. I'm just pointing out that, unfortunately, regardless of who wrote it, this product is not what it says it is.)
For those whom are interested in learning more about corsets, there is a great Youtuber named Lucy who does video reviews, along with informative and how-to videos all about the art of corsetry:
Lucy's Corsetry Channel
. It's an awesome channel, and I highly recommend it if you're looking to get into corseting.
This content is the opinion of the submitting contributor and is not endorsed by EdenFantasys.com

Thank you for viewing
Satin princess cinch
review page!