I'm All Cinched Up!
The Satin Princess Cinch is quality made with meticulous stitching and boning throughout. Sexy and versatile, it may be worn alone, under clothing, or over clothing. This waist cinch does a fine job of holding you in and creating those sexy curves every woman desires.
Published:
Pros:
Quality materials and craftsmanship
Can be worn several ways
Cons:
Hard to cinch by yourself
The Satin Princess Cinch by Leg Avenue is certainly constructed with beauty, durability, and function in mind! The style is simplistic, yet elegant. The materials are strong, fashionable and functional. If this cinch won't hold you in-nothing will!
Made with 50% Polyester and 50% Nylon, 2 strong, tough fabrics that stand up well to abrasion, this piece should stand up to the test of time. The stitching on this garment is impeccable and finely sewn. The cinch is quite rigid, stiff, and has no stretch to it at all.
The outer material is smooth and feels like hardened silk (if that makes sense). The inside material is fleecy and comfortable against the skin and keeps the cinch from slipping around. The materials do not breathe well, so this will warm you up really fast, especially if you are hot blooded. That can be good or bad, depending on your outlook.
This is a waist cinch, and does not cover the bust, which makes it more likely to fit a larger range of sizes. Those who are lucky enough to be endowed with large breasts and tiny waists will appreciate this feature.
There are 6 sections of double boning spaced 2 1/2" to 3" apart throughout, making 4 panels on each side. The back lacing also has 2 pieces of boning framing the metal grommets that hold the lacing on each side. Upon inspection, I found that all the boning except the front and the edges of the back is actually plastic.
Front of cinch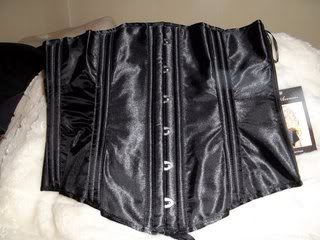 Busk detail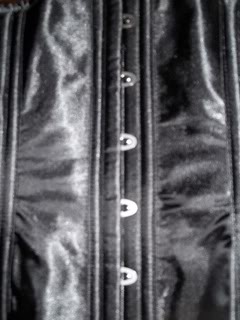 The front features a finely made busk closure with 6 "hook and eye" closures made of metal. It has 1/2" wide metal boning on each edge of the closure along with a smaller plastic bone beside each larger bone.
The lacing in back is made with 2 shoelace like ribbons that are rounded at the ends making it easier to tighten with less force on the ribbons. There is a 6" privacy panel inside the laces which you can either use to cover the skin or fold back to show the skin beneath the laces. It is made with the same comfortable fabric as the inside of the cinch, so the laces do not chafe the skin.
Back laces cinched and tied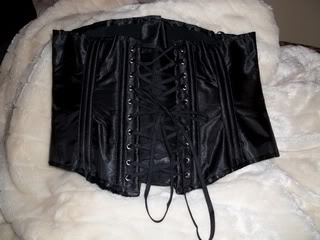 I've had my eye on this for quite a while, but did not order it because my waist size is larger than the Large size offered by Leg Avenue, but having read a few reviews stating that the cinch ran big and that you could loosen the laces quite a bit, I finally succumbed to my urge and ordered it.
When it arrived, it was fully cinched and looked quite tiny. I was certain I wouldn't be able to get into it. I immediately got to work loosening the laces. I loosen them as far as the privacy panel allowed, since I didn't want to show skin in the back. This made the waist 31". I had 7" to go since my waist is 38". I resigned myself to loosen it more and show skin on my back. I folded the privacy panel back and loosened it the required 7". This left 9" in the laces to cinch up. Not too bad.
I couldn't cinch the garment myself. It would be prudent to have some help nearby to cinch the laces.
To properly cinch up, first close the busk closures in front. Always remember that busks are not meant to be done up at laced up tightness. Take a deep breath, (it may be your last for the duration of wear!) let it out, and have your helper cinch the laces.
Oh my! It looks gorgeous on! I am not used to restrictive clothing, so it may take me some time...I can't breath well in this cinch or sit down for that matter. It could be loosened at little more I suppose.
The top of the cinch rests at under my bra line comfortably. The length is just right at 13", and hits the top of my hip line.
All in all, I'm very pleased with the fit and look of the cinch, I just need to lose some weight and get used to my stomach being pushed in so tightly!
This cinch may be worn by itself, under clothing, or as an accessory over clothing. It's so sexy any way you wear it.
To clean, Leg Avenue recommends hand washing with warm water or spot cleaning when needed with a mild soap. Lay flat to dry.
This garment was made in Taiwan.
Experience
As stated, I knew my measurements were larger than Leg Avenues size chart, but with much loosening of the laces I was able to get into it. I would say that the size chart provided was accurate. No need for any measurements but waist size with this one. Large size will fit waist sizes 27" to 33", showing no skin in back and up to 38" without privacy panel; leaving about 9" of ribbon in back to cinch up and tie. Length is 13" and should fit anyone with an average to long torso.
I'm very pleased with how I look in this cinch, it is so sexy looking and I feel very sexy wearing it.
Follow-up commentary
3 months after original review
I can say with certainty; this waist cinch is going to last forever! I've really put it through its paces and it's still in wonderful shape! The boning hasn't come out of the seams like some others I've had in the past. Stitching is still intact. The metal busk is still in fine shape and hasn't bent or come loose, same for the grommets in back. The laces are still strong despite all the pressure they have withstood. A mighty fine cinch.
This content is the opinion of the submitting contributor and is not endorsed by EdenFantasys.com

Thank you for viewing
Satin princess cinch
review page!