If You Like 'Em Huge
Eden didn't manufacture the Rolls Royce of towels, but it did offer a convenient beach towel that reps the Eden logo in a really cute way. The large size makes it great for a wrap around at the pool or beach. It may not live up to big, fluffy spa towels, but it gets the job done well enough for me and doesn't chafe me in the process.
Published:
Pros:
100% Cotton, Comfortable, Large
Cons:
Sheds a little
This is the Eden T-shirt in towel form.
Decent, comfortable, and convenient to have around.
You may think $14.99 is ghastly for a towel, but you're getting a lot of towel for the price. Think about it. A nice day at the beach, and you bring along this beach towel which is generously sized at 59" long, and lay it down on the sand. Bam. You now have a barrier against the dreaded "sand cooch." And Eden has saved the day.
The towel is made of 100% cotton, with the front portion being just a bit softer than the back. The back is a white color and is soft as well, but you can feel the thinness of the material easily through the back portion. The front from a short distance kind of has a velvety finish to it. It isn't shotty material or going to develop holes after one wash, but it's decent enough to wrap around you after a dip in the pool or bath tub. Those of you who are Pier 1 addicts, you might want to pass. When I feel this material, it's similar to those towels you get in a 3 star hotel that aren't the finest in the land, but they're tolerable and are satisfactory to use.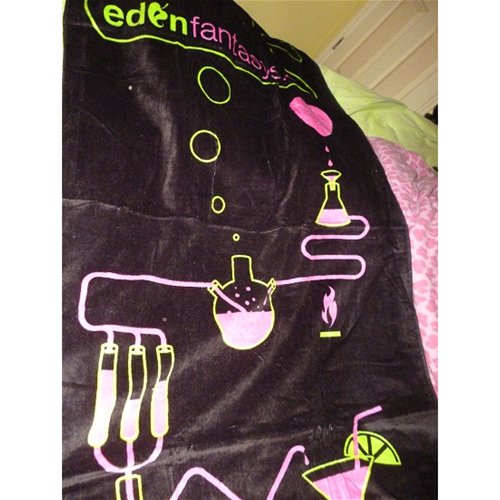 Technically, you could run and buy quite a few bath towels in a set for this price that are a little more than satisfactory, but hey, Eden put a pretty nifty graphic on this bad boy. The front features a chemistry set that is brewing a concoction that somehow leads to.. a margarita. I didn't ask questions, it's just a nice design. I also love the "Get some" phrase at the bottom, as it makes the towel's design overall pretty fun to carry with you on beach trips and to use in general.
I didn't have many problems with the absorbency, but I only use this to dry off, not mop my floors, so I guess I really wouldn't. I've stored my wet clothes from the beach in it and it didn't leak all over my backpack, so I'd say it does its job okay and that's good enough for me.
As for washing goes, it'll take a few tosses in the washing machine to get it stop leaving small, black fuzzies on your skin when it's wet. It doesn't shed all that badly, but it's not 900 threat count, so it can be expected. You can wash this like normal laundry, blacks with blacks (how racist!), you ladies and gents know the drill. The washing instructions on the tag are pretty simple. Don't bleach the crap out of it, don't leave it, don't iron it like your dress slacks, ect.
My towel arrived to me in a plain, plastic bag like the Eden T-shirt's and nothing was on the outside. Pretty simple and self explanatory.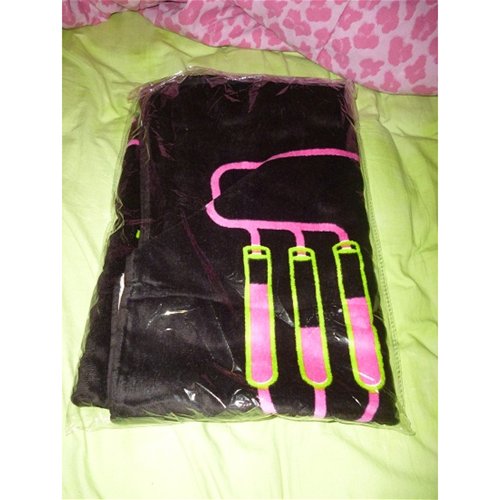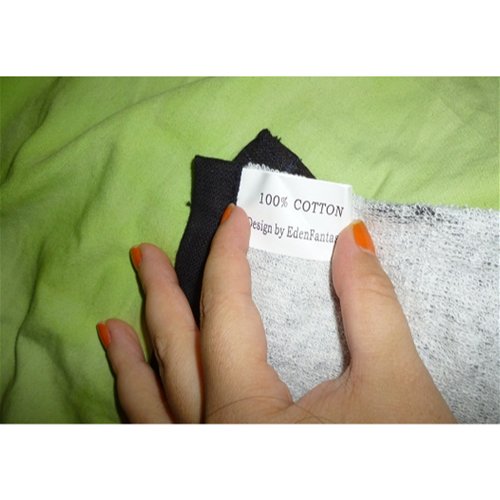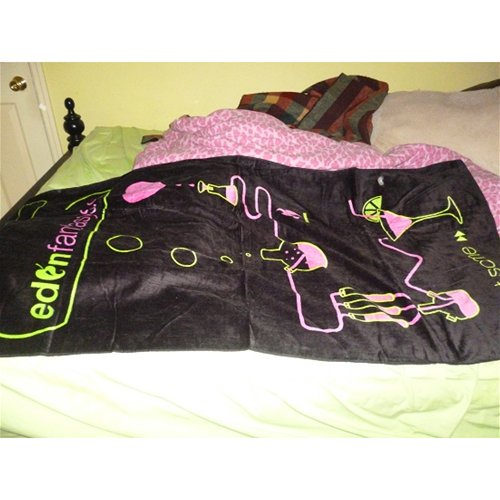 Overall, it's pretty cute, right? Pink-hating individuals might not like all the pink going on on this, but as a free gift, it's worth picking up for that extra towel on the rack. You might even want to drape it over your shoulders and use it as a science-inspired cape while you run naked around your dorm room.
I'm in favor of Eden coming up with a design for a "Cum cloth," but I'm pretty sure I won't be seeing that in the works any time soon. So this towel is what we have to work with, and it's a decent product.
Follow-up commentary
4 months after original review
I've actually started to like this towel even more than when I originally wrote a positive review about it. It still hasn't fallen apart with wash after wash, and it's stopped shedding completely after a few washes. This towel in particular is soft without being heavy duty at the same time and I usually use it right after I finish dying my hair, since you can't see much red hair dye residue on the black surface.
This content is the opinion of the submitting contributor and is not endorsed by EdenFantasys.com

Thank you for viewing
EdenFantasys beach towel
– gags review page!