Not super absorbent
I had wanted one of these for months and I finally got one for free with the current promotion. It may be great for the beach, but it is not as absorbent as you might like to get really dried off.
Published:
Pros:
Soft, cute, fun if you love Eden, great for the beach
Cons:
Sheds, not totally absorbent, logo is not discreet
This towel comes folded, packaged in a plastic sleeve. When you take it out of the package, it does have a slight smell at first but nothing offensive or overpowering. The towel measures about 57 x 30 in.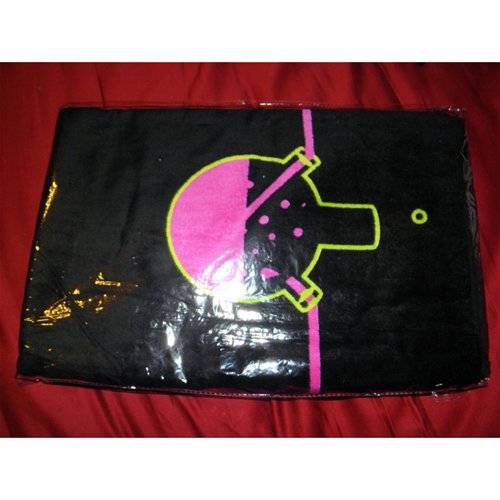 The underside of the towel (the side without the logo on it), is not exactly plushy or soft. It is white, thin towel material. Not shaggy, or thick at all, but it's not really rough either. It looks like a shaved down version of the rest of my towels. However, the texture of the black side of the towel is really soft, though once you dry off with it that side sheds. When I first used it after I got out of the shower, I looked at my skin and there was this weird black layer of stuff on my arm. I looked dirtier than when I got in the shower! I realized it was the black material shedding on my skin. It was not cute, but it was easily brushed off once my skin had dried completely. Also, this towel is thinner than the rest of my towels. It is not as absorbent as I would expect a towel to be either. It is great to wrap my hair up in, but not as useful as the other towels I own when it comes to drying my body off after a shower. Which is one more reason that I think this is more of a beach towel. However, if you are not comfortable with the large logo on the towel and bright colors that might draw more attention to it, then you might not want to show this towel off. Personally, I think that the logo is a little bit less than discreet, but it's not like the towel says anything about sex toys. The image that is on it is related to chemistry. For some, it may not be discreet enough....for others, maybe it's too discreet! If you really love showing off and talking about Eden, then I'm sure you would love to lay out on this towel on the beach. If you had it out in public, the colors draw attention so I could see people asking what Eden Fantasys is.
As for the quality of the towel, there are no threads hanging and all of the edges are finished. However, it is still not terribly absorbent when put to use. I am glad this was free and I did not use points to get it, because I would have been a little bit more disappointed with this if I had used points, as I intended to use this for when I get out of the shower. For me, these are okay for a day at the beach, or to clean things up around the house, but it doesn't dry me off well enough for me to want more than one of them.
Follow-up commentary
2 months after original review
This towel is decent for being a free towel, and for the fact that I am a huge fan of EdenFantasys! However, I don't really like that it shed when I first had it. Also, it is just hasn't been getting much use since it is just not absorbent enough for me. I hate getting out of the shower and drying off with this, only to feel all clammy and thinking that I should have just air-dried or used a different towel. Plus, this towel actually got thinner after having been put in the washing machine. I actually ended up with another one of these, and since this one has gotten next to no use, I ended up giving away the one that I had. Since it has a big logo on it, I had a hard time trying to give it to friends.
This content is the opinion of the submitting contributor and is not endorsed by EdenFantasys.com

Thank you for viewing
EdenFantasys beach towel
– gags review page!