Eden; doesn't just make you wet...
Whether you're spending time at the beach, or drying off after a hot steamy shower, the EdenFantasys towel is a great item to have! It has a super attractive design and is more discreet than not. I'm not ashamed to rock my Eden towel in public! It's lightweight, making it nicely portable for when you're on the move this summer! You might want to grab a second, you never know when someone might like to join you!
Published:
Pros:
Lightweight
Long
High Quality
Attractive Design
Cons:
Expensive
Could be a little wider
Use
Eden Fantasys has spent the past decade providing us with hundreds of products that excite and enhance our personal sexual experiences. It wasn't until recently that I discovered they don't just supply us with amazing products that make our panties wet, but they also provide us with the necessary accessories to handle the opposite end of the scale, they help us dry off as well!
The Eden Fantasys beach towel is high quality, has a trendy design, and is an essential accessory to the Eden fanatic! Use it to lay outside and sunbathe, to dry off after swimming at the beach, or after a nice, hot, steamy shower (better buy two, just in case!).
Not only does it work to help dry you off, but can be placed under you for when things might get a little messy!
Materials/Texture
Despite the fact that this towel is quite thin, it's not lacking in the quality department! The back of the towel is very absorbent, and the front is super soft! It's much softer than most of my other beach towels and shows no signs of wear, even after being washed and dried several times!
While the absorbent side isn't as soft as the front, it doesn't feel rough when rubbing it against your skin.
Design/Size/Shape
This beach towel is made up of four colors; black is the background, white on the opposite side, and bright green and pink make up the graphics on the front. The front looks like a sexy-fun science experiment. It has 'edenfantasys.com' at the top of the towel in a cloud of smoke that comes up from a super hot concoction. On the bottom are the words 'Get some' with an arrow next to it that points to a cocktail glass. The colors are super bold against the black and creates a very attractive piece considering the few colors used. Less was totally more when it came to designing the look of this towel!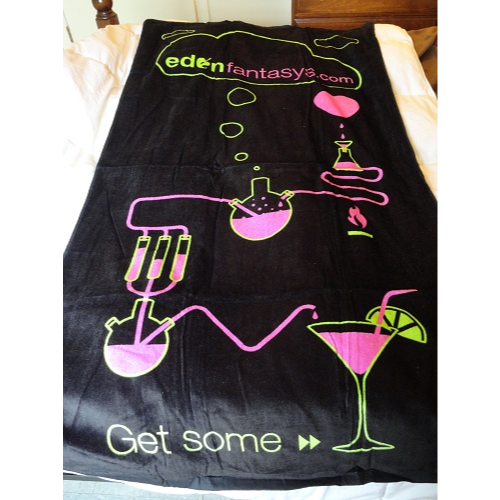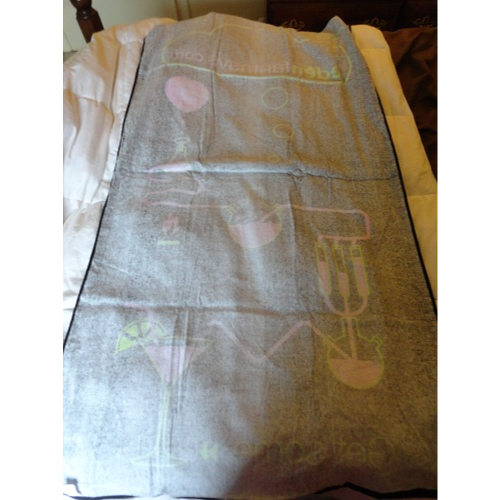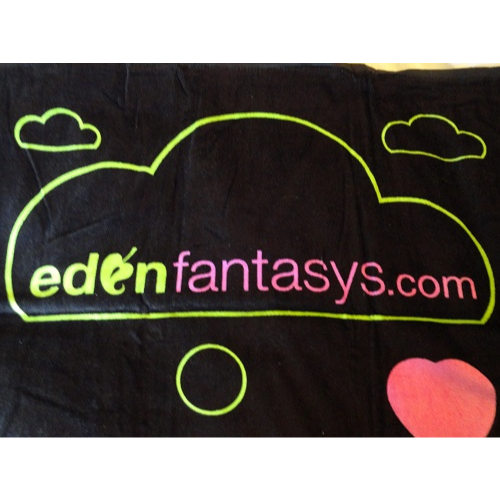 One thing that I love about this towel is how large it is! It isn't quite as wide as I would like it to be, but it's very long! I'm a larger woman and have a harder time getting a nice towel that will fit around me (unless I want to buy one of those super bulky beach towels), and this fits me perfectly! I don't have to worry about any part of me being exposed (unless I want it to!) thanks to the length! Even with it's impressive length, it's still very lightweight!
Length: 59"
Width: 29 1/2"
Weight: 13 oz
Care and Maintenance
EdenFantasys beach towel is made from 100% Cotton which is what makes it so soft and absorbent.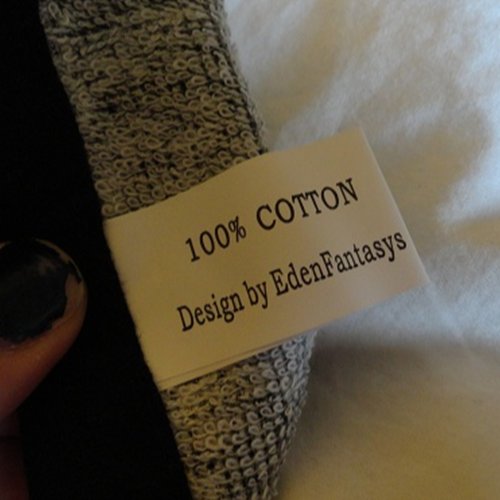 The back of the label gives the care instructions which are:
- Wash at 30 degrees Celsius (which is 86 degrees Fahrenheit)
- Do not bleach
- Do not iron
- Do not store in direct sunlight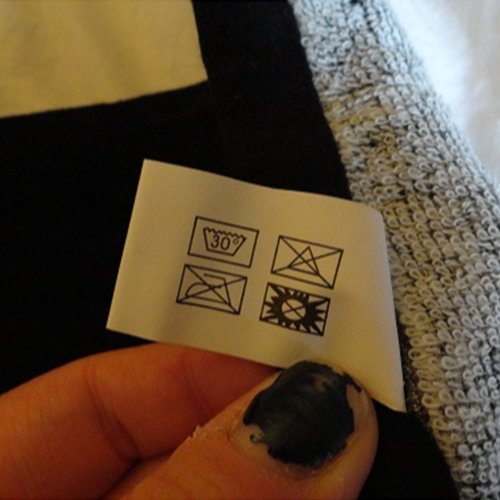 I just toss my towel in with the rest of my wash and pop it in the dryer with the rest of the laundry. I haven't noticed any wear at all to the towel!
Packaging
The towel comes sent to you in a thin plastic bag. The opening of the bag has a slightly longer flap that folds over the top and is stuck down to the side. This prevents anything else from your package doing any kind of damage to your towel.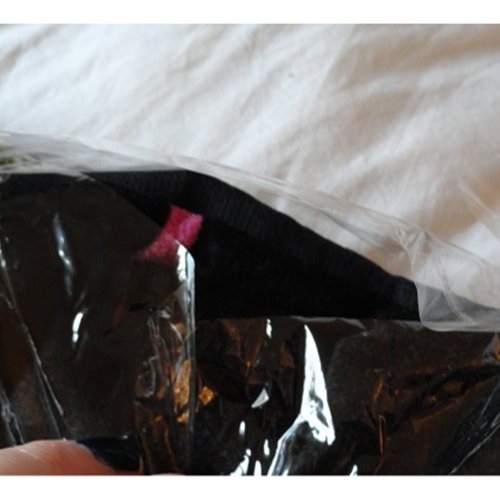 The plastic bag is not meant to be used as storage. The towel can be folded up and put with the rest of your towels, with your beach stuff, or in another location.
Experience
I received my first Eden towel a few months ago. I made sure to wash and dry before my first use to ensure that I didn't get covered in little fuzzies and so that the towel would be more absorbent. After the first wash the towel was already softer than when it had arrived, and has only become softer as it's been used and washed.
I recently received a second Eden towel and was very excited to do a side by side comparison to see how much my first towel has faded after several washes.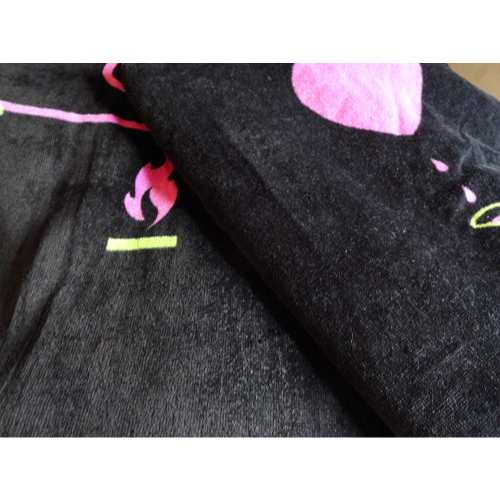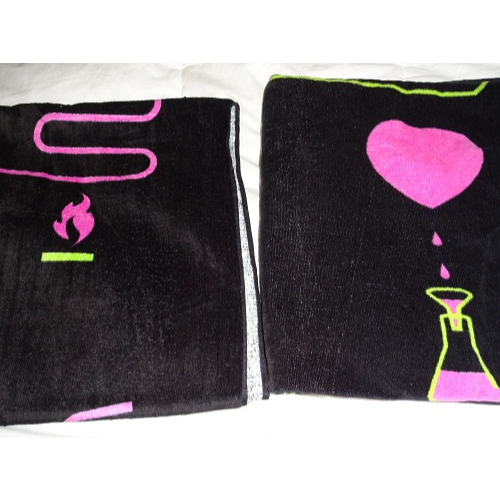 Can you tell which towel is the new one and which is the old? If I didn't put them side by side myself I wouldn't have known! They look exactly the same! The only difference is that the new towel isn't quite as soft! I'm VERY impressed by that!
Follow-up commentary
2 months after original review
I still love these towels! After many, many uses and washes, they still show no sign of wear and remain some of my favorite towels! If anything, I've noticed that the material is actually a little bit softer than it was at first, which I love about them. I'm very pleased with my towels and can tell that they'll hold up for a long time.
This content is the opinion of the submitting contributor and is not endorsed by EdenFantasys.com

Thank you for viewing
EdenFantasys beach towel
– gags review page!