Itty Bitty Titty Committee: Beware!
As a member of the IBTC, it's difficult to find a corset that fits me properly. And this corset proved me no closer on the trail to that perfect piece. My 34A cups could not fill out the unsupported, unpadded, un-formed bust, and I was left feeling woeful again. Still, the material was nice, the side-zip was appealing, and overall the corset appears made well enough. Those with average boobs may find this a hot item. It just wasn't for me.
Published:
Pros:
Side-zip makes it easy to put on
Satiny polyester
Dual adjustments for bust and waist/hip
Cons:
No support
Smaller breasts won't fill it out
Shoelace ties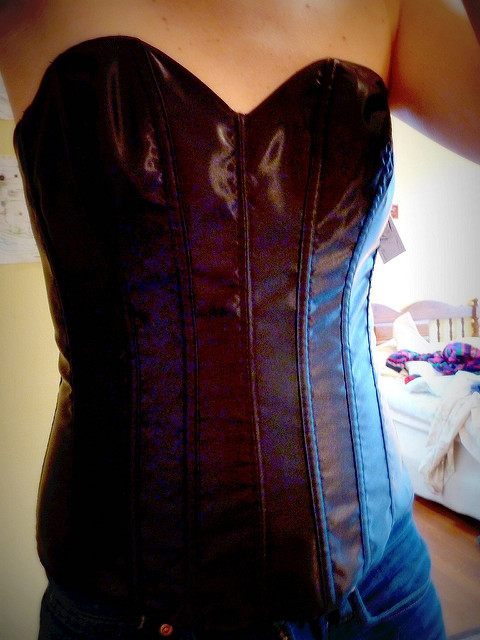 I was so excited to get this for review. I've been desperately searching for the perfect corset, and Tesa's Sweetheart corset, with its simple, classy lines and promising sweetheart bust, seemed just the thing. On the model it looked like a perfect fit. And with the dual-lacing at the back I knew it could be adjusted to custom fit me.
I had a coworker who'd worked at Victoria's Secret use her expertise to measure me. She measured just under my bust to get my band size, and found it to be around 33". She advised me to order a 34". I agreed. I hate getting things that are too small, and even though I'm only a size 5-7, often purchase small size items that are just too tight on me.
I was hoping my 34A cup breasts would look just as hot as the model did in it. The goal was to wear it under dresses to smooth my tummy and accentuate my tits. Alas, no such thing will happen here.
When I received the corset, I was a little dismayed to find it simply wrapped loosely in tissue paper. No hanger, no package, just a tag attached and that was all. Alright, so I could get past the minimal packaging.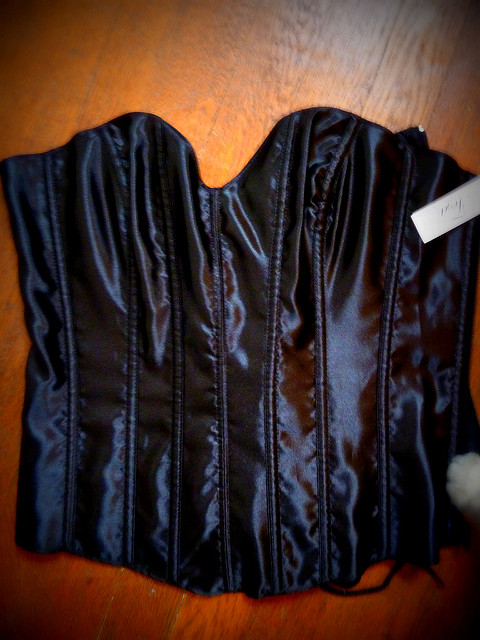 The feel of the corset was smooth and silky. At 100% polyester, the fabric had a satiny look and feel. Inside and outside, it was sensual against the skin. My frown formed when I saw the laces.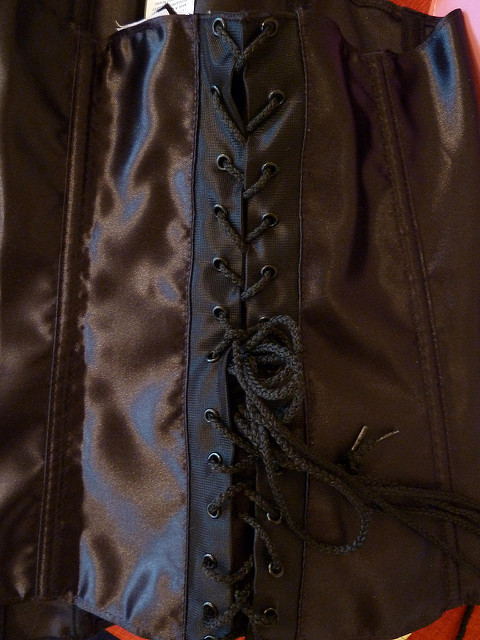 They are simple shoelaces, complete with plastic tips. Entirely unorthodox for something as elegant as a corset. Escante skimped big time on this piece. I pushed my negative thoughts aside and got to hopefully eyeballing the easy-on zipper.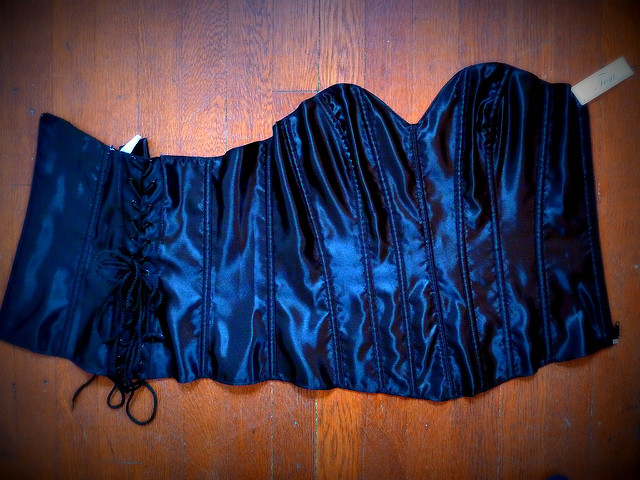 The corset unzips from the side and can be wrapped around the body easily. I zipped my size Small piece up my left side and frowned again. My tits were nowhere near filling out the bust, which sat awkwardly perched on my chest, the plastic boning holding them aloft in places, while the satin sagged in between them. Not at all a flattering look! I appeared boyish and undeveloped.
I tried to turn the corset around and tighten the laces while wearing it. The laces are in 2 separate pieces. One set tightens the bust, while the other tightens the waist and hips section. The two laces meet in the middle of the back. At this point it would've been great to have a helper--like Scarlet O'Hara's maid in Gone with the Wind.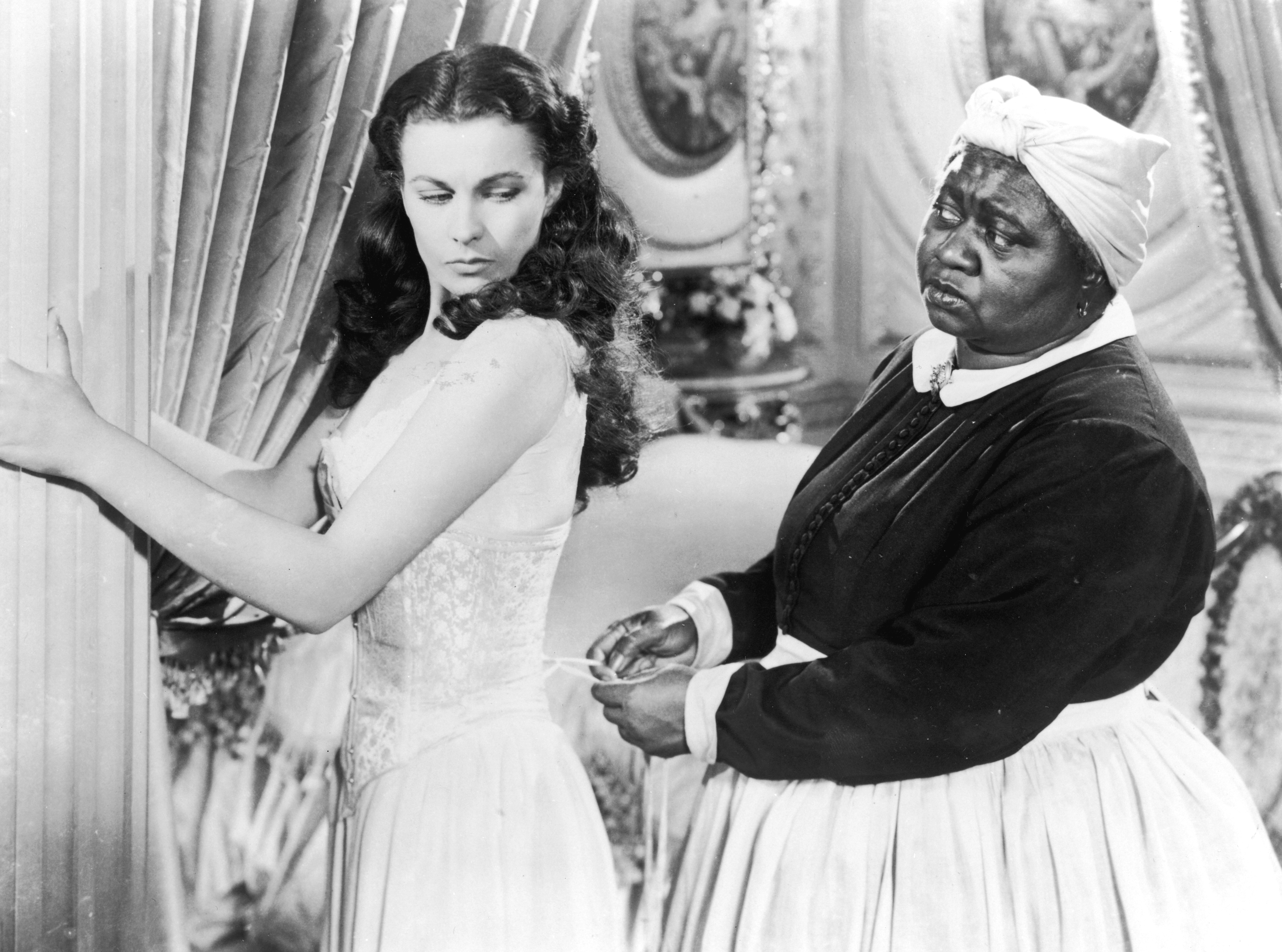 Try as I might, removing the corset and pulling the laces as tight as they would go, I could not get my bust to look any better. Granted, my boobs are small. Real small. 34A, as I said, to be exact. So expecting them to 'fill out' much of anything is a flat gal's hope beyond hopes. But I certainly have found lingerie, and even bustiers on Eden that look much more flattering on me than this.
The bust laces were as tight as they'd go without overlapping the fabric at the back. My bust just couldn't be glorified. No way, no how.
The bust doesn't feature cups at all, either. There's no padding, no underwire, no support. You're just left out there on your own. 'Fend for yourself!' says Escante to the consumer. 'Forget about it!' I say to the Itty Bitty Titty Committee member. It ain't happenin', gal. Now, if you want to wear a push-up underwire bra with this, preferably in black, be my guest. It just defeats the purpose of a corset for me, and I hate bras. But I'm a damn hippy. So take that with a grain of salt, if you will.
Now, if you have perky medium-sized breasts, or implants, this will look super hot on you. If you've got large breasts, wear a push-up bra for support, or skip out on this corset. Or, hell, I don't know. Maybe 'regular' breasts
would
look good in this. Being too tiny to experience this fully, I'm not sure if the pliable plastic boning would support the breasts of it's own. I just didn't have enough to fill it out.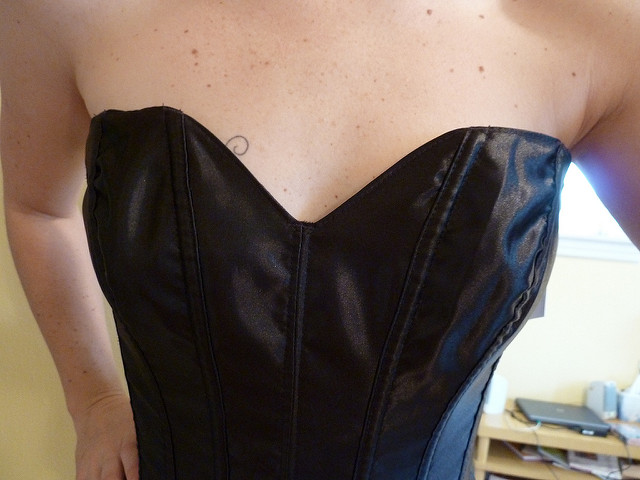 The hip and waist section I was able to adjust tight enough to flattery me. My 29" waist and 34" hips were flattered well enough, though the deep V in the front of the piece, which initially allured me to it, wasn't nearly as prominent in the item I received. It was more of a wrinkled-up 2" long front section.
Nor was the deep cut V in the sweetheart bust. Those two complementing shapes were gorgeous on the model. In real life they were shadows of what I'd expected.
Experience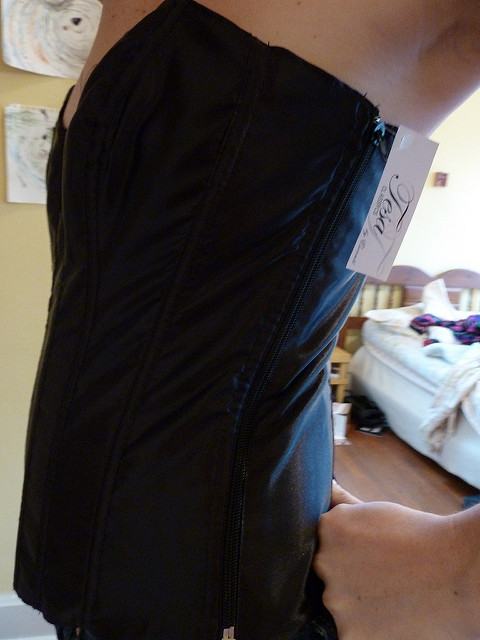 See how flat I look? Totally unflattering. At least it fits me vertically.
This seemed shorter in real life than on the model. I was skeptical of the elongated look being achieved, as the model had displayed. From armpit to hip, the corset is ~12" long. This was plenty long enough for my 5'6" proportioned frame.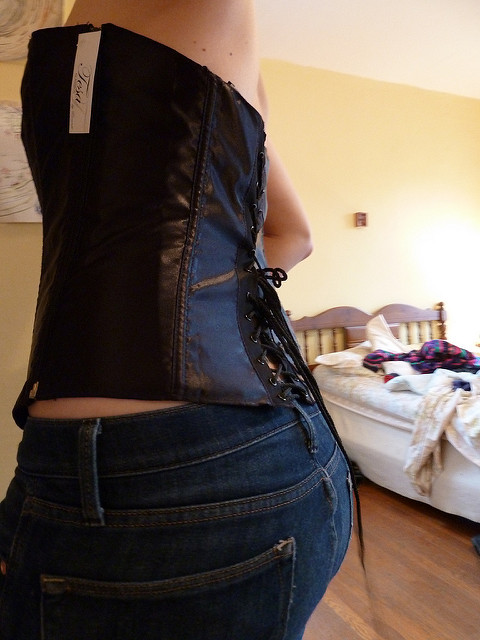 The 'privacy panel' at the back protected my skin from bothersome laces, and was a nice look, but it became displaced during short wear around the house. The laces were also incredibly long, especially when I tightened them up against my small frame. My cat thought I'd gotten him a new toy...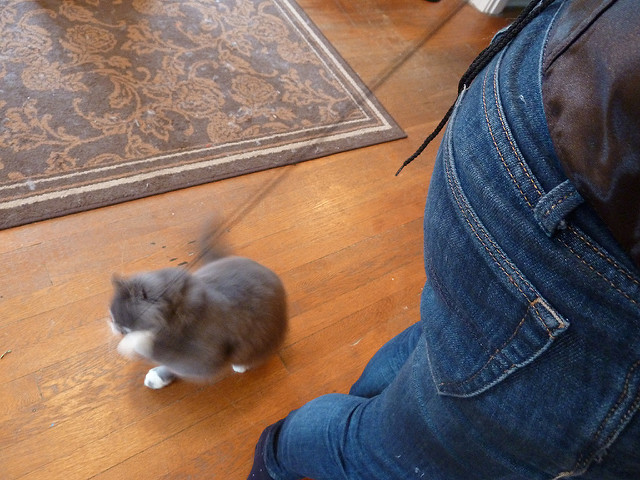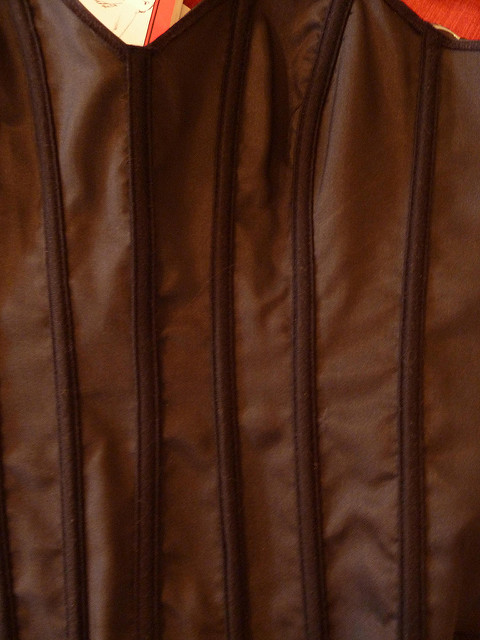 Interior boning at bust
I didn't find the plastic boning to be uncomfortable. One thinks of wires running vertically down the chest when one thinks of a traditional corset (or at least I do... silly me) and the word 'comfort' does not come to mind. But this was smooth, silky, and made my ribcage at least, if nothing else, feel sexy.
The adjustable lacing on this coupled with the simple design and construction of the bodice creates a corset that is fully customizable to your own fit. If you have breasts that are perky, this will probably be hot as shit on you. If you're below a large B-cup, definitely skip this. As for sizing oneself, use the band size you buy your bra in, and you'll be fine. As the hips, waist, and bust are fully adjustable, you should have no problems. And as I said, you can always wear a push-up bra to accent your twins better. There's nothing wrong with a little extra support!
Polyester fabric is durable, stain and wrinkle resistant and offers easy care and cleaning. You can use stain remover on this and throw it in your wash on a cool cycle. Hang it to dry. I recommend lying this flat in a drawer, careful to keep it from anything that could cause picks, once dry. Touch up wrinkles with a warm iron on the polyester setting-never set to hot.
This product was provided at a discounted price in exchange for an unbiased review. This review is in compliance with the FTC guidelines.

Thank you for viewing
Black Tesa`s sweetheart corset
review page!