Only for the Big Busted
This corset is ONLY going to fit you if you have a D cup or larger. If you don't it will be baggy and hang open in the front, no matter how tightly you try to lace it. Thankfully, I fill out the bust fairly well, but this isn't the best corset I've ever had. It's a nice corset, but it's not the greatest.
Published:
Pros:
Basic black, gives an hourglass shape, can be worn casual with jeans or dressed up
Cons:
Will only fit D cups or larger, laces too long (& fray when cut), panel bunches up
I had considered ordering this corset a number of times. It turns out, one of my friends ordered it and it was too big for her in the bust area. We are around the same size, I am slightly larger than her in height and overall size. I guess this fit her pretty well, except she didn't fit into the bust, it was too big on her, so she gave it to me. She has about a C/D cup, but I think she is about a 32 or so. I am a C38 or a D38, depending on the bra.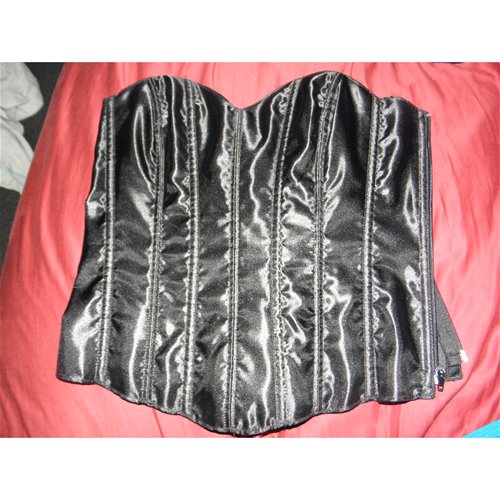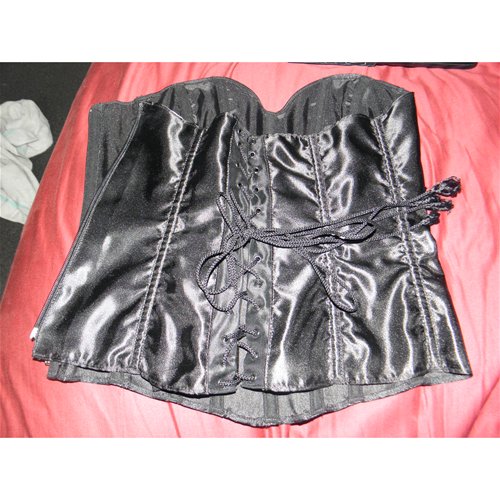 The laces were WAY too long when I initially got this, enough that I felt a need to cut them. The laces are pretty much long showlace-type laces. The aglets got cut off of the laces when I cut them, so of course now they laces have started to fray.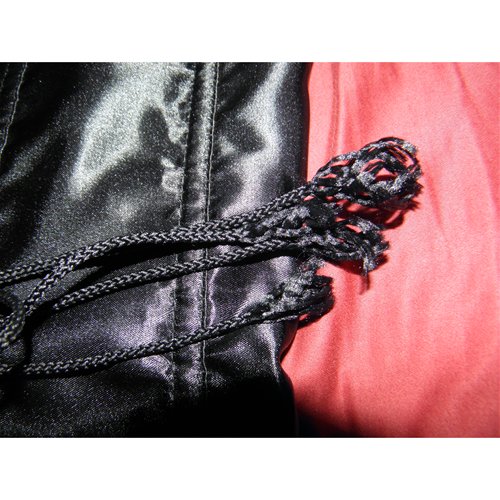 There is a panel of satiny fabric that backs the panel where it laces up. I don't really understand the need for this, as it makes it less apparent that is it a corset. There is no contrast, so since it is all black with black laces and a black panel behind it, people may miss the fact that it laces up. I have very light skin, so it would be especially visible on me. One thing that I don't like is that this panel often bunches up. It can make things difficult trying to fix it, if it's already zipped and laced.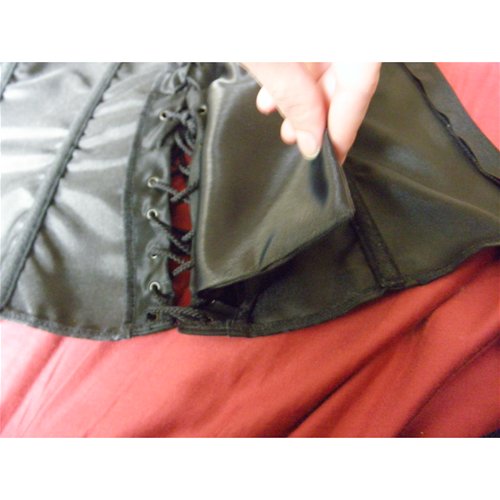 It has a zipper closure. There is a black zipper that goes up the side, which can be difficult because you have to zip yourself into it BEFORE you lace it. If you try to put the corset on when it's already laced or tightened even remotely, you will have a hard time getting it to stay in place while trying to zip up the side; especially if you're doing it on your own. I feel like having the zipper up the side also makes it more difficult to lace. Overlooking the possible aesthetics, it might be more practical to have the zipper up the front. I think the whole zipper issue would be made a lot easier if there were one hook and eye closure at the very top of the zipper. Then, that could be hooked, and it would be easier to zip it up on your own, quickly, without needing help.
This has plastic boning, and there is a microfibery material that goes along the seams where the boning is located on the inside of the corset. The inside of the corset is otherwise composed of satiny material. Actually the corset itself is just made of this one layer of thick-ish, satiny fabric. So, the inside of the corset is just the backside of that layer of fabric, which is less satiny than it is on the reverse side, which is on the outside of the corset.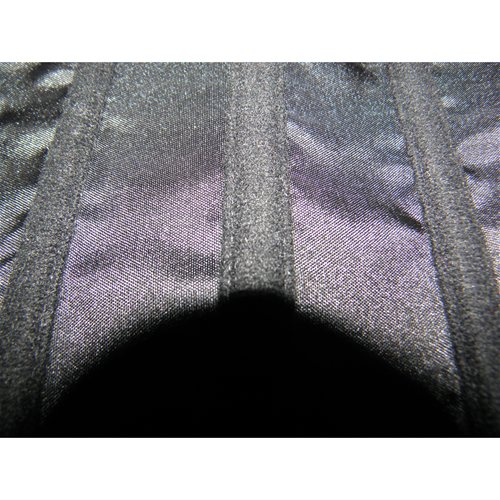 Experience
I believe that this may be a little bit wider than advertised. This is supposed to be a 32, as in 32" waist. I have a 30" waist, and my friend who got this is even smaller than I am. Still, I have gotten size 32 corsets before and I fit into them without having to completely pull the laces together the entire way down so that the panels were touching in the back. With this, that is what I have to do. When properly laced into it, the laces aren't even really visible. There is no space between them, and the panel backing where the laces are doesn't help them be any more noticeable either. However, when I do that, it fits well enough. The front part at the belly doesn't really stick out, which is a problem I have had with corsets in the past.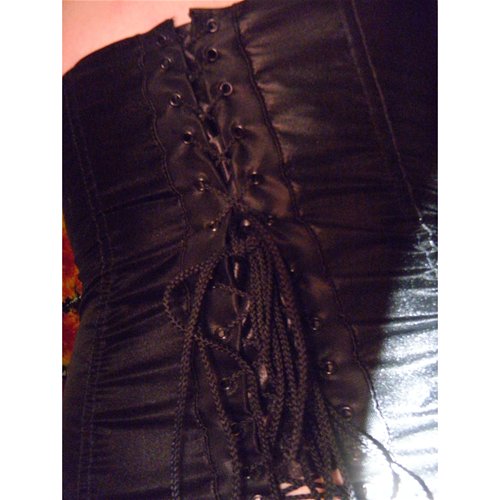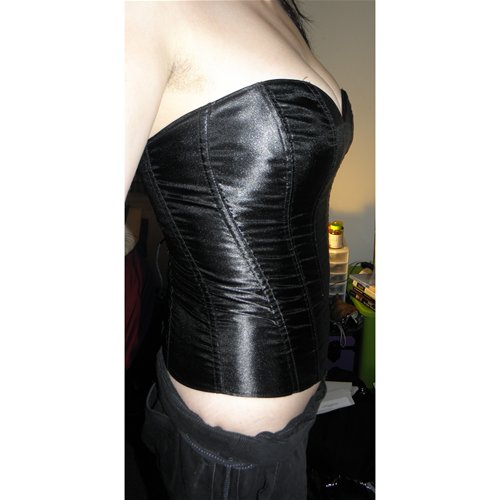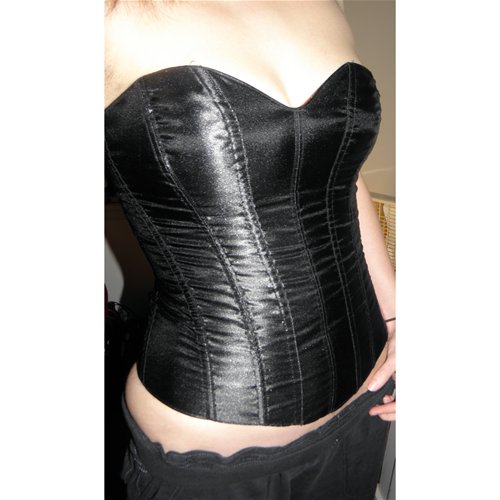 This is an okay corset, but not something I will likely wear everyday or that often. I wish it gave me more cleavage, also. That's something I kind of expect any corset to do, since you're all laced into it and it kind of squeezes everything together! I have other corsets (and other corsets that I've gotten specifically on Eden), that have a better look to them when I wear them. Though I like that this is so basic, and black. It's simple and sleek, and it can be worn out to a club, dressed up for a date, or worn to dress up a casual pair of jeans. It's not the most comfortable corset, though some might argue "what corset is". I have other corsets that look more like...well, a corset. When I think of a corset I think of lacing going up my back, and the skin exposed underneath, and a great hourglass shape to show off my figure. I will say that this does give a nice hourglass shape though.
I'm torn between giving this 3 or 4 stars...3 seems a little harsh, but this corset is just "okay". It's not bad really, but it's not great.
Follow-up commentary
2 months after original review
I've had this for a few months now, and my feelings on it haven't really changed. It looks nice enough on me, but there are things that could be better about it.
This content is the opinion of the submitting contributor and is not endorsed by EdenFantasys.com

Thank you for viewing
Black Tesa`s sweetheart corset
review page!