What A Sweetheart
This is a sturdy corset that is perfect for an eye-popping entrance. Running large, it sits well on a large padded bosom without being uncomfortable. It's still a basic budget corset though, so be aware of the plastic boning. Overall, it is a good deal for the price range.
Published:
Pros:
Easy to clean, runs large, and has a lovely sweetheart neckline.
Cons:
Not lined and the zipper panel can get uncomfortable
There are few pieces of lingerie that can be as delightful or irritating as a corset. When done right, you feel as if you can take over the world by your vampy sex appeal. When done wrong, you're lumpy in the wrong places and being poked to death by plastic or metal strips.
Black Tesa's Sweetheart Corset by Escante is one of those rare finds that effortlessly slims and enhances. Made out of an easy to clean polyester, it is smooth to the touch with the shininess of silk. It also features a charming sweetheart neckline instead of the more traditional flat top. There's also a curve along the bottom hem that mimics the neckline, although not as deeply. Like most corsets, it is strapless. The plastic boning inside lets it mold to your shape. While I ordered black, it comes in several other colors: baby blue, purple, and hot pink. Each one is without a pattern. The simplicity of this design allows it a versatility for inside or outside the bedroom. It will arrive at your house wrapped up in a clear plastic bag and ready to wear.
When it arrives: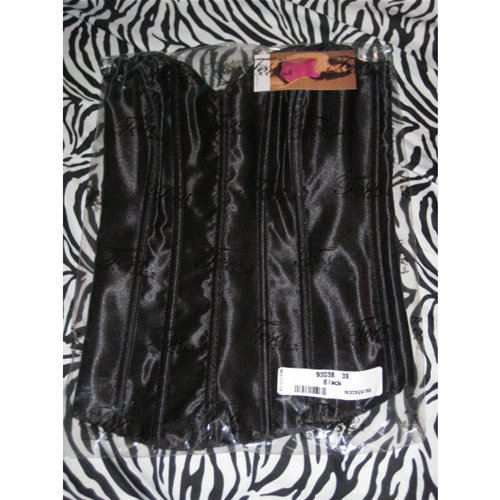 The front: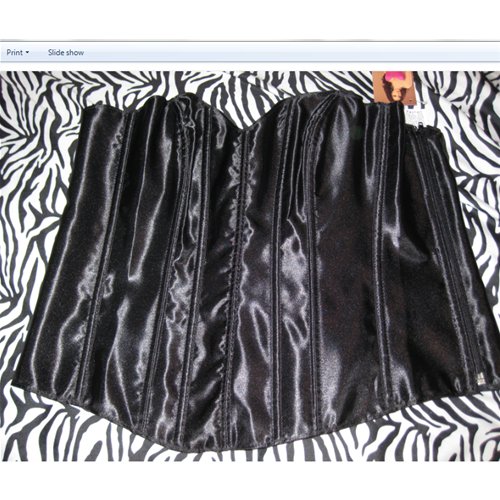 Unlike other lingerie, this corset runs large. Consider ordering a size smaller than you'd think. Escante's sizing chart can be found
here
.
With a 40 bust, I was afraid the 38/large (the highest size offered) wouldn't fit. Instead I had to tighten the laces! If you have a smaller bust, this might not be the product for you. However, if you're like me and more on the accidentally-getting-yourself-stuck-places-due-to-boobs side of the spectrum, this corset is a dream. As for length, I'm 5'4 and the corset ends about an inch and a half or so under my belly button.
There are two ways to wear this corset. There's the traditional lacing in the back and then a zipper along the side. If you're wearing it out and don't want to show your back, a 4.5 inch modesty panel is attached. You can also tuck the panel along the side in order to show off the lacing. The corset comes pre-laced with a long "shoe-lace" type of cord. Like any corset though, you will probably need to adjust it somewhat in order to fit it exactly to your frame. However, the laces themselves are long and difficult to tie by yourself while wearing. I had to have a friend tighten it for me since whenever I tried, the knots would just slip out of my fingers.
A close-up of the laces and modesty panel: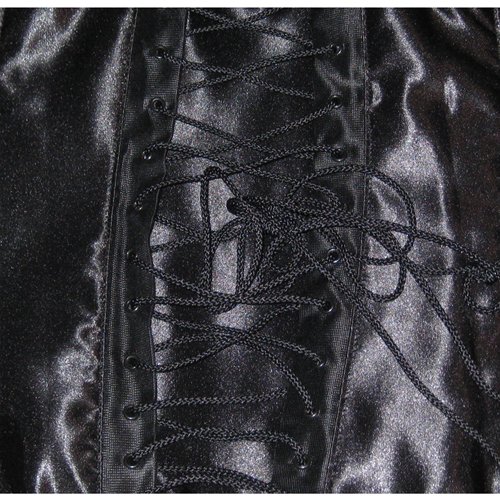 After re-lacing the corset, the only trouble I had was with the zipper. The top edge of the zipper panel (where it is sewn into the side) can get pokey during extended wear. I fixed this by sewing down the corner edge more. If you're planning on wearing for long periods of time, also be aware that it is not lined. However, I wore it for several hours to a Rocky Horror Picture showing and experienced no difficulties.
The quality of the corset is pretty good. It's a much higher quality than would expect for the price. It is well sewn; the seams are all straight and sturdy. If cared for properly, it will survive for a long time. As part of that taking care of, make sure to hand wash it. Use a mild soap and then afterward let it hang dry. Due to the boning, it is definitely not something that could survive the washer or dryer. The best way to store it would be to hang (there's little loops sewn inside)on a hanger.
Follow-up commentary
3 months after original review
This corset has held up really well to use. It's easy to clean, the seams are strong, and the plastic boning is still very flexible rather than permanently bent to shape like sometimes happens.

For the bedroom, I usually find myself choosing one that's flashier or with garter hooks attached. That's really just personal preference though. This corset actually works better outside the bedroom, such as in costumes or layering. The charm is in its simplicity and ability to work well with other pieces without being distracting or overpowering.
This content is the opinion of the submitting contributor and is not endorsed by EdenFantasys.com

Thank you for viewing
Black Tesa`s sweetheart corset
review page!