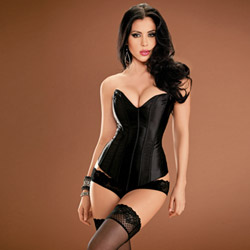 Black Tesa`s sweetheart corset
Corset
by Escante
Sweetheart for Some, Heartbreaker to Others
As corsets go, it's made of quality material, has a sleek, elegant appearance and is affordable. Its affect on a partner is subjective, as with anything regarding lingerie, so that cannot be attested to, but feels okay when worn. Just check the sizes before buying and get someone to help you get into it.
Published:
Pros:
Sleek, erotic, affordable and soft on the outside.
Cons:
rough on the inside, not for larger or smaller women, very difficult to tie in the back.
Several different factors contribute to the worth of lingerie, as is true with the Tesa Sweetheart Corset. Of importance, are texture of the material, ease of dress, accessibility by size, comfort when in use and appeal to the partner. As appeal to the partner is subjective and my partner is not here, that will not be covered, but the other subjects shall.

The material is polyester and that's apparent when felt. While not as luxurious as velvet or velour, it has a soft, sleek touch. The Georges, and Zap Brannegans (or hopefully better) in your life will love the corset's caress, but likely not as much as your own.

When putting on the corset, there are two mechanisms, laces in the back and a zipper on the side. The zipper is the first mechanism to use and requires as much effort as zipping up a pair of pants. The trouble with the corset comes from the laces.

The primary issue with the laces is that they're difficult to maneuver alone. The laces are right behind the back and are difficult to tie and tighten without a mirror, or a friend helping. Tying them beforehand doesn't help much as slipping into the corset jostles the laces out of place, making trying to tie it alone an exercise in futility.

One final note about the laces is their design. Unlike other corsets, which have thin, elegant laces, these are thick and coarse, not unlike shoelaces. They seem out of place with the corset's overall sleek, erotic style.

The style of the corset is elegance and simplicity combined. It is uncomplicated, consisting of a single color and it curves into a light V shape, minimizing the stomach and accentuating the breasts. The overall effortless look is belied by the aforementioned laces, which seem out of place, like gummy bears on premium ice cream.

Tesa sadly is not a sweetheart to all women, specifically the plus sized, or those with small breasts. This is the largest size of the corset and it is actually somewhat bigger than should be expected for the listed size, but anyone larger than a size twenty need not buy. This particular size, 38, will probably fit people between size 14 and 20, depending on how tight the laces are tied, but with greater emphasis on the lower sizes. Sorry to the more rubenesque readers who wished to try this product.

On the flipside of that problem, are women with small breasts. I cannot speak of this personally, but other reviews for this product suggest that when worn by women with A or B cup breasts, the corset merely sit flat, not unlike a shirt. Mainly girls of medium waists and breasts will find this corset comfortable, or even accessible.

Before describing what it's like to wear this product, there are three points the reader should know. One, I am a man, two this is a paid review for a product intended as a Christmas gift to my girlfriend and three, it doesn't look like she'll be returning for another month at least. Now some reviewers could wait, or send it back, or fake a review, but intrepid adventurer I am, I wore this myself.

Through wearing, I discovered several important things regarding the corset. To begin, it is somewhat rough on the inside; there are grooves which can be felt while wearing, but eventually the roughness fades away. Grooves aside, the smoothness of the material is a plus, as it's not abrasive when worn.
Further, as mentioned, it's quite difficult to tie the back up without help; in fact it was never tied. However, because of the difference in my size compared to the intended market for this product it did not need tying. Finally it should be noted that I did not look very good in this, but it wasn't really designed for men anyway, plus attractiveness of lingerie varies by individual.

Overall this is a decent product, for women who fit in the middle of a bell curve (pun intended). Women with medium waists and breasts will find this to be a soft, if a little rough at first, corset that's fun to wear once someone helps them tie the back. Smaller women however will likely find it to be unflattering and bland, while larger women should find a product that accommodates more sizes.
Follow-up commentary
6 months after original review
My girlfriend has worn this since the first review happened and I'm a less impressed. For one, the corset will just barely fit size 16, but doing so will get the zipper caught. Two, while the corset contours the body, the overall effect is moderate at best. It sculpts the breasts up and curves the belly, but ultimately, nothing changes too much. It looks too similar to someone wearing a leather skirt as a top. "I don't like it anymore" isn't really accurate, just that I like it less.
This product was provided free of charge to the reviewer. This review is in compliance with the FTC guidelines.

Thank you for viewing
Black Tesa`s sweetheart corset
review page!