Rustle - Rustle - Rip?
The Red Wet Look Skirt is another knockout piece from Coquette. The only drawback is the rustling sound that accompanies any movement.
Published:
Pros:
Easy to put on and take off.
Comfortable.
Cons:
Noisy!
Last summer, when Coquette's wet look collection hit Eden, I grabbed up several pieces as quickly as I could. One of those pieces was the
Wetlook Bustier with Padded Cups
. If you look at the picture of the
Red Wet Look Skirt
, you can tell that this is made to go with the bustier.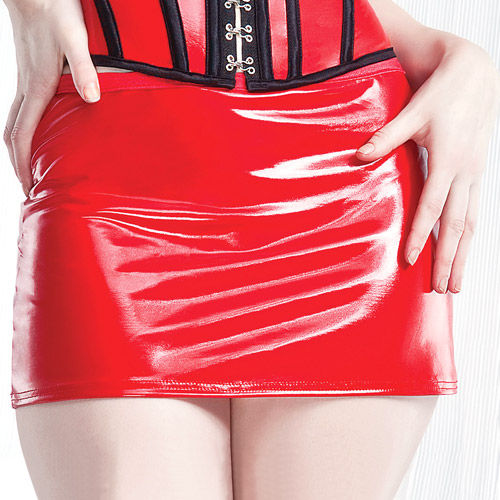 A year has passed, and it appears that the wet look pieces are disappearing one by one from Eden's stock, so I figured I had better get the skirt while I still could!
The Basics
This is a very easy piece to describe. It's a shiny, red miniskirt. Oh...you want more than that? Well, there really isn't much more to tell. This is a very simple piece. Basically, this skirt consists of two pieces of material that have been sewn together on the sides. A satiny ribbon trims the waistband, but there is no trim at all on the bottom of the skirt. There are no snaps, zippers, buttons, ties, or any other way to fasten the skirt. None of them are needed. You simply slip the skirt on and pull it up!
Like the
bustier
, the skirt is made of 80% nylon and 20% spandex, but whereas the material gave the bustier a rubbery feeling, in the skirt, the fabric feels a bit more like plastic. I worried that perhaps the red of the skirt would not match the red of the bustier. On inspection, I would say that if they don't match up 100%, the colors are too close to tell any difference. As the skirt does not have the black accents that are featured on the bustier, it would be easy to wear it with other tops, should you desire to do so.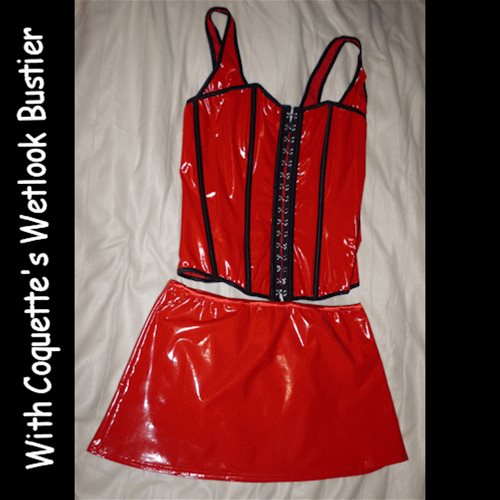 Sizing and Measurements
As of today, Eden offers this skirt in sizes small, large, extra large, and 1X/2X. Previously, it was offered in a medium size as well, but it is no longer listed on the product page. That didn't matter for me, personally, as I had to decide between a large and an extra large. According to Coquette's size chart, a large will fit someone with a waist measuring between 30 and 32 inches, and hips measuring between 40 and 42 inches. An extra large is meant to fit someone with a waist measuring 34 to 36 inches, and hips measuring 44 to 46 inches. This is where the decision making process kicks in for me...I have a 34 inch waist, and 40 inch hips...so one way or another, the skirt is going to be a little off somewhere. I decided to go with the extra large, knowing I was on the small end for the waist and way under the given size for the hips, but I would rather have the skirt be a little too loose than a little too tight.
As for the measurements of the skirt, it is 18 inches across the waistband, or 36 inches around. The bottom hem of the skirt measures 24 1/2 inches across, or 49 inches total. With the spandex in the material, this skirt probably has another two to four inches of stretch in it. The ribbon at the waistband is 1/2 inch wide. The length of the skirt, from the waistband to the bottom hem, is 13 inches. I am about 5 feet tall, and this piece rested about two inches below my navel and three inches above my knees.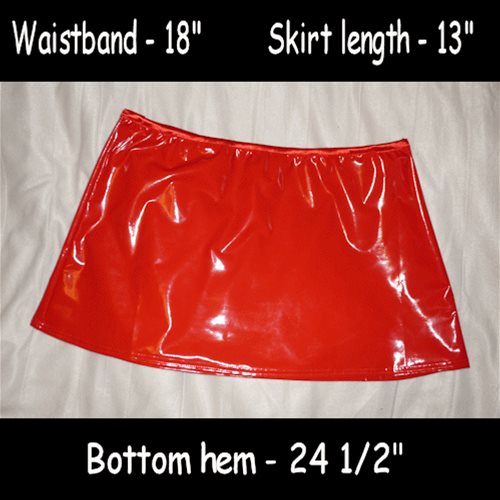 Packaging, Care, and Storage
The skirt arrived on a clear, plastic, Coquette hanger inside of a clear, plastic bag. A ribbon was safety-pinned to the skirt in order to display the attached Coquette tag (which showed a model wearing the skirt and bustier together). Washing instructions are to hand wash the skirt and hang it to dry. This can be stored on a hanger, as there are two ribbon loops on the inside of the skirt for just this purpose. Otherwise, it would be fine to fold this lengthwise and place it in a drawer.
Experience
As expected, this skirt is a little loose on me. When paired with the bustier, which is tight, it does appear to be a bit too big, but not to the point of being in danger of falling off. I probably should have gone with the large - my bad. On the bright side, it will probably work well with something looser, like a solid colored sweater.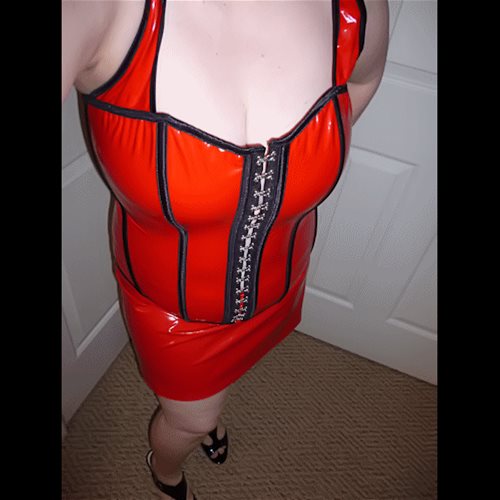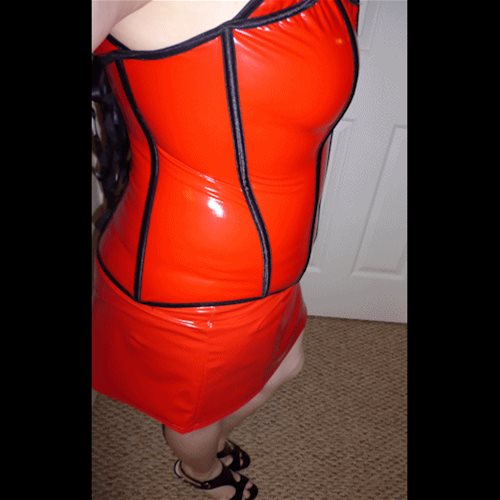 I have no issues with the quality of the piece (the title of this review does not refer to an actual rip in the material). It's just that...it makes these...
sounds
. I mentioned in my previous review that the bustier makes a slight noise with movement, like wearing a pair of parachute pants. The skirt is louder than that. It makes more of a rustling sound, like you would hear when you are unfolding or folding a
tarpaulin
. In a quiet room, you would definitely hear the sound of any movement you made while wearing this skirt. When wearing it with the bustier, the rubbery top would brush against the plastic-y bottom, which made a sound like fabric ripping. I had to check a couple of times to make sure nothing had actually ripped. Everything was fine, but I am not thrilled with the idea of being in public and having people wondering if I ripped my skirt! I will not be wearing these two pieces together in public.
I am deducting one star from this piece because you shouldn't hear your clothes...4 stars.
Follow-up commentary
15 days after original review
I may have been a little hard on this piece before. Yes, it is still rather noisy, particularly when combined with the bustier, but it is awfully cute together, don't you think? As long as there is music playing in the background, I suppose I can put up with it.
This content is the opinion of the submitting contributor and is not endorsed by EdenFantasys.com

Thank you for viewing
Red wet look skirt
review page!