Wet and Sexy
It is dark, hot, aggressive looking, and damn right sexy. I believe it would turn anyone on to see you strut at them with this skin tight thigh and ass gripping skirt. Trust me.
Published:
Pros:
Strong and durable, Feels light, Price won't hurt the wallet
Cons:
Rises up thighs with slightest movement
Coquette's Wet look line really has me wrapped. I have the matching wet look tank top that I reviewed and loved. This skirt is so spicy and seductive. I paired this with the matching top. Other times I simply just wore a bra or a different tank top with it, and it's just as hot. This skirt forms to your body like it was glue. It will make your ass look curvy regardless of how bubbly your behind is. This skirt is the epitome of sexiness. I felt like a black widow spider, who tangled up my man in a web of trance and drew him into me. Sexy, sexy, sexy!
Materials- From a distance it looks like you are wearing a leather skirt wrapped tightly around your ass and thighs. It feels very soft and delicate in my hands, so looks really are deceiving here. The skirt is made from 80% nylon and 20% spandex. I have noticed, especially when first opening it from its plastic package, that it wrinkles. If you hang the skirt or lay it flat, then wrinkling will not be a problem. The wrinkles, from opening it from its plastic package, went away surprisingly fast after wearing it.
Care- The instructions say to hand wash only and hang to dry. If you read any of my other reviews, you know that I am not an obeying person when it comes to washing instructions. I like to help my readers out by telling them the limits and effects of machine washing. Although, I do listen to the warnings of not using the dryer, so usually I hang dry all of my products unless otherwise noted in the review. I threw this skirt in the machine washer with other clothes and used warm cold water. At the initial look, I did not notice any damage or shrinking thus far. However, after allowing the skirt to hang dry I put it back on to realize that it did shrink length wise. It is barely enough for me to even care, but for others it might be too much. The initial length of the skirt was about 11 and a half to 12 inches depending on how flat I got the skirt to lay because it is just a bit stretchy. After washing it in the machine it was 11 to 11 1/2 inches, again depending on how much I stretched it flat. Without measuring it and just simply wearing it, I did notice a bit of shrinking. So the good news is, if you choose to not machine wash then you can avoid this problem. You are not supposed to anyways. I am just a risk taker! The width remained the same for me at about 22 inches give or take because like I said it is stretchy.
Sizing- I bought this skirt in a size medium. Coquette's Medium fits sizes 8 to 10 with 26-30 inch waist and 38-40 inch hip. I usually wear size 6 with a Waist-28", and Hips-36". They provide you with a sizing chart next to the item. The medium for me, was not too tight or too loose. It was just right.
Packaging- It comes on a plastic hanger inside a plastic wrapping.
Side Notes- The skirt does tend to ride up your thighs with just the slightest movement. This shortening could be a sexy thing for your partner but perhaps a bit annoying to you. It would all depend on your feeling toward the matter. If the skirt is already too short for your taste then the rising might cause further annoyance. Other than that, no more gripes from this satisfied buyer.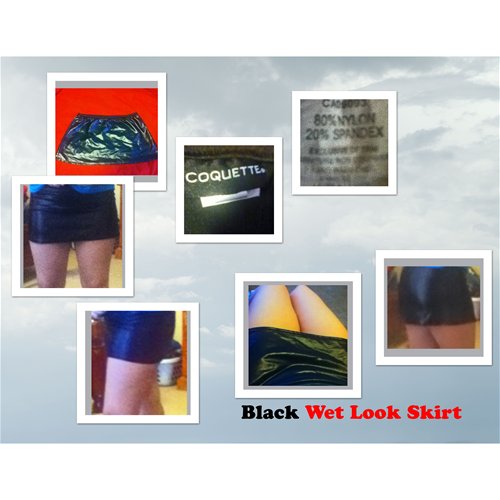 Experience
I am honestly in love with this skirt. My husband claims it's one of his favorite pieces I have ever owned. He said it turned him on instantly. You will not be disappointed, as long as you make sure you choose the correct size. I have worn this a total of 10 times so far. I was surprised at how well it held up in the bedroom.
Follow-up commentary
2 months after original review
I wear this skirt all the time! I literally choose this over most of my sexy outfits. It's so hot and my husband loves it so much. I recommend this still to anyone!
This content is the opinion of the submitting contributor and is not endorsed by EdenFantasys.com

Thank you for viewing
Black wet look skirt
review page!