You wet what you pay for...
This is a very sleek and sexy skirt the first time you wear it. After some washings it will lose some of it's shine and texture, so be prepared for that. If you won't mind having to pair it with something other than more wet look or vinyl later, this can be very versatile and comfortable to wear everywhere!
Published:
Pros
- Price
- Lightweight
- Super Sexy
Cons
- Poor Construction
- Material Wears Out Easily
====================
Wet Look Skirt
Color: Black
Size: 1x/2x
by Coquette
====================
My drawers are filled with ONLY skirts, so I had to have this! Since I own the wet look pants, my expectations weren't very high. This is the only reason I'm not disappointed. Although the price on this is acceptable, the quality matches that price.
==========
PACKAGING
==========
This piece comes in a clear plastic bag. Within the bag, a cheap plastic hanger holds the skirt by two ties attached to the material. However, the hook of the hanger sticks out so theoretically you could keep the plastic to keep your skirt free of odor and lint. The item tag is attached to the skirt by a tiny safety pin, canceling the possibility of tearing material. The package will most likely be folded, putting some creases in the item. There is nothing on the tag about ironing, so to place it safe I would just hang it for a day to let the creases naturally come out.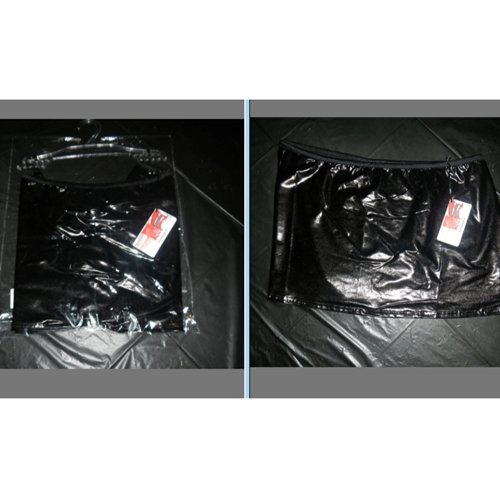 ==========
DETAILS
==========
There are three tags on the back inner panel of the skirt. One slim long one that just says 'Coquette', one tiny square under that with the size, and the typical papery square with more details. The last tag says:
80% Nylon
20% Spandex
Exclusive of Trim
Hand Wash Only
Hang To Dry
Made in China
The material is actually very thin. Most people may think it's similar to vinyl when they see it, but it's a soft and breathable feel, almost like a second skin. The problem with it being so thin is it is easy to tear and crease. This item will need to be kept on a hanger before wearing. The inner skin of the skirt isn't shiny. It has more of the nylon feel to it and although it's rougher than the sleek outer layer, it's still soft against your skin. All of the skirt is very stretchy.
There is a 1/2" seam at the top that simulates the inner layer. The flaw in this is it was only sewn in one place and wrapped around so on one hip there is a bit of excess material. This leaves room for future tearing. The bottom seam is sewn better with two thin layers of stitching, but the stitching is a bit loose and I am sure there will be issues with that as well later.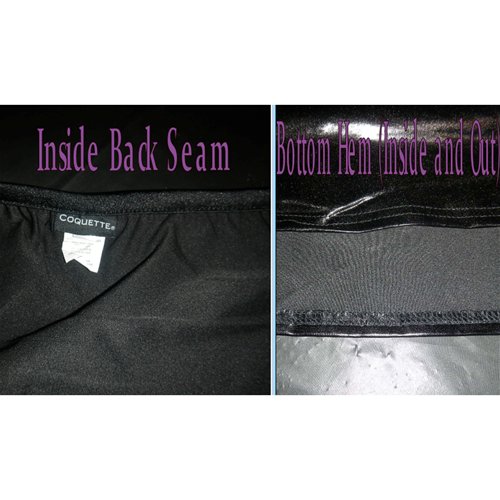 ==========
SIZING
==========
Here is Coquette's size chart from their website: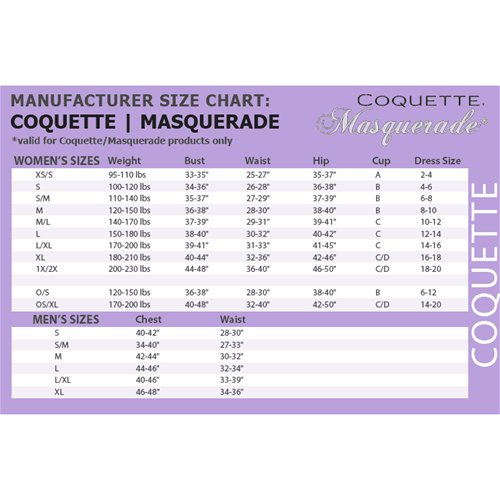 My Measurements
Bust: 42C
Waist: 40
Hips: 40
According to their chart I am at the end of their 1x/2x size. However, every time I get a piece from them it is much roomier than it should be. I actually like this, as I normally wear a 1x and would hate to have to wear bigger sizes for them. So if your measurements fall at the beginning of their 3x/4x, you should still be able to wear this.
Garment Measurements
Waist & Hips: 19" - 28" Stretched (Up to a 56" total max)
Bottom: 26" -32" Stretched (Up to 64" Max)
The skirt is mostly straight, but as you can see from above it can stretch enough to fit much larger measurements then shown. The only draw back to this is if you are wearing it maxed out the seams will fail much earlier because of the poor construction. However, at the price, you could get a few of them.
If you wear this at the lower measurements, it will have only a bit of flow to it. I prefer fluffy skirts so I'm disappointed it doesn't bounce, but at least I had expected it to be more dull in movement.
Experience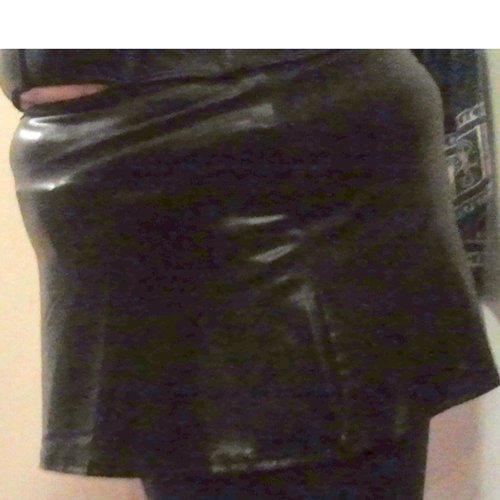 For bedroom play, this skirt pairs great with any corset of the same color. However, I love this skirt even more to wear out of the house paired with some different colored leggings and boots. Because of it's lightweight material, you won't have to worry about being overheated pairing it this way in any season. I'm not thrilled that the construction was done the same as their Wet Look Capris, but when you factor in the cost you are pretty much getting what you paid for. I have already purchased a second pair of the pants because the material gets less shiny and worn out quickly. The seams have also come loose. I fully expect this will happen with this skirt as well. I would suggest buying two pairs and having one go to for everyday occasions, and one that you can avoid washing for when you want that wet look to stand out.
Follow-up commentary
15 months after original review
Although this isn't the greatest skirt I own or even one I wear often, I still enjoy owning it. It has held up pretty nicely, but only because I only wear it once a month or less. There are slight stretch marks in it now, and continued use will just keep tearing the glossy top layer. The pants I owned from the same line had to be thrown out, so I imagine this will get there soon. To help prolong the wear, definitely order a size up.
This content is the opinion of the submitting contributor and is not endorsed by EdenFantasys.com
Thank you for viewing
Black wet look skirt
review page!