Sexy Wet Look Skirt is a YES!
This short wet look skirt comes in both red and black options - in a lot of sizes! There is nothing spectacular about this item, and that is what makes it so great. It is simple, comfortable and inexpensive. It fits well and can be worn inside or outside the bedroom!
Published:
Pros:
Color Options
Bedroom and Beyone
Quality
Cons:
None
I've really gotten into the wet look style! I was hesitant at first, but now I am sold on it! It is pretty important that is fits right, and then once it does, there is nothing that can compete for sexiness! Here are a few of my other wet look reviews:
Dark, Sexy, Hot Wetlook Bustier
Jaw Droppin' Cut Out Dress
Wetlook Mini Dress... You're Rockin'!
Another "Wet Look" Winner
And more... just head to my
profile page
to check out the rest!
Packaging:
The Black Wet Look Skirt by Coquette came in a plastic bag on a cheap plastic hanger. The hanger was broken when I got it, and the pieces were all over the package. I was a little disappointed in this, there were slivers of plastic everywhere. I would have thrown the hanger away anyway, it was unnecessary to be packaged with it. It could have come in just the plastic bag and I would have been happy.
The skirt came with a tag attached to it with the models picture and the style, item number (D915), size (M) and color description (Black and Red). It was attached with a small safety pin and ribbon.
Made in China
Contents: Wet Look Skirt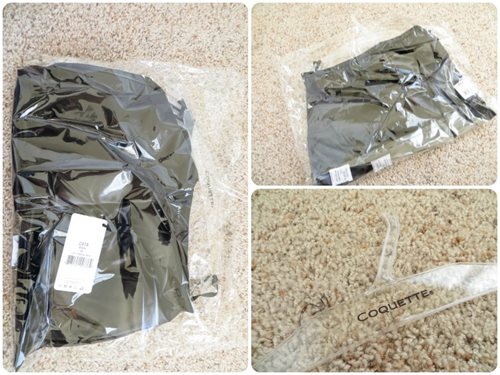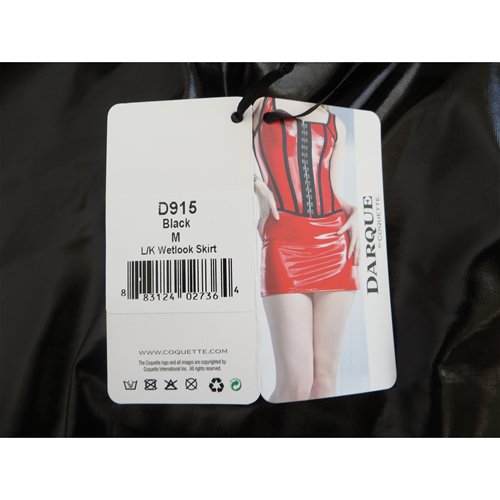 Care/ Maintenance:
Wet look items are kind of tricky, as I have not found a single one that you can wash normally. This one is no different the care includes hand washing and hanging to dry.
I have not washed this item, since I have only worn it a few times and don't see it necessary. I am going to try to go as long as possible without washing because it is kind of a pain to hand wash. Luckily this skirt won't get dirty fast, it is not like undergarments that do.
I keep this skirt stored in my costumes. It is folded in the original plastic bag. I see the use as a costume more than a bedroom piece. So that is where it is, with the other costumes I have like Sailor, Flight Attendant, and Mrs. Claus.
Size:
It is available in the sizes: S, M, L, XL and 1X/2X.
I bought this in the size: M.
I am typically a size small-medium. I wear size 4-6 in dresses and jeans. I have a 34D bust. The rest of my measurements can be found on my
profile page.
Coquette Measurement Chart:
Medium 8 – 10
Waist 26 - 30 inches
Hip 38 – 40 inches
Measurements I took:
Laying flat across top – 28 inches circumference
Laying flat across mid – 36 inches circumference
Laying flat across bottom – 42 inches circumference
Top to bottom length – 11 inches
I ordered the medium because this is my safe fit with Coquette items. I feel like it is the best fit for me. At the time of the photos below I was 135lbs. I also have decent sized hips for my waist. The skirt fit comfortably on. It wasn't too tight or too loose. The elastic band at the top was not stretched out. There is a little bit of give if you need it. It is nice that there are a lot of size options in this skirt!
Design/Shape:
This item comes in the colors: red and black wet look
I love the black, it goes with my other black wet look items perfectly. I am also thinking about getting the red skirt too. Why not?
This skirt design is fairly basic. There is an elastic band at the top that is stretchy. The rest of the skirt is all the wet look fabric. All the way down till the hem is the same fabric. There are seams on the sides of the skirt. The skirt is wider at the bottom than the top.
This skirt is short, but can be worn with leggings if desired.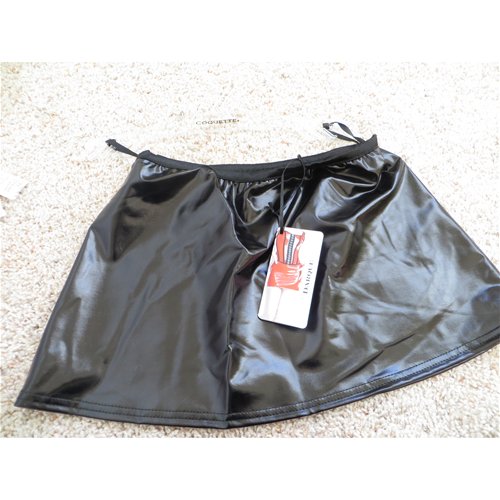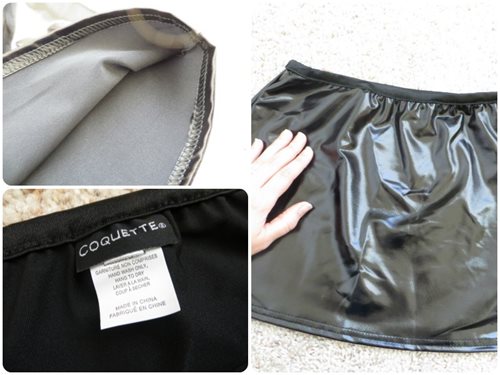 Experience
Material/Texture:
The material make up is 80% nylon and 20% spandex
The top trim feels satin like. It is soft and stretchy.
The wet look is on the outside of the skirt. This is a bit sticky, and when it gets hot feels even stickier. It is shiny and iridescent like. It is soft and smooth to the touch.
The inside lining is more like polyester. It isn't sticky, but a little rough. It is comfortable and does not stick like the wet look outside.
The item is medium weight and flattering, even with bigger hips.
The construction of this item is good. It is well made throughout. The seams are finished and even. The craftsmanship is well done. There are no loose strings or mistakes.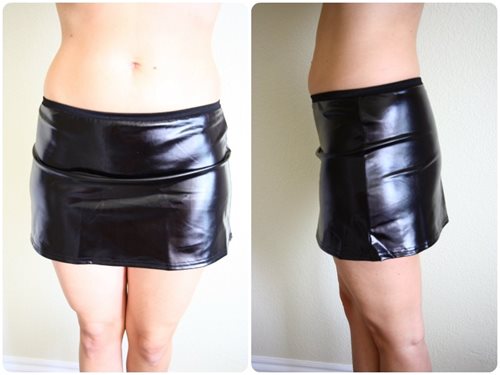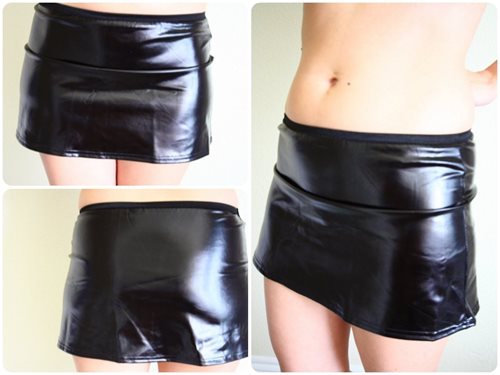 Personal Experience :
I really like the look of this skirt. It could be worn in the bedroom, for a costume or out on the town. It is short, but not skanky looking. It is a cute, simple style and not see-through at all. I like wearing it with very thin – almost nylon like – see through colored leggings. This is also really cute with knee high boots. You can dress it up or down.
For me this item is more of an out of the bedroom item. I find myself trying to figure out costumes with it or cute outfits for going out on the town. This item is my going out piece, a club or a night out, not so much a family gathering. It is sexy enough for the bedroom too, but I have so many bedroom items, that I am excited to have some things to go out in as well!
This content is the opinion of the submitting contributor and is not endorsed by EdenFantasys.com

Thank you for viewing
Black wet look skirt
review page!