A Gentle Poke
If you find the Eroscillator's original three (or five, depending on the model) attachments to be a little rougher than you were expecting, the Ultra Soft Fingertip is definitely worth a try. It's like a luxurious pillow for your clitoris, and it transfers the oscillations exceptionally well.
Published:
Pros
Soft, comfortable
The best way to experience the Eroscillator's oscillations
Cons
Not sure if material is completely sterilizeable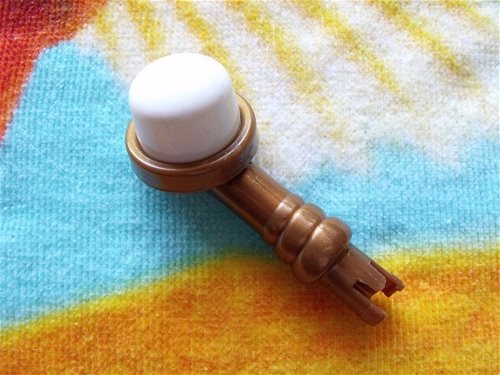 The Ultra Soft Fingertip attachment is to be used for stimulating the clitoris either with the
Eroscillator 2 Plus
or the more powerful
Eroscillator 2 Top Deluxe
. I have the former (regular) model.
I find this attachment to be superior over the three attachments that come with the Eroscillator 2 Plus. This is because the regular attachments feel too firm for me, even though they're slightly flexible. The intense oscillating sensation just doesn't work with the firmness. They are also very textured. All this going on feels too intense for me. I use them occasionally to see if I'll warm up to them, but 90% of the time I'm using my Ultra Soft Fingertip.
The Ultra Soft Fingertip is very cushy, which in my opinion is the best way to transmit the unique oscillations. There's no distracting texture; though then again if you're a fan of texture, I could see how you might find the Ultra Soft Fingertip less than interesting, or better suited for warm-up.
The Eroscillator website says that the Ultra Soft Fingertip is made of "medical silicone elastomer". I think this only applies to the white marshmallow part because the bronze part is firm; I'm pretty sure it's just plastic. The word elastomer makes me think that it's not pure silicone, but I haven't wanted to test this theory with a flame test. I would suggest covering it with a condom if you're going to be sharing with those you aren't fluid-bonded with. Also, it's rather draggy, so you're probably going to want to use a dab of lube with it, and since it's at least partly silicone, you'll want to use water-based lubes only.
Cleanup is simple; antibacterial soap and warm water works great. If you want to make it as clean as possible, rubbing alcohol is another option. As for packaging, all it came in was a tiny sealed plastic bag.
In conclusion, I recommend the Ultra Soft Fingertip over any of the three original attachments. But if you're going to be getting an Eroscillator, you might want to try it first with the included attachments to see if you'll like them before dropping the money for this one, because it's a little on the pricy side.
This content is the opinion of the submitting contributor and is not endorsed by EdenFantasys.com
Thank you for viewing
Eroscillator ultra soft finger tip attachment
– vibrator accessory review page!