Just Like a Loving Finger
The Ultra Soft Finger Tip is an excellent addition to your Eroscillator. It's soft and ever so silky feel is able to delight your clit into orgasmic bliss. Despite the price one should not hesitate to pick this up. You are getting a new attachment that is unlike any other in the available Eroscillator packages and makes for a new experience that you will enjoy again and again.
Published:
Pros:
-Soft, but firm enough for proper pressure

-Versatile size

-Easy to use
Cons:
-Price

-Packaging (or lack thereof)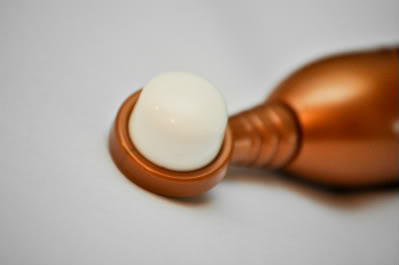 The Ultra Soft Finger Tip attachment for the Eroscillator is another way to add some depth and versatility to an already outstanding toy. The silicone "clit cloud" is one of the finest inventions of all time. ALL TIME. It is soft, cushy, and surprisingly life-like in feel. It is intended mainly for clitoral stimulation, but can easily (and pleasurably) be used for teasing the nipples, massaging the vulva and dispersing lube prior to intercourse or toy play.
Since the tip is silicone (actually medical silicone elastomer), a silicone based lube is not recommended. I often use a dab of Pink water based lube or a even just a bit of saliva before commencing , but it isn't absolutely necessary. The attachment is so soft and gentle you may find it just as pleasurable (or more) without lubrication. The soft silicone does not have a velvety texture like my other silicone toys, but instead is silky, squishy and rather slick.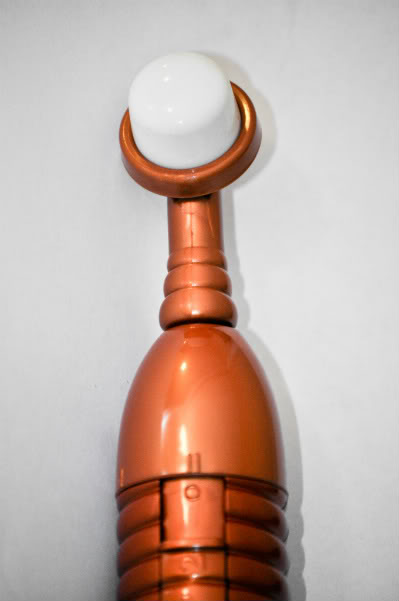 The Eroscillator I own is the
Top Deluxe
so I can't comment on the power difference and how it may affect the performance of the soft finger, but I can say that even on the lowest setting the soft finger attachment feels blissful...and the highest setting is pure ecstasy.
I'm a bit of a power hungry girl (the
Wahl 2-Speed
has been my tried and true friend for a long time!) and the Eroscillator/Soft Finger combo continually blows me away.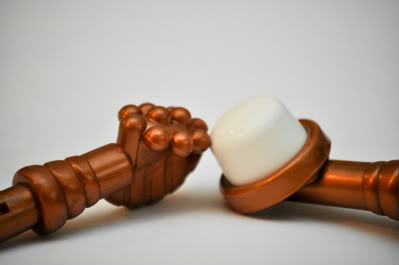 From the official Eroscillator website:
-"The Ultra Soft Finger Tip is a marvel of comfort and technology. It provides the softest, most pleasant and sensual touch thanks to its high-tech Swiss made medical silicone elastomer. Ultrasonically welded for perfect water tightness..."-
Compared to the other attachments, the Soft Finger is comparable in size and is easy to store away. I was slightly disappointed by the lack of packaging for the attachment. It came in a small plastic bag. That's it. No box, instructions or anything else. Now, it's not a huge deal as I keep the attachment with the rest of my Eroscillator goodies but for the price I expected something more than a tiny plastic bag.
I keep the Eroscillator and all of the attachments inside the cardboard box that the Eroscillator box itself comes packaged in as the actual Eroscillator box is a little too small to hold everything after unpacking.
The attachment is very easy to clean. A quick spritz of toy cleaner, a damp cloth or a little water and you're good to go. Just make sure to clean your attachments detached from the base just for safety.
Experience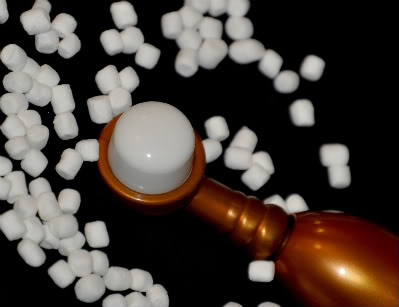 Ah, heavenly marshmallowy goodness.........
I enjoy the sensation of the Soft Finger even more than my favorite silicone vibe the
Croupier
.
It must be noted that the Eroscillator is not a vibrator in the traditional sense. It oscillates in a rapid side to side movement unlike the vibrating/pounding sensation of a traditional vibe. It's a different sensation that can be difficult to describe. It's compared to a "loving finger" and how one would manually stimulate the clit. This is fairly accurate other than the fact it would be impossible to match the speed and intensity of the Eroscillator.
After getting used to the feel of the Eroscillator and the many attachments it came with, I have made the Soft Finger my go to attachment. I love the sensation it provides and have used it in conjunction with other toys and my husband as well. Every experience thus far has been incredibly pleasurable.
One of the most amazing things I have to say about the Soft Finger (and the Eroscillator in general)... I can use it over and over and over. The numbing and itchy sensations of buzzy vibes or the desensitized feeling I can get from deep and rumbly vibes is not present here. I play, I get off, I take a breath and I go at it again until I can no longer take it. It's magnificent!
I would like to note that the Eroscillator (and this attachment) has been the only "vibe" that has gotten me to squirt without vaginal stimulation. It was a breakthrough experience and caused me to love the toy even more...
Although I do admit that when I am combining the powers of the Soft Finger and my
NJoy Pure Wand
.... simply explosive.
For those that enjoy still, pin point stimulation this toy will not disappoint (I myself am a "pin point" gal). If you enjoy rubbing back and forth while using a vibe it may be difficult to adjust to the Eroscillator, as it does the work for you.
Just find your spot(s), keep it still and relax...
Follow-up commentary
1 month after original review
This is still my go-to device for satifsying orgasms. I love the texture, the sensation and how gentle it is on my most sensitive of areas. It's hard to think of anything negative about this attachment... easy to clean, easy to store and easy to use. I have no complaints!

Long live the Eroscillator!
This product was provided at a discounted price in exchange for an unbiased review. This review is in compliance with the FTC guidelines.

Thank you for viewing
Eroscillator ultra soft finger tip attachment
– vibrator accessory review page!