Squishy Seductress
Have the Eroscillator but crave a softer touch? This is the attachment for you. This squishy seductress is the best thing to have ever touched my clit. Does it feel like a finger? A little, maybe. But I've never been rubbed by a finger this soft, slick, and delightfully squeezable. Best of all: it never gets tired, never quits until I've had more orgasms than I thought possible. It's better than a finger; it's a squishy little slice of heaven.
Published:
Pros:
Soft, squishy, gentle, smooth
Attaches to the best toy ever
Cons:
Pricey
Wish it came included with Eroscillator
The Eroscillator
is my love,
and the Soft Fingertip is the squishy delight that transfers its orgasmic oscillations. The Eroscillator is made for clitoral stimulation - and the gentle touch of the Soft Fingertip is oh so amazing in that capacity. If you're one for a slow build up, it also works nicely to stimulate the vulva, nipples, and probably the head of a penis. Since I don't have one of my own, I can't say for sure. What I do know is that it feels amazing to turn this on, and use it to massage Sliquid all over my outer and inner lips as I'm getting warmed up. But to be perfectly honest, I just can't keep it away from my clit for long. It feels
so good.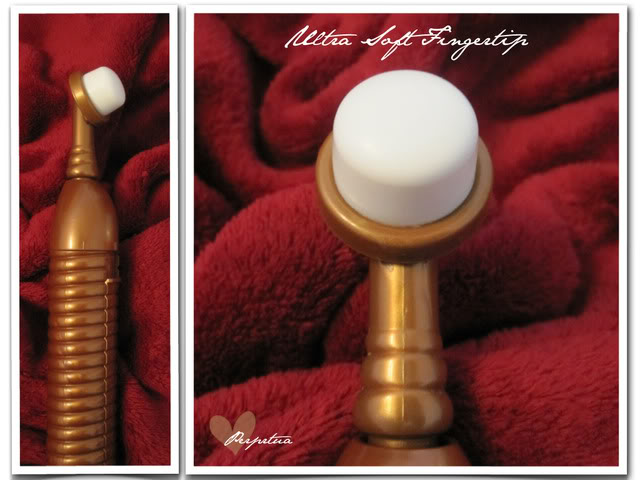 I know what you're thinking. I just spent over a hundred dollars on the Eroscillator, and you want me to spend forty more on top of that? Forty dollars for a three inch attachment that snaps on the top of a toy? I know it seems crazy, but...yes. It is amazing, especially for those with sensitive clits. The Eroscillator does come with several standard attachments, (3 or 5 depending on which model you purchase) but those rarely come out of the pouch since I acquired this little delight. This is what is on my Eroscillator 99% of the time, and if you're anything like me, this is the only attachment you need. The other attachments are made of a firm textured TPE material, whereas the Ultra Soft Fingertip is made of a smooth, squishy silicone elastomer. It is so lovely; soft, gentle, and absolutely delightful. Have I mentioned that it is
really squishy?
It is super fun to just squish it over and over. I can't adequately explain it in words, but look!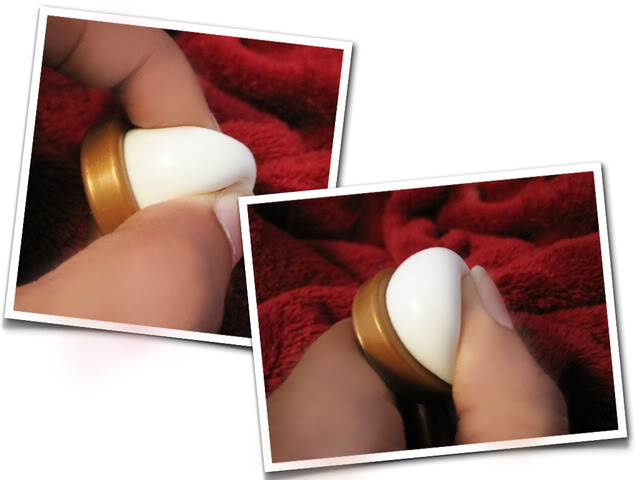 The Soft Fingertip has a shaft made of the same copper plastic as the Eroscillator, and that is what you snap into the base. Instead of a textured head, it has what looks like half a giant marshmallow on the top. It says that it is made from "high-tech Swiss made medical silicone elastomer". It doesn't feel like any silicone toy I have ever used before. Most of my silicone toys are smooth and velvety - this feels like a super squishy marshmallow with a slick, glossy coating. Since it is silicone, I avoid using silicone lubricants with it. Only water-based for this baby!
It is ultrasonically welded for water tightness, so you don't have to worry about lube or other bodily fluids getting in between the marshmallow and plastic. It is perfectly waterproof, and can be rinsed off easily under water, and you can rub it down with some soap or use your favorite toy cleaner to get it really clean. Because it is part plastic, I wouldn't recommend boiling or putting this in the dishwasher. Since it likely cannot be completely sterilized, I don't share it with non-fluid bonded partners. But really, selfish little shellfish I am, I don't want to share. I only have one Eroscillator, one Soft Fingertip, and one clit, and that's where it belongs.
Experience
Why is the Fingertip the best attachment ever? I never get tired of it. It always feels soft and gentle - yet still manages to bring me the most intense orgasms of my life (probably the magic of oscillation). The texture is perfect for beginners, especially those with sensitive clits. Clits of steel might need something more; although I think this would still be enjoyable. I know some ladies start off with the Fingertip for applying lube and teasing, and then switch to a more textured head to get off. For me, the textured attachments feel a bit too stimulating, too intense. While they can get me there faster, my clit needs a short break afterward. With the soft fingertip? I can go on for hours, riding waves of orgasms over and over. So for me, it's all Fingertip, all the time.

Is there anything I don't love about this glorious attachment? Well, yes. First of all, it's pricey. Forty dollars for an attachment is a lot of money, and the Eroscillator itself is already quite the splurge. I really wish they would include this in the kits. Second of all, every other attachment that comes with the Eroscillator is double sided. If you spin it around, you get another sensation. This one only has one usable side, so while one side is glorious marshmallowy goodness, the other side is a hard plastic disk, with un-blunted edges, and writing on the back. That means if it accidentally gets spun around in the throes of passion - it's going to be uncomfortable. That's the only thing I would change about this attachment; smooth out the back so it wouldn't have any abrupt edges. Other than that? It's perfect.

I did not assign Vroom/Bee levels because I think it would depend on which model of Eroscillator you are using. Mine is the 2 Plus, and I find it quite powerful, and almost silent when used under the covers. I don't have the other version, so I can't say how it would compare.
This content is the opinion of the submitting contributor and is not endorsed by EdenFantasys.com

Thank you for viewing
Eroscillator ultra soft finger tip attachment
– vibrator accessory review page!