AKO is just OK
Oh Ako, I want to love you! Ako is a handheld clitoral vibe that would be excellent for beginners. It is made by Picobong, a sister-company of LELO, but while Ako has its good points, it just doesn't rival a LELO in vibration quality or strength.
Published:
Pros:
Low price
Great colors
Lots of patterns
Nice soft texture
Cons:
Vibrations are more buzzy than rumbly
Cap doesn't fit seamlessly
Ako is a small, handheld vibrator that is meant to be used for clitoral stimulation. It can also be used to stimulate any other area you wish, from nipples to exterior anus, labia to perineum, penis to scrotum and anything in between. It is a little over 4 1/2" in length, and also 4 1/2" in circumference at its center, although it is not meant to be an internal toy. You most definitely wouldn't want to use it for anal insertion; it would not be safe. You can use just the tip of it to pinpoint vibrations on your clit or on another specific point, on its side to cover up to 4 1/2 inches of sensitive bits, or you can use just part of its bottom or side to cover whatever area you would like. It's a decent small vibe with a lot of possible uses.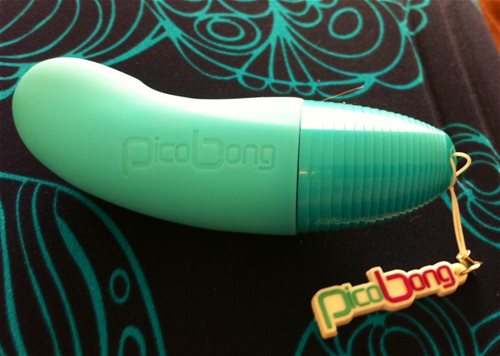 This vibe is made of silicone, which gets a perfect 10 for safety on the Eden
Guide to Materials
. The cap that covers the battery compartment, and also serves as a small handle of sorts, is made of plastic. The toy is hard and inflexible, with a velvety smooth texture everywhere except on the cap, which is shiny smooth plastic, but has ridges going around it that help with grip when the toy is in use. It has a gentle tapered ridge on the bottom that leads to a slightly pronounced tip, which helps to target those vibes where you want them.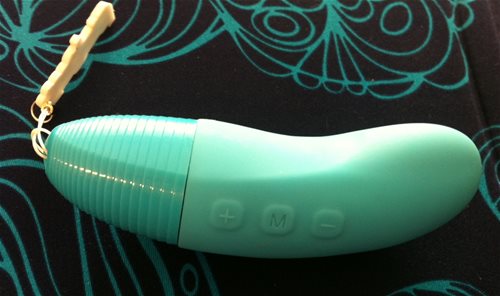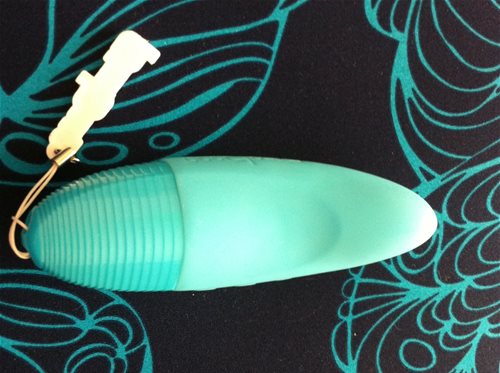 Ako is waterproof, and can be used in the bath or shower. However, I had a malfunction with the battery cover that makes me not trust it enough to submerge it. The battery cover comes off & goes on with a small twist, maybe 10 degrees, and locks into place with four small tabs. The amount that you need to twist it to remove the cap is so little, that as I was using it by holding onto the cap area, it came completely off unexpectedly as I moved the vibe around. The other problem with the cap is that there is an open crack where it meets the toy, which lets water or bodily fluids into the toy's interior. It is above the area of the silicone washer that keeps liquid out of the actual battery compartment, so it doesn't get in there, but it does need to be cleaned out carefully after use to avoid the buildup of fluids inside that crack (this crack is visible in my pictures). To clean the Ako, you can use soap and water, toy cleaner or wipes, or a 10% alcohol solution as a disinfectant. You should never use silicone lube with silicone toys, and store them away from each other where they won't have any contact with other silicone toys.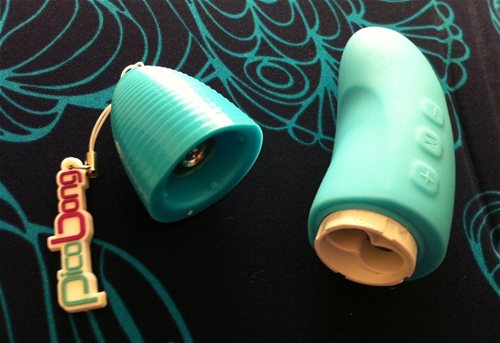 The Ako is powered by two AAA batteries. It is moderately powerful for such a small vibrator, and the vibrations are more buzzy than rumbly (but not as buzzy as a lot of small vibes). It is controlled by three buttons on its side, " + " to increase the intensity of the vibrations (turn the vibe on by holding down this button for a couple of seconds), " - " to decrease them (turn it off by holding this button down for a few seconds), and " M " to change the vibration patterns. It has 7 levels of power, starting very soft and ending moderately high and buzzy. The intensity can be changed separately in each of the patterns. It has 12 different patterns of vibration which is an outstanding number for a vibe like this. If you like patterns, or want to figure out if you like them, try this vibe! The patterns start over at #1 after the toy is turned off and back on again; there is no memory to store the last pattern that was used. The patterns are:
1. Solid vibes
2. Slow low to high waves
3. Medium low to high waves
4. Fast low to high waves
5. Short bursts
6. Slow roller coaster waves, low to high
7. Fast roller coaster waves, low to high
8. Slow roller coaster waves, low to high to low
9. Fast roller coaster waves, low to high to low
10. 3 bursts, then steady vibration, then 3 bursts
11. 5 bursts, then steady vibration, then 5 bursts
12. Seems to be a random pattern of low, medium, high pulses. It sounds like a song being played.
It's a pretty quiet vibrator. It is almost silent on the lower speeds, and gets louder as you turn it up. At the highest speed, it could be heard from across a room and possibly through a closed door.
Experience
The Ako comes in an attractive, modern box that is the same bright color as the toy inside, with a nice large window so you can see what you're getting. It has small, tasteful graphics and text explaining the uses and characteristics of the toy. It's obvious that it's a sex toy, but it's very tasteful. Mine was smashed because it was shipped in a padded envelope instead of in a box, but it didn't matter to me because it was just for my use.

I've used the Ako several times now, and while it's okay, it's just nothing special to me. It's not quite strong enough to be really wonderful, not quite the right size or shape to fit perfectly in my hand, and the vibrations aren't quite as rumbly as I like. I really wanted to love it, but it's just not going to be my favorite.
This content is the opinion of the submitting contributor and is not endorsed by EdenFantasys.com

Thank you for viewing
Ako
– sex toy review page!