I Love you, Gigi!
If you've given any thought to buying this vibrator, but the price tag scared you off, know that it's worth every single cent. The strength of vibration and quality of design make this a toy that won't disappoint. Go ahead, take the plunge!
Published:
Pros:
Well Made
Beautiful
Strong and lots of Rumble
Great Design
Cons:
May Catch on your Pubic Bone Occasionally
Ah, Gigi. I waited so long to dip my toe into the pool of expensive, rechargable vibrators. Why did I do that? In hindsight, it was a silly, silly thing for me to do. Gigi is amazing, and totally worth the weighty price tag she comes with.
As soon as this lovely lady came in the mail, I opened up the pretty packaging and plugged her in to charge. After only about 90 minutes, she was fully charged and ready for action. I was surprised by how quickly Gigi charged, and how much battery life you get out of each charge. For me, Gigi worked for over 3 hours on that charge, which is more than enough. How long she will last on each charge depends on which intensity level she is used. It is recommended that you charge the Gigi at least monthly, for battery maintenance sake. The white light up circle on the control area of Gigi blinks while it is plugged in and charging, and changes to a solid white light when she is fully charged. When the battery is nearly exhausted, the circle glows red to let you know you need to plug her back in to charge. The charger resembles a cell phone charger, and seems sturdy and made to last.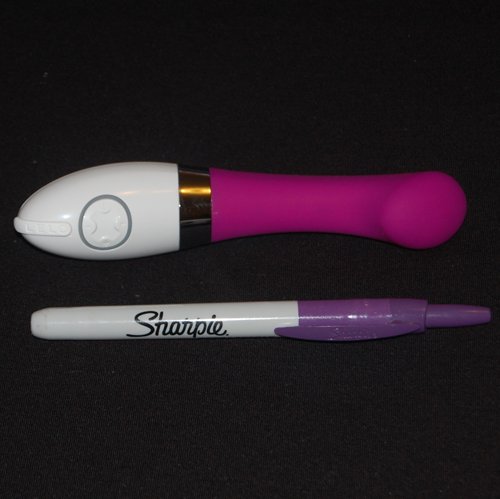 The Gigi has easy to use controls. There are 4 buttons: a plus, a minus, an up and a down. Using the up button switches you to the next variation of vibration, the down button switches you back through them in reverse. The plus and minus buttons allow you to change the intensity of each variation. Holding down the minus button decreases the intensity and eventually will turn the Gigi off.
There are 5 variations to choose from:
1- Steady Vibrations
2- Low Pulse
3- Medium Pulse
4- Fast Pulse
5- Rollercoaster/Wave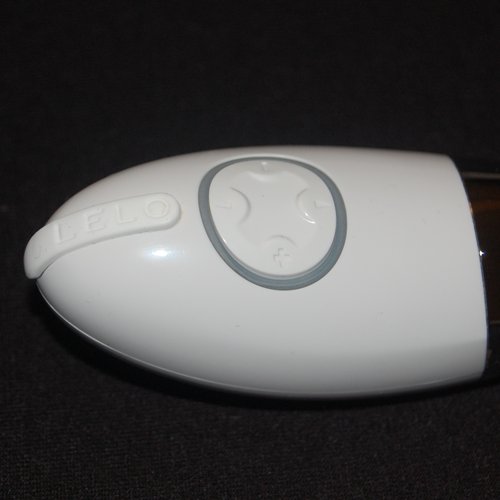 While on any of those settings, you can increase or decrease the speed/intensity of the vibrations using the plus and minus, which allows you to really pinpoint what works for you. The vibrations are most strongly felt in that flat, wide head, which really works wonders where you choose to use it. Obviously, the Gigi is a g-spot toy, and it does that job to perfection. I also find it a great external/clitoral stimulation toy. I haven't given this gal a task yet that she hasn't excelled at. She's a real multi-tasker.
Material: Silicone
Material safety: 10 out of 10 on the Eden Safety Scale
Length: 6 1/2"
Insertable length: 4 1/2"
Circumference: 3 1/2"
Diameter: 1 1/8"
Weight: 1 lb
The surface of the GiGi is a very soft, smooth, velvety silicone. It has a flat head to really get at that g-spot. The length of the GiGi works well for me when g-spotting, but whether or not it would work well for you depends on your anatomy. I will say that you could angle this for more shallow or deeper g-spots easily, so it would work for a wide range of users.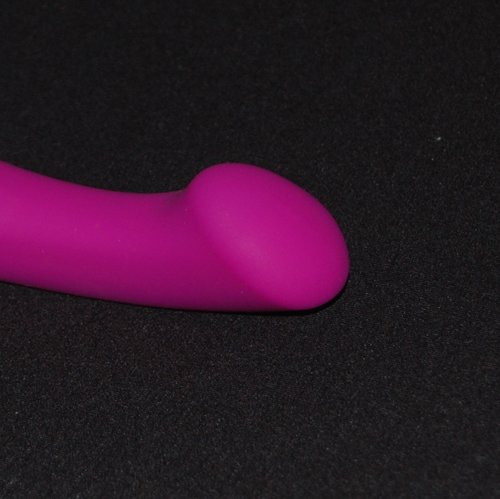 The handle of the Gigi is plastic, and the insertable portion is silicone. You cannot submerge the Gigi for cleaning, as she is not waterproof. You can wipe it with a damp cloth, or rinse the silicone end under water. Be careful to avoid getting the button area or the charging port wet. As the Gigi is silicone, you will want to avoid using any silicone lubes. Any water based lube could be used with the Gigi.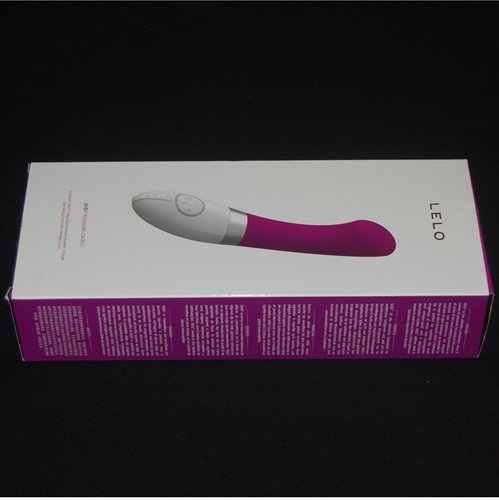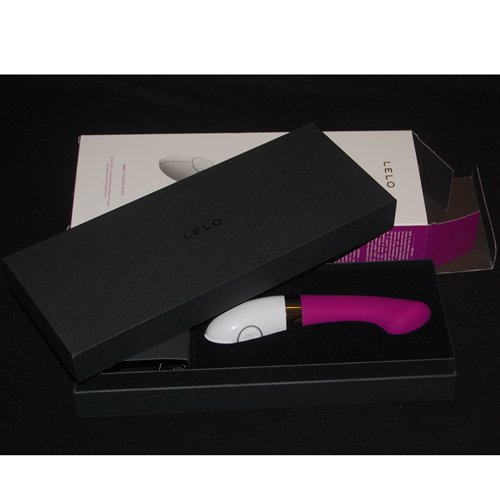 The package for the Gigi is lovely. It consist of an outer and inner box, with the toy nestled safely inside. The outer box is has a picture of the toy. The inner box is thicker black cardboard, with a lid that lifts off. There is a little compartment for the charger, which also holds a pouch, booklet and lube sample. The box is perfect for storing Gigi, and would be beautiful for gifting. It is very elegant and tasteful.
Experience
I was actually amazed by the Gigi. I have had lots of toys, and lots and lots of vibrators. The deep rumble and powerful flat end of the Gigi blew them all out of the water. I don't much care for pulses or variable vibrations settings on any vibrator, and the Gigi was no exception. That's fine because the solid vibrations of this toy feel amazing. It delivers up orgasm after orgasm. I especially love when my husband uses the Gigi on me, while he goes down on me. I have, on occasion, noticed that it catches on my pubic bone if I get a little crazy with the rocking or thrusting, but I can't hold that against the Gigi for too long. It has way too many good points to let that one negative get me down.

When I use the Gigi solo, it takes only a small amount of rocking the toy to really get the job done. Because of that flat head, you don't need a lot of thrusting or movement. Small motions and pressure will work very well.
Follow-up commentary
4 months after original review
This one is still in the top five toys I own. It hits the spot perfectly every time, and still works as well as the day I bought it.
This content is the opinion of the submitting contributor and is not endorsed by EdenFantasys.com

Thank you for viewing
Gigi
– g-spot vibrator review page!