It Growls, But Doesn't Bite!
This one growls! He doesn't have the bite that I had wanted from him. He has awesome vibrations and his textures are awesome but his clit attachment just doesn't hit it for me! His vibrations carry greatly through the silicone. He still deserves the 5 stars, cant blame him for my anatomy. He is great for thrusting and rocking.
Published:
Pros:
Quite
Waterproof
Rechargeable
Soft
Flexible
Cons:
May not fit all anatomies with clit bump
The Tiger by Fun Factory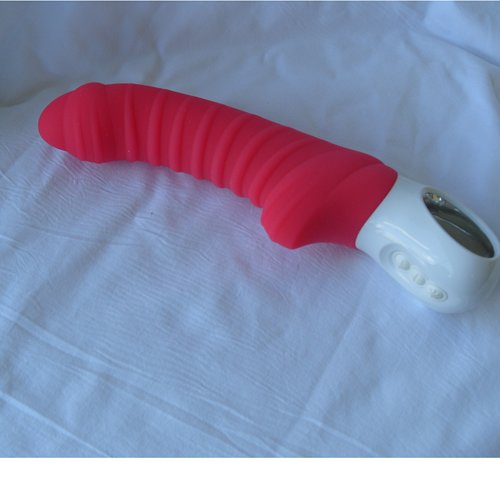 He is intended for vaginal use but since he is made of silicone he can go anally too. There is no flared base so you need to be careful or use with a partner. He does dive for the g-spot and he works very well in that area. His bump is for clitoral stimulation but he doesn't quite bite me properly. He is great for solo action and couples play also!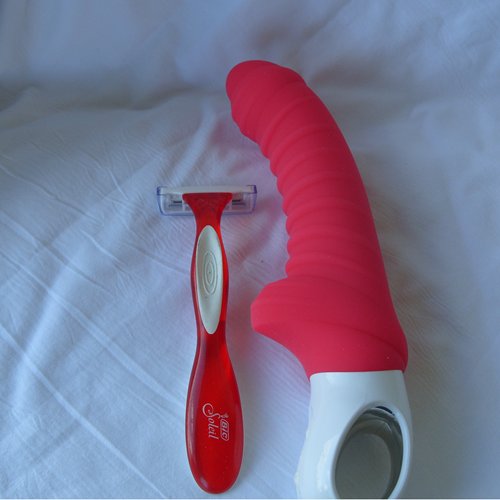 Materials/Texture
He is made from high quality silicone, which rates a 10 on the Eden Scale and plastic which rates an 8. He is non porous, hypoallergenic, Latex and Phthalates free. He does have a slight bit of drag to him and I use water based lube with him. He has no taste and no smell. He is the soft velvety type of silicone which does collect a small amount of lint and hair. He is advertised as being red, I wouldn't call him red at all he is more of a pink and he comes in navy blue also. His tiger stripes are raised approximately 1/8th of an inch and they can be felt. There are 12 of them. Tiger is completely waterproof.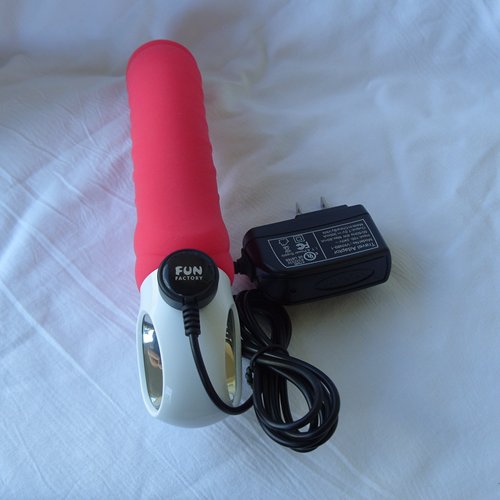 Size/Shape/Design
He has some girth at 1 1/2 inches in diameter and 8 ½ inches long. He has an insertable area of 6 inches. His clitoral head is raised ¾ of an inch. He has a great handle with the hole in it which aids with use and thrusting/rocking type of action. His textures rock and he has a type of a phallic shaped head. Kinda looks like the head coming out of the foreskin on an uncircumcised penis. He has the clitoral bump present also. He is flexible which really aids when rocking him to help the clit bump hit where it needs to. He has the g-spot curve which is very effective.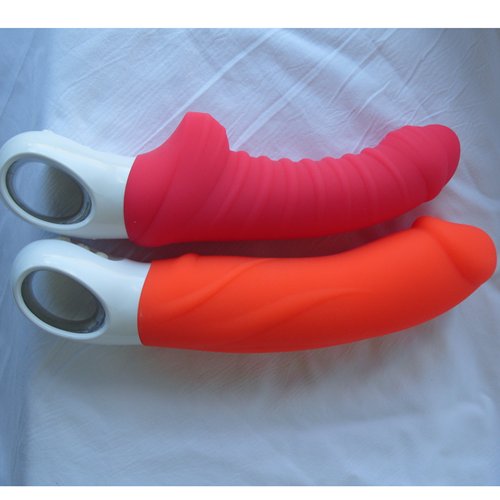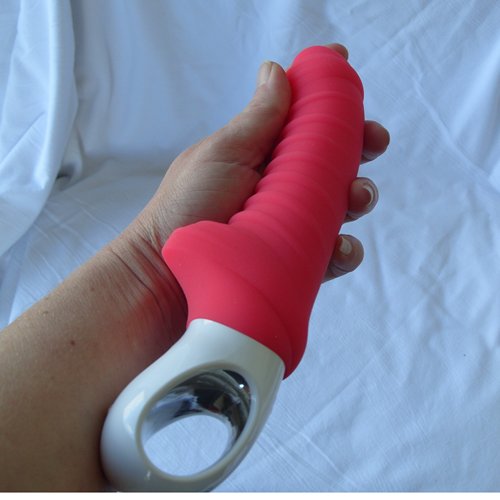 Functions
Tiger's controls are in his plastic handle. The buttons actually light up when the vibrator is handled not just when it is turned on. He has a + button a * button and a - button. To turn him on hit the + button for 2 -3 seconds and he powers up. If you continue to hit the + button he goes through 6 levels of vibrations. He has rumbly deep types of vibrations that go from weak to very strong. When you hit the * button he goes into pulsation patterns. He has 3 patterns, a very fast pulsation, a faster harder throb and an escalating pulsation. If you hit the - button in any of the setting he will take you back to the previous setting. His vibrations carry very through his shaft and on his clitoral bump but the plastic really doesn't carry the vibrations.
The Tiger is part of the click and charge G4 line from fun factory. The Tiger's charging port is located on the back of the toy and is marked with the fun factory Logo. When you place the charging cable close to the logo area they magnetically attach. When they have a proper connection the fun factory logo with glow a bright red. I had read that others had issue with the charger holding the connection but this wasn't the case for me. The part of the charging cable that plugs into the wall also has a red light on it so you know that it is working. The Tiger charges for a maximum of 8 hours but 2 hours of charge does really well. If you have the Tiger at his highest setting for 2 hours or so it will need to be charged before going again. He seemed to get warm at the charging area when I took him off initially. His buttons also light up when he is charging.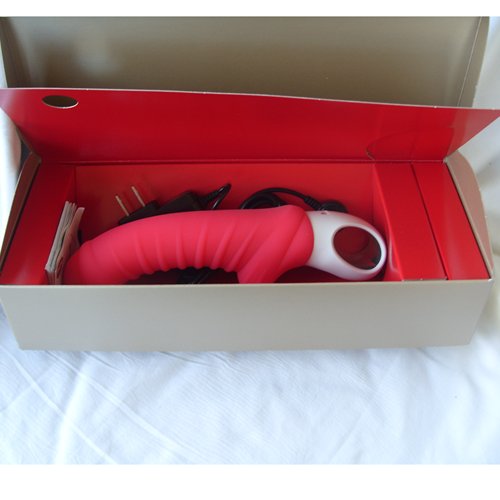 Experience
Care/Maintenance

The tiger is made from silicone so use water based lubes only. My Tiger didn't come with any toy fluid as other contributors have written. Using silicone lube can ruin his finish. I clean up my tiger with toy sprays or antibacterial soaps and water. You can also use the Eden wipes or a 10% bleach solution. I keep my silicone toys away from each other so they don't hurt each other's finish. He can be stored in his packaging or in a gallon sized plastic baggy.

Packaging

My Tiger with charger came in one large box. The picture of the Tiger is on the outer sleeve. The inner box is lined in Red and the charger was in with the toy. This was kind of concerning for me as the end pieces of the charger are sharp and the enclosed booklet says to keep sharp pointy things away from the silicone. With my Big Boss the charger was in another area of the box. There was no sample of toy fluid that some of the other fun factory toys have. The instruction manual is a generic one that is for all of the deluxe vibes with a picture of the Tiger and Cala on the front of it.
This content is the opinion of the submitting contributor and is not endorsed by EdenFantasys.com

Thank you for viewing
Tiger G5
– rabbit vibrator review page!