Welcome to the Jungle!
The whole G4 line is luxurious and I think everyone should own at least one. The products are well worth the cash and will last a life time. G4 Tiger is definitely a must have for those who want a good vibrator with some texture that isn't huge. Power queens will love the deep, strong vibrations, and the curved tip works well for pinpointing the G spot.
Published:
Pros:
Rechargeable; deep, strong vibrations; silicone will last a life time!
Cons:
Learning curve, dual stimulation is hit or miss depending on your anatomy.
*What it is*
Fun Factory has made an excellent line of vibrators with their G4 rechargeables. With 5 vibes to choose from there is a perfect fit for every woman. The Tiger is a rechargeable, rabbit style version of the ever unique
Tiger Dildo
from FF, and it definitely lives up to its counterparts.
*What it's used for*
G4 Tiger is intended for dual stimulation vaginally and clitorally, but its best use is for one or the other (it does not work anatomically for dual stimulation---for me anyways). Anal use is possible if you can handle the texture; just be sure to sanitize between holes or partners.
*What it's made of and how to take care of it*
The silicone that Tiger is made out of is very velvety and soft. It has some drag to it so lube may be needed while using. Note: Silicone lubes are not intended for use with silicone toys. If you decide to be adventurous I recommend doing it on something that isn't as, well, good. You don't want to ruin your precious tiger! This silicone also feels much different from the silicone my
G4 Big Boss
is made out of.
Silicone is intended to last a lifetime and can withstand boiling water for sanitary reasons; however I always caution against putting anything with a motor in boiling water (just to be safe!) I recommend dipping as much as you can in without getting the handle wet.
If you don't want or need to sanitize your toy, then soap and warm water works just as well in between use. Make sure to at least wipe this off with a toy wipe before use, and let it air dry if you can as it attracts lint pretty well.
Store your wonderful tiger in a habitat of its very own to prevent any damage. Silicone toys are pretty easy to store but should still be kept in a nice place.
*What it looks and feels like*
The shaft is decorated with small ribs that resemble tiger stripes (hence the name?) and comes to a rounded point at the tip to aid in pinpoint stimulation of the clitoris or g spot. A small nub lies at the bottom of the shaft that is intended for clitoral stimulation while thrusting; however this may be a hit or miss depending on your anatomy. I personally did not get use out of this nub while thrusting; however it works great for clitoral stimulation on its own.
The ribbed texture is a nice touch to the vibe in that it provides extra stimulation without being too rough or advanced for most women. Texture queens and kings will most likely enjoy this one.
The Tiger has the G4 loop handle that works great for thrusting. You can wrap your fingers through it to hold it or simply use it as a regular handle, but it works well due to the shape of the toy and its slight curve from the handle.
This kitty measures just over 8" long with about 6 1/4" being insertable. The diameter is around 1 1/2", but don't let that scare you. It doesn't feel big and bothersome; in fact it's the kind of kitty that makes you purr. The clitoral nub protrudes about an inch out of the shaft and is also 1 1/2" around. It is located at the very bottom of the shaft, about 5" down. As I mentioned before, this does not work anatomically for me as a dual stimulator due to the nub being placed so far down (plus its small size, although good for pinpointing the clitoris, doesn't work while thrusting).
The color of G4 is a real navy blue, not like the bright blue you see on the product page. The majority of toys you see will be a little bit brighter and bolder online than in the flesh(silicone?).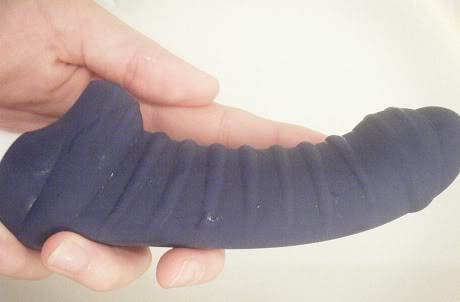 Experience
*G4 Functions*
All the G4 toys have a "magic touch" feature which I don't quite understand. The handle lights up where the buttons are if you touch the charging spot on the back of the handle. This freaked me out with the Big Boss because I wasn't sure what was going on, maybe I had a possessed vibrator and that's why it worked so well... but to my (somewhat) disappointment it is just a quirky feature. Maybe it is so you can find the buttons in the dark?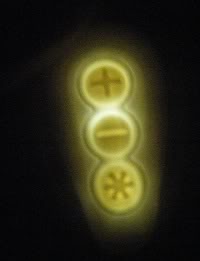 This is operated by the click and charge system which is pretty nifty. The charger is magnetic and clicks onto the back of the toy's handle. The charger then lights up red while the toy lights up on the buttons, and once fully charged the lights will go off and you are ready to use!
There are several functions to the vibration of the G4 toys, being steady vibrations with the + and - buttons that increase to earth shaking intensity, and the awesome booster patterns that are operated by the * button.
There are 4 different booster patterns : 1) a deep, intense throbbing sensation; 2) a quicker deep, throbbing pulsation; 3) an intense pulsation, and 4) a more gentle pulsation.
I personally love the deep throbbing feeling and this actually stimulates me internally unlike any other vibrator I have had (Big Boss is included in this, I still love him more...). I have never used vibrations internally; it just never really did anything for me. But the vibrations, oh the sensations you can feel deep inside your walls when this baby is pulsing!
The best part about the strength of these vibes is that they come with a virtually silent motor that cannot be heard, well, anywhere!
The vibe turns on by holding either the + or * button for 2 seconds, and turns off by holding the - button for 2 seconds. While on steady vibration mode simply push the + or - to increase or decrease intensities. The vibration will simply escalate subtle-y and you won't notice a change in levels like with most vibes.
*What it comes in*
The packaging is standard Fun Factory packaging; the box is universal to the G4 line and has a picture of Calla on it. The flaps open up to show you your toy in full effect so you can see what you are getting (this would be great if you were shopping in a physical store). The charger, nifty little toyfluid and colorful, detailed instructions also come with the Tiger along with a booklet of FF's other products.
This product was provided free of charge to the reviewer. This review is in compliance with the FTC guidelines.

Thank you for viewing
Tiger G5
– g-spot rabbit vibrator review page!