Just what I was hoping for! Vr8, it was you all along.
What an elegant vibe, and exactly what my body wanted! Though the small end doesn't make a very good handle, each of the ergonomic ends feels lovely internally or on the clit. Too flexible for precision g-spotting, instead I can curl it up for dual stimulation. The rumbliest vibrations I've ever felt in this slender, waterproof, organic shape---I should have listened to myself and gotten the Vr8 a long time ago.
Published:
Pros:
Fantastic rumbly vibrations, not too flexible, two organic ends, a perfect 'every occasion' vibe.
Cons:
Small end makes an awkward handle, and is less powerful. Learning curve for buttons, flexible.
I have wanted the Vanity Vr8 (known in Europe as the 'Mute Swan,' subtle sister of the 'Trumpeter Swan' Vr9) for a very long time. But even though its organically shaped head, its reported powerful rumbling vibrations, its appealing dual ends and dual sizes to suit different moods, and its body-safe silicone body called to me... I put it off for a long time.
Partly because I usually enjoy working hard for an orgasm, and I relish the very hands-on experience of getting off with a dildo. Partly because I wasn't sold on the vivid magenta and the high price tag. Partly because I didn't know the flexibility of the neck, so I didn't know if it would be useful for precision g-spotting, or only as a traditional vibrator for me. (My g-spot requires a good amount of pressure.)
Lately, though, I've started to really crave a moderately-sized, firm-but-not-rigid vibrator that I can turn on and turn myself on without throwing my
carpi ulnarae
into it. So maybe I'm becoming lazy, or maybe all of the Vr8's lovely qualities finally overrode my hesitations---but whatever the reason, I finally ordered my Vr8. And I am so very glad. Its uniquely pleasing shapes are just what my body wanted (and it had been trying to tell me for so long!).
CONSTRUCTION
The Vr8, as with the rest of the Vanity collection, is built around two PowerBullet motors. The larger motor inhabits an unchanging oval with a 1.5" diameter, which provides a constant filling sensation for all of its nearly 4" length. (This leaves enough room for thrusting for me.) The smaller motor is housed in a gentle form that reminds me of an upturned flower bud or a crane's head. The eager, firm tip grows to a widest diameter of 1", and then quickly falls to the neck. This inch+long motor provides a lovely 'bloop' sensation as you insert and thrust with it.
These motors are encased in firm plastic, and are both powered by a lithium-ion battery (which charges through a mysteriously waterproof slender deep-plug socket). I believe the battery shares a plastic casing with the motor of the larger end, and then the plastic casing makes way for something slightly more flexible across the neck. The neck is relatively firm: it is not firm enough to provide enough g-spot pressure for me, but it might be for others. The flexibility is actually a nice feature, though, as I can curl whichever end I don't have inserted up for dual stimulation. At the end of the day, the Vr8 is a traditional vibrator for me, not a g-spotting machine---but that's all right. My body was begging me for a traditional vibrator.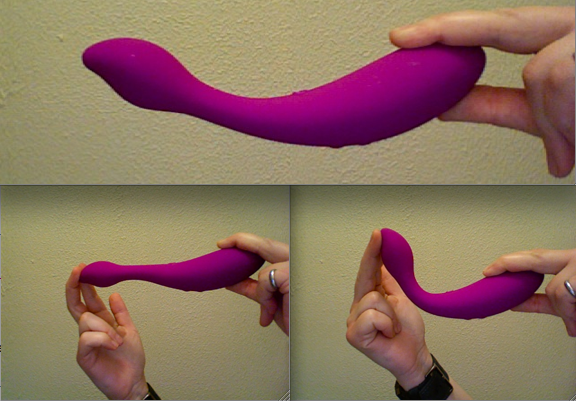 The final outside coating is of magenta silicone. Odor-free, hypoallergenic, nonporous, waterproof, and sanitizable with bleach water, silicone is the only soft material I will choose for a sex toy. Vr8's silicone is a rather thin layer, so you cannot squish the shape at all. It has a small amount of drag---my finger doesn't skip along the surface, but users who dislike texture will probably want to use a water-based lubricant. My body enjoys the subtle drag, especially when I slide it from internal to external use.
Experience
PERFORMANCE
Again and again you'll hear people who are totally floored by the rumbly power of the Jopen vibes. I can only add to the chorus. The smaller end is less powerful than the larger end, but both ends are strong enough to bring me to orgasm clitorally. The rumbly frequency is fantastic---I know it's a hard thing to judge and make comparisons about, but my orgasms (after using both ends vaginally, and finishing with a dildo inside and the large end on my clit) have been consistently stronger than usual. I have been using the Vr8, sometimes alone but usually with a dildo, in nearly every session since I've gotten it.

The initial battery charges takes three hours, and the motors can run at full power for at least an hour. (I have never noticed a dip in power yet, but I always recharge my lithium batteries as soon as I'm finished using them.) Vr8 has a convenient charging indicator and the AC plug it uses is slender and won't take up more than one outlet in your power strip. The vibe also features a travel lock.

One thing that has really surprised me is that the two vibrating ends of the Vr8 can interact with each other. If you remember your old "constructive and destructive interference" lesson when you were studying waves in high school physics, you'll understand how the two ends affect each other. Each motor only can progress from medium to strong vibrations with a press of a button (or off, and then starting again at the first level). So each end can be at a different frequency---and some of these frequencies build each other, others detract from each other, and some wobble. No other reviewers mentioned this, but I had a fun time both using constructive waveforms to amp up the power, and using the wobbling interference to make little impromptu patterns.

FINAL THOUGHTS
My only dissatisfaction with the Vr8 is that, when I want to use the oval end internally, the swan's head end does not make a very ergonomic handle. I feel like I'm choking a goose no matter how I try to hold it, and this arrangement is where the flexibility of the neck prevents me from moving the toy the way I want to. Often when I've got the thicker end inserted I just hold and rock the vibe with my thighs---and this is less efficient than just using a dildo.

But the power of the vibrations. The fun interactions of their frequencies. The slender shape and the organic curves---everything is just what my body has been begging me for, and I love it. If your body's been dropping you hints that this is the vibrator for you---your body is probably right.
This content is the opinion of the submitting contributor and is not endorsed by EdenFantasys.com

Thank you for viewing
Vanity Vr8
– sex toy review page!